Come in out of the rain and make yourself comfortable. I'll hang up your wet trench coat on the rack next to Libby's Burberry. Watch that you don't get clipped by one of the zippers on Zoe's motorcycle jacket. The weather is wretched–shall I make us both a cup of tea? Really? You'd rather have a bourbon?
Okay…will do.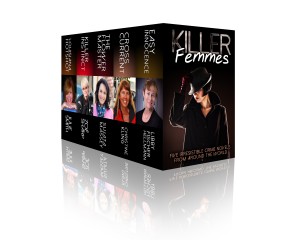 You have entered the realm of Killer Femmes, where vice is nice and a stiletto heel is a girl's best defense. Actually, Killer Femmes is my summer literary release–a bundle of 5 mystery novels by 5 different authors: Libby Fischer Hellman, Zoe Sharp, Christine Kling, Julie Smith and me.  Coming together on this project has been really cool. It's meant reading each others' work and brainstorming promotion. In a way, it's been like working in a newsroom again, something I occasionally miss.
Our collection is formally titled Killer Femmes: Five Irresistible Crime Novels From Around the World. It is ONLY in e-book form, but as you know, anyone with a laptop or mobile phone can read an epub or mobi file using free downloadable apps. The online bookshops carrying our book are Amazon, Barnes&Noble, iBooks and Kobo. We've priced the whole thing at 0.99 because this special release is not about getting rich–it's about finding new readers.
One thing we have in common is that we all started our novel-writing careers working with agents and editors in New York and London.  But as time passed and e-Books became popular, all five of us developed hybrid careers where we do some self-publishing on the side. Speaking for myself, it's great because I can keep publishing different kinds of books (like some in India and others in Japan) and can also release shorter works such as novellas. PLUS I can run with spur-of-the-moment, fab collabs!
Now you know who the Killer Femmes are…what are the books like? Libby's novel Easy Innocence is the first in the Georgia Davis PI series, featuring a smart young Chicago cop hunting for the murderer of a suburban high school girl. In Christine Kling's Cross Current, you'll meet Seychelle Sullivan, a sexy salvage boat captain who rescues an orphaned Haitian girl in the waters of South Florida. Zoe Sharp's hardboiled thriller Killer Instinct introduces Charlie Fox, a beautiful but lethal ex-soldier who rights wrongs in Lancaster, England using semi-legal methods. Julie Smiths' Louisiana Hotshot sends hip young poet Talba Wallis deep into New Orleans' rap scene to unmask a killer.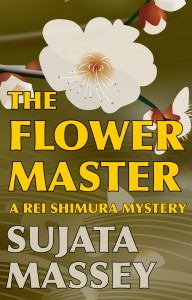 I'm including The Flower Master, because it's the earliest Rei Shimura book to which I hold full copyright and the book's emphasis on the darker side of ladies works nicely with the theme of Killer Femmes. Rei Shimura is sent to flower arranging school in Tokyo and gets tangled up in the murder of a snippy teacher. Things look bad for Rei's Aunt Norie, as well as a Korean-Japanese potter, and an elderly doyenne of the school. To break up all that estrogen, there's a new character called Takeo, a hunky young flower arranger, who can't decide if he despises Rei, or is falling in love.  This book is one of the most light-hearted and funny in the Rei series and won the Macavity Award for Best Mystery of 2000. If you missed it first time around, now's your chance.
I hope that Killer Femmes keeps you up late–and gets you interested in some other writers' work.