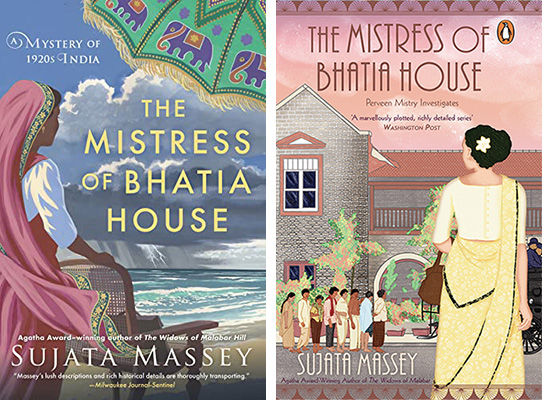 Bombay's only female solicitor, Perveen Mistry, grapples with class divisions, sexism, and complex family dynamics as she seeks justice for a mistreated young woman in this thrilling fourth installment in Sujata Massey's award-winning series.
India, 1922: Perveen Mistry is the only female lawyer in Bombay, a city where child mortality is high, birth control is unavailable and very few women have ever seen a doctor.
Perveen is attending a lavish fundraiser for a new women's hospital specializing in maternal health issues when she witnesses an accident. The grandson of an influential Gujarati businessman catches fire—but a servant, his young ayah, Sunanda, rushes to save him, selflessly putting herself in harm's way. Later, Perveen learns that Sunanda, who's still ailing from her burns, has been arrested on trumped-up charges made by a man who doesn't seem to exist.
Perveen cannot stand by while Sunanda languishes in jail with no hope of justice. She takes Sunanda as a client, even inviting her to live at the Mistry home in Bombay's Dadar Parsi colony. But the joint family household is already full of tension. Perveen's father worries about their law firm taking so much personal responsibility for a client, and her brother and sister-in-law are struggling to cope with their new baby. Perveen herself is going through personal turmoil as she navigates a taboo relationship with a handsome former civil service officer.
When the hospital's chief donor dies suddenly, Miriam Penkar, a Jewish-Indian obstetrician, and Sunanda become suspects. Perveen's original case spirals into a complex investigation taking her into the Gujarati strongholds of Kalbadevi and Ghatkopar, and up the coast to Juhu Beach, where a decadent nawab lives with his Australian trophy wife. Then a second fire erupts, and Perveen realizes how much is at stake. Has someone powerful framed Sunanda to cover up another crime? Will Perveen be able to prove Sunanda's innocence without endangering her own family?
"Through Perveen, readers see an Oxford-educated lawyer from a privileged family plausibly contend with the sexism and racism of her time and place—and when Massey returns to the plot's core mystery, she manages some nifty surprises. This is a transporting mystery."
Publishers Weekly
"Massey offers a striking depiction of India in the 1920s… A complex whodunit that also provides a fascinating immersion in a bygone era."
Kirkus
"In The Mistress of Bhatia House, Perveen finds herself championing two women: a nanny, who has been jailed for drinking tea someone claims is an abortifacient, and India's first female obstetrician-gynecologist, both of whom find themselves suspected of poisoning a rich man… While the book is rich in historical detail, it also has immense resonance in a post-Dobbs United States."
Christian Science Monitor
"A perfect blend of historical accuracy, emotional drama, and a beautifully spun mystery."
Open Magazine
U.S. retailers:
Bookshop.org Amazon Apple Books Audible Barnes & Noble Books-A-Million Kobo
India:
Read an excerpt:
Sisters will fight.
It is true whether they are raised together or meet as sisters-in-law in a new household. Sisters fight for the better sari, for the chance to do the shopping, for the spot as the parents' favorite. Such rivalry, followed by reconciliation, is as natural as the way summer's punishing weather is chased off by monsoon.
Oshadi disliked family fighting as much as she disliked the heat. And it was easier to think about the weather. Even in pastoral Ghatkopar, ten miles north of Bombay, the air felt blisteringly humid. The rain was only a few weeks away—it was a shame the party couldn't have waited for the first few days of monsoon, when drops danced lightly. Such a change in weather could have brought forward some harmony between Uma and Mangala Bhatia.
As Oshadi slowly proceeded toward Bhatia House, she waved her walking stick at the wild dogs that congregated on the property across the street, waiting for the daily feeding that the rich Jain family provided. Oshadi would not let the dogs wander near Bhatia House; she had worked there longer than anyone and knew what it meant to protect.
When Sir Dwarkanath's wife had died five years earlier, Uma, the senior daughter-in-law, had promoted Oshadi to housemistress over all six female servants at Bhatia House. For this, Oshadi was grateful; but it meant that Uma-bhabhu asked her to do many things that had nothing to do with ordinary service. Today she'd been sent out to walk to the shops in search of extra candles for the many lanterns set out around the courtyard. She'd gone to three shops before finding what was needed.
As Oshadi limped up the gravel driveway cut between two grassy fields, one of the skinny brown dogs edged close, a female with long teats and a whining voice. Oshadi brandished her walking stick and the dog shied off, returning to the pack.
Oshadi knew the darwan guarding Bhatia House was afraid of dogs; he ignored their occasional incursion onto the property. And tonight, he was busy polishing the booth and decorating it with hibiscus from the garden. All for Uma's tea party; the guests were already streaming past him in horse-drawn taxis and a few private cars. She could hear the pleased gasps of some women at the sight of the wide, ochre-colored limestone bungalow surrounded by long verandas on the top and ground floors. A series of tiled gables and long shuttered windows made the house appear even more impressive.
Some of the early arrivals, Gujarati ladies from Ghatkopar, who didn't have far to come, were chattering as they walked behind her.
"My husband wants to donate to the temple only," one lady murmured to her companion. "Therefore, I'm giving a gold-bangle set."
"An excellent donation," her friend opined. "I brought ten rupees."
"Your husband let you give that much?" The first woman's voice lowered to a whisper.
"Don't be silly! I asked my mother."
As the two women laughed, they came up on either side of Oshadi, as if impatient with her slow pace. Oshadi watched them move on toward the courtyard in their crackling tissue silk saris. On the veranda, she caught a glimpse of two men surveying the scene: Sir Dwarkanath Bhatia and Parvesh, his elder son.
Oshadi paused at the servants' door to catch some of the men's conversation. Uma-bhabhu might need to hear about her father-in-law's mood.
"And what is all the furniture in the courtyard? So many mattresses, it looks like the guests have come to sleep!" Sir Dwarkanath thundered.
"But over fifty ladies will be here. They must be made comfortable." Parvesh's voice was anxious.
"You are saying the ladies need something soft for their bony kullas?" Lord Dwarkanath used the vulgar plural for hindquarters.
Parvesh laughed nervously. "Bapuji, remember so many ladies are close by. They might hear you."
"All this tamasha for ladies' work," Sir Dwarkanath grumbled. "Only for your mother's sake, I'm doing this."
"Yes. That is why Uma wants the hospital so much." Parvesh was playing up to his father—just like everyone else.
Oshadi quickly went inside, wanting to steal a few moments' rest in the servants' hall just outside the kitchen. The family had four cooks, all Brahmins. Due to Oshadi's lower caste, she couldn't enter the kitchen, but she made a sound so Aaker, one of the junior cooks, came out to see her.
"Here are the candles for the cake. The others are for the lanterns. Pratip must put them into the lanterns at dusk," Oshadi said, remembering Uma's instructions.
Aaker winced. "Mangala-bhabhi is saying to light everything now. Too many people will be sitting at dusk; it will be more difficult."
Oshadi did not like the idea of lighting the flames earlier than necessary. They would add to the heat, and the longer they burned, the more chances for something to catch fire. "Did Uma-bhabhu agree?"
"Don't know."
Oshadi would soon find out. She asked Aaker to bring her a glass of water. Sinking down on the stool that everyone knew was hers, she drank her fill. Revived, she put the glass near the kitchen door and went out again.
Enough women had arrived that she could not go straight into the courtyard, but had to line up behind others. The woman ahead of her wasn't anyone she'd seen before; she was a little taller than Uma and wore an airy chiffon sari the same pale yellow as ghee. She was wearing the sari draped from back to front; and she also had a heavy case in her hand.
"Good afternoon. Are you Mrs. Bhatia?" the strange lady asked Mangala-bhabhi, who was sitting behind a small table Pratip had set up at the courtyard entrance.
"I am. If your donation is cash, please count it in front of me." Mangala-bhabhi's voice was the same as if she'd been talking to any of the children: stern, and with a hint of suspicion.
The visiting lady lifted the fold covering the opening of the briefcase—a man's briefcase, Oshadi noted with fascination. Withdrawing an envelope, she laid it in front of Mangala-bhabhi.
The woman rustled the bills. "Fifty-one rupees. It's from Gulnaz. She wishes you her very best and was thankful for your recent visit to see her in hospital—"
"I never went. You must be talking about my sister-in-law, Uma." Mangala's sallow face showed her displeasure at the confusion. "Please, go ahead inside the courtyard."
"I beg pardon for the mistake. May I ask your name? I'm Perveen. Perveen Mistry."
"I'm Mangala Bhatia. The hospital committee's treasurer."
"Could you kindly point out Uma to me?" Miss Mistry persisted. "I don't wish to keep making such a fool of myself! As long as it isn't too much trouble."
"It is trouble." Mangala pursed her lips. "I must stay taking donations. You go in, there is a line of people waiting behind you. Uma is wearing a pink sari."
As Perveen Mistry moved past, Mangala raised her blunt eyebrows at Oshadi. Pressing her thick lips together, she murmured, "And what are you doing in the middle of these fine people? Trying to make friends—or perhaps pick money from someone's purse?"
"Uma-bhabhu needs me." Oshadi spoke simply, knowing no amount of bowing or scraping would please Mangala. The comment about stealing hurt—Mangala had to know that Oshadi had served the family forty years and never taken as much as a match for her own use.
"Very well. What Bhabhu says she needs, she must get."
But not always, Oshadi thought.