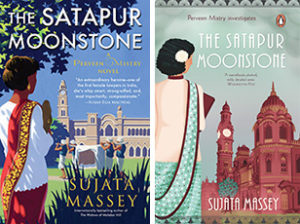 The Satapur Moonstone (2019)
Read the first two chapters
"Set in 1922, Edgar finalist Massey's second whodunit featuring Bombay attorney Perveen Mistry is even better than the series' impressive debut… The winning, self-sufficient Perveen should be able to sustain a long series."
Publishers Weekly (starred review)
"Massey does a superb job of combining a fascinating snapshot into 1920s British-ruled India with a top-notch mystery. She has created a strong, appealing heroine who is forging her own path in a rapidly changing world… Highly recommended for fans of other intrepid women sleuths such as Elizabeth Peters's Amelia Peabody and Tasha Alexander's Lady Emily."
Library Journal (starred review)
India, 1921. It's rainy season in the lush, remote Sahyadri mountains, where the princely state of Satapur is tucked away. A curse of deaths has fallen on Satapur's line of maharajas. The state is now ruled by an agent of the British raj on behalf of Satapur's two maharanis. The royal ladies are disputing the education of the young prince, and a lawyer's counsel is required. Enter Perveen Mistry. She is determined to bring peace to the place and make a sound recommendation for the young prince's future. Yet when she arrives she finds the palace is full of cold-blooded power plays and ancient vendettas. Too late, she realizes she's walked into a trap…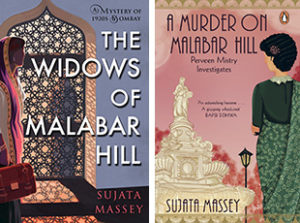 The Widows of Malabar Hill (2018)
Published in India as A Murder on Malabar Hill (2018)
Read the first chapter
Read about Cornelia Sorabji, who helped inspire the character of Perveen Mistry
Read a Q&A with Sujata about the book
See photos of some of the real places in the book
Winner of the Agatha Award, the Mary Higgins Clark Award, and the Lefty Award for Best Historical Mystery!
Nominated for the Harper Lee Prize for Legal Fiction!
"This outstanding series launch from Agatha-winner Massey introduces Perveen Mistry, Bombay's first female solicitor… The period detail and thoughtful characterizations, especially of the capable, fiercely independent lead, bode well for future installments."
—Publishers Weekly (starred review)
"[Massey] does a wonderful job of taking life in India at the beginning of the 20th century. She gives enough cultural details without overwhelming readers with facts. The two plotlines wonderfully depict the development of the main character and the mystery as it unfolds… Fresh and original."
—Library Journal (starred review)
Bombay, 1921: Perveen Mistry, the daughter of a respected Zoroastrian family, has just joined her father's law firm, becoming one of the first female lawyers in India. Armed with an Oxford, legal education, Perveen also has a tragic personal history that makes her especially devoted to championing and protecting women's legal rights.
Mistry Law has been appointed to execute the will of Mr. Omar Farid, a wealthy Muslim mill owner who has left three widows behind. But as Perveen examines the paperwork, she notices something strange: all three of the wives have signed over their full inheritance to a charity. What will they live on? Perveen is suspicious, especially since one of the widows has signed her form with an X—meaning she probably couldn't even read the document. The Farid widows live in full purdah—in strict seclusion, never leaving the women's quarters or speaking to any men. Are they being taken advantage of by an unscrupulous guardian? Perveen tries to investigate, and realizes her instincts were correct when tensions escalate to murder. Now it is her responsibility to figure out what really happened on Malabar Hill, and to ensure that no innocent women or children are in further danger.
Inspired in part by a real woman who made history by becoming India's first female lawyer, The Widows of Malabar Hill is a richly wrought story of multicultural 1920s Bombay as well as the debut of a sharp and promising new sleuth, Perveen Mistry.
Travel to the Indian subcontinent with a new collection of Sujata Massey's suspenseful historical fiction. This book includes four works described below:
OUTNUMBERED AT OXFORD. When Perveen Mistry leaves Bombay to study law at St. Hilda's College in 1919 Oxford, England, she hopes to escape her troubled past and become a pioneering woman lawyer. Then an elderly don tasks her with locating an Indian servant who may have stolen an invaluable mathematics proof. Perveen is caught in a case that threatens her ladylike reputation—and her life.
THE AYAH'S TALE. Menakshi Dutt, a teenaged nanny in 1920s Bengal, is a beloved caregiver of three lonely British children, but suffers from the cruelty of their bored mother. Will Menakshi ever fulfill her own dreams without betraying the children?
INDIA GRAY. Kamala Lewes, a recently-married Bengali woman, travels to Assam during World War II to volunteer at a military hospital. There she discovers some patients with ties to the Indian independence movement. How far can she go to help them without betraying her British husband and the Allies?
BITTER TEA. Shazia is fifteen and trapped in a remote village in Pakistan overtaken by religious fundamentalists. Her school has been closed, and women have lost freedom of movement. But when Shania learns a friend faces danger from the invaders, she decides to act.
Four unforgettable heroines in one book rich with history, culture and intrigue.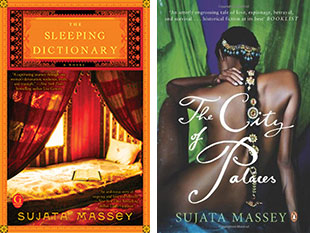 The Sleeping Dictionary (2013)
Published in India as The City of Palaces (2014)
See photos from Old Calcutta, and read an excerpt from the book
"An utterly engrossing tale of love, espionage, betrayal and survival… historical fiction at its best, accessible to all audiences."
—Booklist
In 1930, a great ocean wave blots out a Bengali village, leaving only one survivor, a young girl. As a maidservant in a British boarding school, Pom is renamed Sarah and discovers her gift for languages. Her private dreams almost die when she arrives in Kharagpur and is recruited into a secretive, decadent world. Eventually, she lands in Calcutta, renames herself Kamala, and creates a new life rich in books and friends. But although success and even love seem within reach, she remains trapped by what she is… and is not. As India struggles to throw off imperial rule, Kamala uses her hard-won skills—for secrecy, languages, and reading the unspoken gestures of those around her—to fight for her country's freedom and her own happiness.