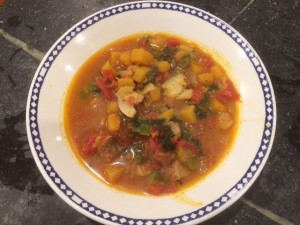 Autumn Vegetable Miso Stew
Serves 6
3 tablespoons vegetable oil of your choice (Canola, Safflower, etc.)
3 plump green onions, chopped small, the white and green parts separated
½ medium onion, diced about 1"
2 cups hard fall squash of your choice (butternut, kabocha, etc), diced about 1"
Salt and freshly ground pepper to taste
½ teaspoon crushed Aleppo pepper (optional)
2 teaspoons fresh ginger, grated or minced
2 medium juicy tomatoes, diced about 1", plus their juices
4 cups low-sodium boxed or homemade vegetable stock, or plain water
1 tablespoon tamari or soy sauce
¼ white miso paste (shiro-miso) dissolved in 1/3 cup water
2 cups thinly slivered and chopped well-washed greens of your choice (spinach, chard, collards, mustard, kale) with any hard ribs removed
Warm oil in stockpot to medium high-heat. Sauté the onion, squash and white sections of the green onions about 8 minutes or until light gold. Add ginger, sauté 2 more minutes, and a small amount of salt and pepper and crushed Aleppo pepper, if using.
Add chopped tomatoes and their juices, vegetable stock/water, tamari/soy. Let simmer partially covered at medium heat until it's nice and soupy.
Add greens and dissolved miso and cook until greens are tender enough. Just a couple of minutes for spinach, and progressively longer depending on which type of greens you've chosen to use, and your family's level of suspicion.
Before serving in bowls, taste for salt and pepper, and sprinkle with reserved chopped green onions.
A side serving suggestion: store-bought naan or roti bread that's been lightly brushed with olive oil and dukkah (Middle-Estern savory crushed spice mixture available at Trader Joe's and Middle Eastern shops). Warm it in a sauté pan for a few minutes on each side.