The Rei Shimura series, in chronological order: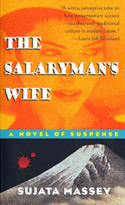 The Salaryman's Wife (1997)
Winner of the Agatha Award for Best First Novel; Nominee, Barry and Macavity Awards for Best First Mystery and Anthony Award for Best Paperback Original
"Sly, sexy and deftly done, Wife is one to bring home."
People Magazine
Meet Rei Shimura, an underpaid English teacher in Tokyo who wishes she was doing something better with her life. Her chance comes unexpectedly, when she goes on a New Year's vacation to the Japanese Alps and finds the body of a Japanese executive's wife in the snow. Who killed Setsuko Nakamura, and why is Hugh Glendinning, the handsome Scottish lawyer who works with Setsuko's husband leaning so hard on Rei for help? It's great to start off with the first book in a series, and this book is especially rich in details of Japanese urban life.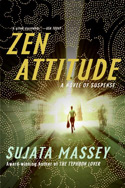 Zen Attitude (1998)
Nominee, Edgar and Anthony Awards for Best Paperback Original
"Simply splendid… Massey is a gifted storyteller who delivers strong characters, a tight plot and an inside view of Japan and its culture."
USA Today
Rei Shimura has started a fledgling business as an antiques buyer, but her assignment to buy an antique tansu chest for an aristocratic Japanese client turns to trouble when the crook who sells her a fake turns up dead. A woman judo champion, Hugh's bad little brother, illegal immigrants and a charismatic Zen Buddhist priest cause complications as Rei unravels the mystery. Good read for those interested in Japanese antiques and Zen.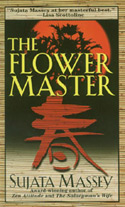 The Flower Master (1999)
Winner of the Macavity Award for Best Novel; Nominee, Agatha Award for Best Novel
"The writing is as serene and graceful as the flower arranging… a rich, robust read."
Library Journal
Aunt Norie has decided that her niece Rei needs to be skilled at a cultural art like flower arranging if she's ever going to get married. But Rei's lessons at the Kayama School of Ikebana start off badly because of a snippy head teacher who winds up with her own throat snipped—and the evidence unfortunately pointing toward Aunt Norie. Rei solves the riddle of flower arranger's death, while trying to decide how to handle the attentions of the handsome scion of the flower arranging family. This book is the one I recommend to the younger and older reader, meaning, not as X-rated as some of the others.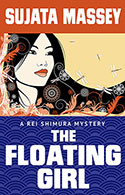 The Floating Girl (2000)
Nominee, Agatha Award for Best Novel
"Another must-read from an author who has honed the skill of captivating and educating her readers at the same time."
Booklist
Rei's got a new gig writing about arts and antiques for an English language monthly, The Gaijin Times. Her assignment to interview a fascinating young animation artist becomes problematic when a cross-dressing fan dies. Rei goes deep into the world of Tokyo host bars, and student clubs to learn the truth behind the art, and the death, and continues her relationship with a hot Japanese boyfriend. A trip into modern youth culture, a little on the wild side.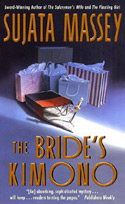 The Bride's Kimono (2001)
Nominee, Agatha Award for Best Novel
"Absolutely top-notch… [Masssey] tells a compelling story, with lots of suspense and particularly well drawn characters."
I Love A Mystery
An unexpected invitation to bring priceless antique kimono to a top museum in Washington DC has Rei Shimura so excited that it's hard not to talk about it with the young Japanese shopaholic who's her seatmate on the plane. Yet in DC, when the young woman vanishes along with the kimono, Rei realizes she's got serious trouble… which intensifies when ex-boyfriend Hugh comes back into the picture. One of the most romantic books in the series.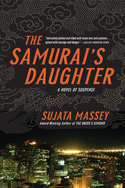 The Samurai's Daughter (2003)
Nominee, Simon & Schuster Mary Higgins Clark Award
"Massey deftly weaves fascinating historical and cultural detail into a suspenseful plot."
Booklist
In San Francisco for the holidays, Rei is trying to document her own family's history and enjoy a visit with Hugh, who's in town for business. But she's devastated when Hugh's client, a former comfort woman from the Philippines who was abused by the Japanese military during World War II, is murdered. The answer to who wants to silence the voices of those he and Rei visited lies back in Tokyo, and leads Rei to unsettling revelations about her great-grandfather's political ideology. The most politically-charged book in the series so far.
The Pearl Diver (2004)
Nominee, Agatha Award for Best Novel
"Adept at crafting dead-on dialogue and juggling serious issues with humor, Massey has produced another triumph."
Publishers Weekly
Rei's back in Washington, working on the decoration of a fabulous new Japanese fusion restaurant. But the restaurant's open goes badly when Rei's uberglam American cousin, Kendall, is kidnapped. The havoc continues, and Rei finds herself investigating the disappearance of a Japanese war bride thirty years earlier. Strong erotic content but also, a poignant look at wartime marriage, and what it means to be a mother.
"Rei is a fascinating character: bold, unique, spirited and intelligent… Massey makes good use of the clash between American and Japanese cultures as a backdrop for an enjoyable story."
Chicago Sun-Times
Rei, who's been banned from entering Japan, finds a seemingly miraculous way back into the country. The only catch is she's working undercover to trace a missing antiquity looted from Iraq, and the guy suspected of owning the contraband is her ex-lover Takeo. Rei's journey throughout Tokyo and rural Kyushu is full of surprises about historic ceramics—and herself. This book has the showdown between Hugh and Takeo that you may have been anticipating.
"Massey weaves this background into an exciting story that is strong on realistic characters… [she] continues a mini-course in Japanese culture and tradition."
South Florida Sun-Sentinel
Rei's done so well on her last assignment the US government has another job for her, this time with very good pay and serious wardrobe perks. Rei is working as a salesgirl at a major Japanese department store, secretly planting bugs to record information about the chain's financial situation. Rei's terrified of being unmasked, and also by her growing feelings toward her spy-boss. Espionage, fashion and romance galore in this upbeat continuation of the series.
"An appealing protagonist and memorable supporting characters blend smoothly with lessons in Hawaiian and Japanese history in a tale sure to win new readers for the series."
Publishers Weekly
Rei is shocked that her father's had a hemorrhagic stroke. She decides to take a long leave from her espionage activities to help him recover. A surprise invitation from long-lost relatives in Hawaii sends the pair from to Oahu, along with Uncle Hiroshi and Cousin Tom. But the celebration of the 88th birthday of Rei's great-uncle is complicated by the relatives' demand that the Shimuras help them regain choice Hawaiian real estate lost during the war years when the Great Uncle was interned on the mainland. An arson fire that may be a cover-up for murder, plus a long visit from Michael Hendricks, followed by the reappearance of Hugh, add to Rei's challenges.
When a devastating earthquake rocks Japan's northeast coast, a tsunami follows and Rei Shimura is swept into her most rugged adventure yet. The mystery begins with an SOS from Rei's friend, the antiques dealer Mr. Ishida, trapped among thousands of displaced and dead on the Tohoku coast. Rei rushes to Tokyo, where she discovers Ishida Antiques may have been burglarized. Rei takes Mr. Ishida's abandoned dog, Hachiko, on a volunteer bus to the ravaged town of Sugihama. But Mr. Ishida's got more work for her, since he lost contact with his antiques apprentice Mayumi and is frantic with worry. He won't leave Sugihama without knowing the fate of the troubled 19-year-old girl from a famous lacquer-making family.