I grew up in a household where cooking was a serious passion, with both of my parents constantly preparing dishes from the many countries they'd been in, or wanted to go.  The apple doesn't fall far from the tree. When I'm not busy writing, I enjoy cooking many different world cuisines:  American, German, Indian, Chinese, Thai and Japanese, Middle Eastern, Italian, Mexican… and, of course, Japanese.
I have intended to create some kind of cooking section for years, but only recently had the brainstorm to spotlight recipes mentioned in the Rei novels.  Reading these recipes may make you flash back to the books and also get a taste of the kind of easy, ethnic cooking that is our family's mainstay. A word to the food police: these are fusion recipes, based on what's convenient and what my family will eat. For example, the children loved moon-viewing noodles… but without the (raw egg) moon. I've included tips on how to almost-cook the eggs, which the Japanese would never do—but it's what I want to do, to eat without worrying about keeling over with salmonella.
Out of the following assortment, which I tested and photographed during two crazy weeks I was preparing my kitchen to be gutted for a major remodel, the favorites were seafood nabe and (big surprise) brownies.
SHIMURA TROUBLE:  Hawaiian Trifle
I skipped my run in order to cook. Spinach was washed here times, shaken and tied up in kitchen towels to dry. I put together a trifle from ladyfingers, rum, the whipped soymilk and an assortment of ripe mangos, pineapple and bananas… the fruit trifle was such a success that Braden, who had a thing against fruit, actually ate it.
Trifle is a taste straight out of my early childhood in England, and was my usual birthday request, instead of cake. Trifle is also very Navy; I remember arriving in Japan without anything decent to wear to dinner at an admiral's residence, where trifle was served for dessert. The footed glass serving bowl was more impressive than the trifle itself, which had Jell-O as a major ingredient (although my mother reminds me, I used to request Jell-O in my birthday trifle).  So I'll lay my acquired snobbery aside and just say, there are many different ways to make trifle, but this one has become my favorite. I developed it while staying in Hawaii to research and write Shimura Trouble so it made it into the novel. I probably made it every other week for a potluck dinner we held at the pool with other Ko Olina families. I  use whipped soymilk in lieu of cream in case someone's lactose intolerant or on a low-fat diet.
Hawaiian Trifle
Serves 8 to 16 people for dessert, depending on the size of your bowl
1 or 2 7-oz packages of fresh or dry ladyfinger cookies, depending on the size of your crowd
1 ½ to 2 pints (3 cups) heavy whipping cream, split in two portions
1 package instant custard powder; whip with cold milk according to package directions to make a 1 ½ to 2 cup recipe of custard. You can use Bird's Custard powder equally well; follow the 2-cup recipe on the label.
Any combination of the following:
3 to 4 ripe mangos, peeled, pitted and cut in 1-inch chunks
1 ripe pineapple (always sniff for sweetness before purchase).  Remove skin and hard core, and cut remainder in 1-inch chunks
4 bananas, sliced and sprinkled with lemon or citrus juice to delay browning.  Use bananas only if you plan to serve trifle within a few hours.
Rum or Cointreau for sprinkling, optional (most children hate it)
1/2 tsp vanilla, only if necessary
Pour all the cream in a tall stainless steel bowl and use an electric mixer to whip to soft peaks.
Fold half of the whipped cream into the custard you already prepared. If the custard-cream mixture tastes too much like plain whipped cream, add ½ tsp vanilla to improve the flavor.
Reserve the remaining plain whipped cream to use as the trifle's topping. You can spike it with Cointreau or a little extra sugar.
Cover the bottom of a rectangular or round glass serving dish or bowl with ladyfingers. The dish should be at least 6 inches tall. If desired, you can lightly sprinkle the ladyfingers with rum or Cointreau.
Add a single layer of one of your fruit choices, such as mango. Spoon half of the custard cream mixture over this.
Repeat another ladyfinger layer, with optional liqueur sprinkle.
Add the next fruit choice, such as pineapple or banana.
Top with custard cream.
Add a final ladyfinger layer, a final layer of fruit (whatever you have left over), and top with the reserved whipped cream.  Refrigerate from 2-24 hours and scoop to serve on dessert plates; porcelain or paper work equally well!
GIRL IN A BOX:  Sake-and Garlic-Steeped Greens and Carrot-Sesame Salad
The food my aunt had selected from Mitsutan's Yokohama store was identical to what I knew from the food basement at the flagship store in Tokyo. There were tiny, plump gyoza dumplings filled with garlicky pork; nobody batted an eye when the self-proclaimed vegetarian quietly took a few. There was a bowl of spinach steeped in rice wine and ginger, and a plate of smoky grilled eels. On the side were a carrot-sesame salad and shrimp and cheese croquettes.
These recipes are so easy, I'm giving you two—and they are not actual Japanese department store recipes, but composites of dishes I've enjoyed in Japanese homes. The carrot salad is almost a type of tsukemono, or Japanese pickle, because the rice vinegar performs a kind of magic on the carrots while it marinates. I think this dish would be even better with some boiled hijiki seaweed mixed in, for those with well-stocked Japanese pantries.
Even though I talk about spinach in the book, I am substituting Swiss chard because I don't think there are enough good recipes for greens. If you decide to go with spinach, all you need to do is wash well, remove hard stems, and follow directions from No. 3 onward—spinach does not need to be boiled ahead of time, the way greens do. My Japanese friend Atsuko-san, the model for Aunt Norie, would be shocked to read my directions to strip off the greens' stems—I automatically did that in her kitchen and she made me put them all back in, explaining that they were highly nutritious!
Sake-and-Garlic Steeped Greens
Serves 3 or 4 as one of several side dishes
1 large bunch chard or kale, carefully washed and thick stems removed
1 tsp canola oil
1 tsp sesame oil
Dressing:
2 tablespoons soy sauce
2 tablespoons sake
¾ tablespoon minced fresh garlic
1/2 tsp sugar
Bring a large pot of water to a boil, add chard, and cook at medium heat for about 10 minutes, until the greens are soft.
Pour into colander and squeeze out excess water. Set aside.
Heat a frying pan and when hot, add both teaspoons of oils. In about 1 minute, add greens and pour over the remaining ingredients: soy sauce, sake, garlic and sugar. Stir-fry a few minutes until most of the liquid is gone, then tip into a ceramic bowl. Serve hot, warm, room temperature or chilled.
Carrot-Sesame Salad
Serves 4 to 6 as a side dish
4 average sized carrots, peeled and finely julienned
1 tablespoon sesame seeds, toasted
1 tablespoon chopped shiso leaves (cilantro is a substitute)
Dressing:
2 tablespoons rice wine vinegar
2 tablespoons sesame oil
1 teaspoon mirin
½ tablespoon grated fresh ginger
1 teaspoon minced fresh garlic
Salt and pepper to taste
Mix dressing in an attractive ceramic or glass bowl.
Add carrots, sesame seeds and shiso leaves. Mix and allow it to rest at least 1 hour before serving.
THE TYPHOON LOVER: Moon-Viewing Noodles
By the time I got into Fukuoka, the moon was high. I was starving, so I stopped at a little ramen shop for a bowl of steaming noodles topped with a raw egg. Moon-viewing noodles, they were called. The egg cooked slowly atop the noodles, and I ate slowly, savoring the rich taste of the noodles, the broth, everything.
The first place I went to a harvest moon viewing was, ironically, Washington, DC, at the National Arboretum—DC is a great spot for Japanophiles, given all the activities supported by Japanese cultural groups and its Embassy. The moon hung low, large and golden as I  strolled and admired the Arboretum's bonsai garden with  Japanese friends. You can celebrate a full moon, anytime of year, at home with a simple supper of tsukimi udon. The egg in the middle, which looks like a harvest moon, is barely cooked and meant to be eaten that way.
Tsukimi Udon
Serves 4
1 package dry udon noodles (I like Hoshimaru's "Japanese Elementary Pasta." These packages have noodles grouped into bundles. I use 3 bundles for 4 people.)
6 cups dashi, sefood or veggie stock (I use 4 cups of vegetable or chicken stock, plus 2 cups of water simmered for an hour with the stems of several shiiitake mushrooms and a 4-inch piece of kombu. Strain and add to the stock—or increase the recipe to make 6 cups of mushroom dashi if you are a purist).
1/3 cup soy sauce, or to taste
3 tablespoons mirin
1 tablespoons sugar, or to taste
4 large shiitake mushroom caps, sliced
4 whole raw eggs
3 green onions, thinly sliced
Boil noodles until they are still slightly chewy, then drain and rinse with cold water to stop cooking.
At the same time, heat stock or dashi in a separate pot, adding the soy sauce, mirin, sugar and shiitake mushroom caps. Simmer gently at least 20 minutes.
Preheat oven to 350 degrees. When people are ready to eat, place a generous helping of noodles in each person's bowl, ladle broth over it, including cooked sliced mushrooms.  Break an egg over the center of each bowl of noodle soup and place in oven for 4 minutes so egg can barely set.
Serve with a garnish of chopped green onions.
THE PEARL DIVER: Yin-Yang Shrimp
The jumbo Louisiana shrimp looked good to me, so Jiro taught me to make Yin-Yang Shrimp, a dish in which the shrimp is fried with a black sesame seed coating on one side and white sesame seed on the other. The lesson seemed to cheer him up a little, and we were chatting about the health benefits of sesame seeds when Andrea came in.
Readers are incredible. On the basis of the few lines above, a reader created his own Yin-Yang shrimp and emailed me simple directions. I gave Yin-Yang shrimp its trial run on a very busy school night. I had thirty minutes to make, serve and eat dinner before rushing off with the puppy to obedience class.  The recipe was fast, fun to make, and everyone loved it. Like Rei and Jiro, I was lucky enough to get hold of fresh Louisiana gulf shrimp, but frozen would be fine. On the side I served rice-cooker rice and broccoli sautéed with ginger, a few drops of Chinese chili-garlic sauce and a splash of Shaoking rice wine.
Yin-Yang Shrimp
Serves 4 as part of a meal
1.25 lb raw, peeled, deveined thawed or fresh large shrimp
½ cup milk, poured into a short, wide cup for dipping
About ½ cup flour, spread on a large plate to dredge shrimp, mixed with a few shakes of Chinese Five-Spice Powder
½ to ¾ cup white sesame seeds, spread on one small plate
½ to 3/4 cup black sesame seeds, spread on one small plate
Enough canola oil to fill your frying or saucepan 3/8″
For dipping the cooked shrimp: ponzu sauce, dumpling sauce, or tempura sauce, store-bought or homemade
Heat canola in pan to about 375 degrees Fahrenheit
While the pan is heating, dust 4 shrimp with flour/Five-Spice mix. Then dip in cup of milk, then press one side of a shrimp with white seeds, and the other with black seeds. Fry about 4 shrimp at a time, for 60 seconds on one side, and 30 on the other.
Lift out of pan and set on a paper-towel lined plate. When all are completed, serve immediately on a fresh plate showing a nice combination of white and black sides. Each person should have a tiny sauce bowl to hold the dipping sauce of their choice.
THE SAMURAI'S DAUGHTER: Yakitori
I turned around to see Mr. Harada holding a lacquered take-out box that smelled like yakitori—sewered chicken grilled with soy marinade. Of course he did not know I was a vegetarian.
I am a big fan of skewered meat dishes, whether they are Indian, Middle-Eastern, or Japanese—the smell of char, mixed with the aroma of the marinade create together a perfect storm that can make a vegetarian like Rei Shimura change her ways, if only for a short time.  Green peppers and very thick, sturdy Asian scallions are the traditional veggies that serve as spacers between the meat pieces; I substituted red peppers and leeks. Similarly, thigh meat is usually used in Japan, but the organic free-range chicken breasts I bought were excellent.
Yakitori
For the marinade:
½ cup sake
1 cup good soy sauce (do not used reduced sodium)
½ cup mirin
4 tablespoons minced fresh ginger
1 tablespoon chopped fresh garlic
¾ teaspoon dried chilli flakes
For the skewers:
1.5 lbs skinless, boneless chicken breasts or thighs, cut in ½ inch cubes
2 leeks, white part only; sliced lengthwise, carefully washed and chopped in approximate 1-inch squares
2 medium red, green or yellow bell peppers, cored and seeded and cut in 1-inch squares
16 bamboo skewers, soaked at least 1 hour in cold water to eliminate risk of burning during grill/broil process
Pour marinade ingredients into a small saucepan and set to medium high heat. When it boils, turn heat to low and cook 5 minutes.
Alternate threading bell peppers, chicken, and leeks on the skewers, making sure there is a vegetable between each piece of chicken. Lay the skewers in a flat, glass or ceramic dish and pour the warm (not hot!) marinade over. Marinate for a minimum of 45 minutes and no longer than 2 hours.
Set oven to broil. Line a broiler pan and rack with foil and place chicken skewers on top. Broil a few minutes, basting occasionally until edges of chicken are starting to blacken; turn skewers and broil until the other side, basting once, until you get the same lightly charred edges to the meat.  Remove to a platter and serve. I served with vegetable-fried rice as the accompaniment.
THE BRIDE'S KIMONO: Tortilla Espanola 
Hugh waved me into a plain glass door labeled EL RINCON ESPANOL. Within a minute we were ensconced at a cozy table with a carafe of a zesty Rioja between us. A short while later a waiter brought a savory pancake of egg and potato,  a bowl of mushrooms marinated in garlic and wine, and slivers of salty white cheese with some crusty rolls.
Over the last decade, tapas bars have replicated everywhere, including Minneapolis. In Washington, D.C. I like the real Adams-Morgan area restaurant where Hugh and Rei go, but the most famous and popular tapas bar is located in both Penn Quarter (the Pearl Diver's neighborhood) and Bethesda, MD. Tortilla Espanola is also good for breakfast our lunch. If you are alone by you can eat the entire warn Tortilla Espanola by yourself, if you are with others, make a triple sized one to serve warm or cold, or cut whatever size you make into small pieces and serve as one element of a group of tapas. This is hardly a recipe, it's so simple. But good.
Tortilla Espanola
Serves 1-3
3 eggs, broken in a bowl and well-whisked with a pinch of salt and pepper, and optional chopped teaspoon of parsley
1 small potato, peeled and cut into 1-inch dice
1/3 small onion, chopped coarsely
½ clove garlic, minced (optional)
Heat to medium-high a small skillet filmed with cooking oil spray or 1 tablespoon olive oil.
Sauté potatoes and onions and optional garlic for a few minutes. When potatoes are tender, reduce heat and pour egg mixture over.  After a minute, reduce heat even farther, place a lid on top, and cook undisturbed three or four more minutes, or until the edge of tortilla is browning.
Trickiest part of the recipe: slide the tortilla (its top will still be a bit runny) onto a plate. Invert the plate over the skillet so the runny side is now directly on the skillet. Don't worry if part of the tortilla breaks during this process—just rearrange as best you can, it will still taste good.
When the eggs are cooked through, slide onto a clean plate and serve.
THE FLOATING GIRL: Icy Somen Noodles with Dipping Sauce
The restaurant that I had in mind served somen noodles in a cold bath. The serving method was particularly ingenious: a metal-sided river was set into a long counter, with whirlpool-like jets. The noodles raced downstream and the goal was to reach with the non-eating ends of one's chopsticks into the stream and catch a bundle. Small bowls of dipping sauces at each place ensured that the cold noodles could be seasoned according to personal taste. At less than $7 a serving, this was a lunch that I could definitely afford. 
Eating icy somen noodles from a restaurant's "river" was one of my favorite dining out experiences in the rural Kanto region. While this recipe won't provide the exciting adventure of manually trapping fast-moving noodles, it will approximate the delicious taste. This was a big hit with everyone, and the bonus is you can do other things with the leftover plain noodles, including sautéing them with oil and using in other Asian or even (sshh) Italian cooking.
Icy Somen Noodles with Dipping Sauce
Serves 4
½ package dry somen noodles
Garnishes:
¼ lb fresh shiitake mushrooms, sliced and simmered until soft in a little soy sauce and stock.
4 green onions, thinly sliced
6 ounces silken tofu, cut in 1-inch cubes
Ponzu sauce (Store-bought or homemade following recipe in the Seafood Nabe recipe)
Boil noodles according to package directions, drain and rinse in cold water.
Arrange vegetables separately in small bowls, and give each person a small bowl with ponzu sauce.
Place ice in individual bowls and top with drained, cool somen. Top with the garnishes of your choice. Use chopsticks to dip a portion of cold garnished noodles in ponzu sauce. Repeat until your somen bowl is empty.
THE FLOWER MASTER: Slow Cooker Winter Vegetable Oden
I have some worries about including this recipe, because when daikon root is cooked, it exudes a strong odor. However, oden is a true Japanese dish, plain and nourishing in an almost medicinal way. This my own shortcut recipe for a famous winter stew. I created this recipe to make in a slow cooker, just as oden in the Family Mart sits in a hot pot for 24 hours! For a more elaborate and authentic vegetarian oden recipe, consult Japanese Vegetarian Cooking by Lesley Downer, who has written a number of other excellent Japanese cookbooks that translate well to Western kitchens.
Slow Cooker Winter Vegetable Oden
6 cups liquid; I use a combination of water and low-sodium vegetable stock
1/2 cup sake or mirin
½ cup soy sauce (do not use low sodium)
1 6-inch piece dried kombu (pressed seaweed)
Several strands of kampyo (dried gourd ribbon)
9-inch long piece of daikon root, peeled and cut crosswise in 1-inch slices
3 potatoes, peeled and cut in 2-inch chunks
½ kabocha or other winter squash, peeled, seeded and cut in 2-inch chunks
1 segment lotus root, peeled and cut in 12 ¾-inch slices, crosswise
2 2 ½-inch triangles deep-fried tofu cakes (sold as x in Asian groceries)
Layer vegetables in slow cooker, placing the hardest ones such as kabocha, daikon and lotus root, on the bottom. Place the dried kombu on top. Reserve tofu cakes to put in after a few hours of cooking.
Pour all the liquids; water, vegetable stock, sake or mirin and soy sauce over the vegetables, cover, and turn on the slow cooker. Cook on high for 4 hours, or low for up to 6 hours. Add tofu cakes half an hour before serving. If you put them in earlier it isn't disastrous, but they may break apart.
Serve in bowls.
ZEN ATTITUDE: Dangerous Brownies 
Unfortunately, Hugh's nightmare had come true. Masuhiro Sendai had a brownie on his plate with a bite taken out of it. "Sendai-sama!" I greeted him with a supremely polite honorific. "Please excuse me, I need to replace your brownie." "Whatever do you mean? This is quite tasty!" Mr. Sendai, whose rotund shape suggested he loved desserts, lifted the brownie to his mouth. I pumped his hand so the soft dessert fell to the floor.
These not-too-sweet, moist and cakelike brownies are calculated to appeal to Japanese and Westerners alike. I created it by tinkering with an original recipe that appeared in Minneapolis-St. Paul Magazine by Carrie Summer, a noted chef who's currently at Spoon River in Minneapolis. I cut back slightly on the original recipe's sweeteners, added a bit more flour and chocolate and went wholly with light brown sugar, a magical sweetener that lends a distinctive flavor and very moist crumb. These brownies are so rich that they are similar to chocolate truffle cake, and would make a super finish to an elegant dinner party, though kids will adore them for afternoon snack, right after you bake them. Regardless of whom I'm serving, I cut these brownies into petite 1.5-inch squares because they are that decadent.  They store in a tin for several days and freeze well, individually wrapped in plastic and foil, for chocoholic emergencies.
Dangerous Brownies
2 sticks softened unsalted butter
5 oz. unsweetened good chocolate, such as Ghiradelli, Scharffen Berger or Valrhona
3 eggs
1 teaspoon vanilla
1¼ cup light brown sugar
1/8 teaspoon salt (preferably Maldon)
1 cup all-purpose flour
1/8 teaspoon cinnamon
¾ cup chopped almonds, pecans or walnuts (optional)
Preheat oven to 350 and smear a trace of butter, or spray some cooking spray on the sides and bottom of an eight, nine or ten-inch metal or glass square baking pan.  Line the pan's bottom with a square of parchment, spray again and lightly dust with flour. This extra step guarantees the brownies come out of the pan in one piece and don't burn.
Heat water in a double boiler, or take a larger saucepan, fill with an inch of water, and place a hardy glass or metal bowl over it. Put all the chocolate and butter in bowl and allow the steam heat from the simmering water below to melt the chocolate-butter mixture. Gently stir from time to time and when mixture is almost completely smooth, turn off the stove and allow the last bit of melting to occur.
Whisk eggs, vanilla, brown sugar and salt with a hand or stand mixer until the mixture is light yellow.
Slowly add the slightly cooled chocolate-butter mixture and stir well.
Measure and mix the flour, cinnamon and salt together in another bowl or on a piece of waxed paper. Fold these dry ingredients into the wet. Add the nuts, if using, as the final touch.

Pour into the prepared pan and bake 30 minutes. Brownies will appear slightly undercooked when you take them out of the oven, but that's OK. Let stand at least 25 minutes, cut into squares and serve warm or cold. Powdered sugar sprinkled on top is a pretty finishing touch.
THE SALARYMAN'S WIFE: Seafood Nabe
As we entered Furukawa, I asked the driver for several recommendations. We settled on a cheerful, small restaurant that served yosenabe, simmered one-pot dishes that were a specialty of the mountain region. "Don't worry, you'll love it," I said as I ordered seafood nabe for two, a platter of crab legs and artfully sliced raw vegetables that we cooked by dipping into a pot of broth bubbling over a small fire built into the table.
Nabe is often served as a food for gatherings, and while my children enjoy this and a similar meat hot-pot, shabu-shabu, I think seafood nabe is the supreme date night dinner for two: minimal prep, and cooking together at the table, encouraging closeness, sharing, and… whatever else you have in mind. Fish may be fresh or previously frozen, but should be bought and/or defrosted the day you cook. I used an electric hotplate, which is what most Japanese home cooks use, but you could use an electric fondue pot as well.
The day I made this I was rushing around in a snowstorm, and wasn't able to get a portion of fresh white-meat fish, such as cod, which is traditional in this dish. To make up for the flavor loss, to the nabe pot I added frozen shrimp stock (I make it whenever I strip the shells off shrimp for cooking. I take the clean, discarded shells and boil with 2-3 cups water for 40 minutes; cooling, straining, and freezing in ice cube trays). Tony and I enjoyed the dish thoroughly, and because there were a few cooked clams left over, our dog enjoyed it, too.
Seafood Nabe with Ponzu Dipping Sauce
2 cups shrimp stock (optional)
2-4 cups water
1 5-inch piece of kombu (seaweed cake)
1/3 to ½ lb thick, mild-flavored boneless fish fillet such as cod or bass, cut in 2 or 3″ chunks depending on thickness
10 oysters, clams or mussels
4-6 large shrimp
4-6 scallops
Napa cabbage, cut in 2-inch squares
Onion, cut in 2-inch squares
Fresh firm tofu, cut in 2-inch squares
Shungiku (chrysanthemum leaves) if you can get them, or baby spinach leaves
6 large shiitake mushrooms, stemmed and with a cross hatch design cut in top
For Ponzu Sauce:
(Whisk all the ingredients together in a small bowl)
Juice of one medium or small lime
1 tablespoon brown sugar
2 tablespoons soy sauce
2 tablespoons sesame oil
½ teaspoon freshly grated ginger
1 teaspoon sesame seeds, toasted and ground coarsely
Heat the shrimp stock, water and kombu in a wide pot set on a hot plate, or in a large electric fondue pot.
When it comes to a boil, reduce to a low simmer and start adding seafood, vegetable and tofu; several pieces per person. Seafood and tofu cook very quickly; remove with chopsticks, dip in your bowl of ponzu sauce, and eat.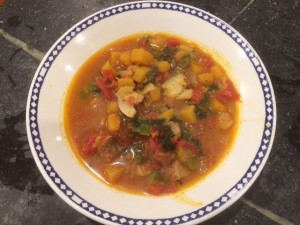 Autumn Vegetable Miso Stew
Serves 6
3 tablespoons vegetable oil of your choice (Canola, Safflower, etc.)
3 plump green onions, chopped small, the white and green parts separated
½ medium onion, diced about 1"
2 cups hard fall squash of your choice (butternut, kabocha, etc), diced about 1"
Salt and freshly ground pepper to taste
½ teaspoon crushed Aleppo pepper (optional)
2 teaspoons fresh ginger, grated or minced
2 medium juicy tomatoes, diced about 1", plus their juices
4 cups low-sodium boxed or homemade vegetable stock, or plain water
1 tablespoon tamari or soy sauce
¼ white miso paste (shiro-miso) dissolved in 1/3 cup water
2 cups thinly slivered and chopped well-washed greens of your choice (spinach, chard, collards, mustard, kale) with any hard ribs removed
Warm oil in stockpot to medium high-heat. Sauté the onion, squash and white sections of the green onions about 8 minutes or until light gold. Add ginger, sauté 2 more minutes, and a small amount of salt and pepper and crushed Aleppo pepper, if using.
Add chopped tomatoes and their juices, vegetable stock/water, tamari/soy. Let simmer partially covered at medium heat until it's nice and soupy.
Add greens and dissolved miso and cook until greens are tender enough. Just a couple of minutes for spinach, and progressively longer depending on which type of greens you've chosen to use, and your family's level of suspicion.
Before serving in bowls, taste for salt and pepper, and sprinkle with reserved chopped green onions.
A side serving suggestion: store-bought naan or roti bread that's been lightly brushed with olive oil and dukkah (Middle-Estern savory crushed spice mixture available at Trader Joe's and Middle Eastern shops). Warm it in a sauté pan for a few minutes on each side.