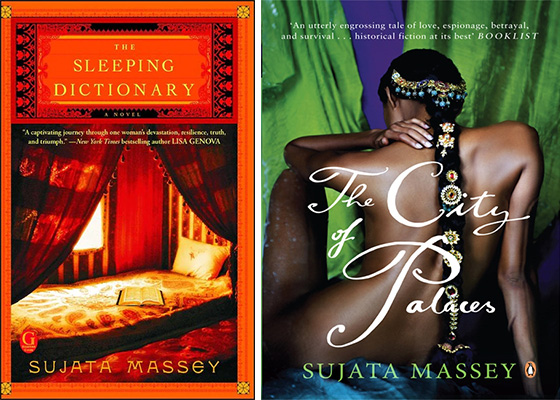 Published as The City of Palaces in India
"Trapped by her past and uncertain of her future, the peasant girl Kamala's journey toward independence—personal and political—unfolds in this riveting historical novel. The award-winning author of the Rei Shimura mysteries turns to 1930s–40s India, with the British in control of the colony as Gandhi and others fight for freedom. The setting gives new life to the familiar story of an orphan girl struggling to make her way in a cruel world. Clever Kamala is front and center throughout, as Massey builds her coming-of-age tale around India as it moves toward independence, effectively combining personal narrative with the grandeur of a sweeping historical epic… The Sleeping Dictionary, an utterly engrossing tale of love, espionage, betrayal, and survival, is historical fiction at its best, accessible to all audiences. Recommend the novel to readers of Arundhati Roy and Bharati Mukherjee."
—Booklist (starred review)
A stunning portrait of late Raj India—a sweeping saga and a love story set against a background of huge political and cultural upheaval.
YOU ASK FOR MY NAME, THE REAL ONE, AND I CANNOT TELL. IT IS NOT FOR LACK OF EFFORT.
In 1930, a great ocean wave blots out a Bengali village, leaving only one survivor, a young girl. As a maidservant in a British boarding school, Pom is renamed Sarah and discovers her gift for languages. Her private dreams almost die when she arrives in Kharagpur and is recruited into a secretive, decadent world. Eventually, she lands in Calcutta, renames herself Kamala, and creates a new life rich in books and friends. But although success and even love seem within reach, she remains trapped by what she is… and is not. As India struggles to throw off imperial rule, Kamala uses her hard-won skills—for secrecy, languages, and reading the unspoken gestures of those around her—to fight for her country's freedom and her own happiness.
Read an excerpt from the book!
U.S. retailers:
Bookshop.org Amazon Apple Books Audible Barnes & Noble Books-A-Million Kobo
India:
A Child's Christmas in Calcutta
Read Sujata's diary entries from 1974
Old Calcutta
Many thanks to the South Asia Section of The University of Pennsylvania's Van Pelt Library for sharing some of their archived treasures, Calcutta 1945, An American Military Photo Album. Click on the photos to enlarge them.

Kamala comes to hectic Burrabazar to find what's needed for Mr. Lewes' cocktail party.

Chowringhee, the district for elegant shopping and entertainment.

The Hooghly River's holy water is used for bathing and cooking.

The Marble Palace, a wealthy family home, can still be visited today.

Howrah Station! Kamala arrives here by rail when she finally reaches Calcutta in 1937.

These fun-loving Bengali actresses pictured here look very much like I imagine Kamala and Supriya.

The Calcutta Key
US military service members billeted to Calcutta during World War II all received this pamphlet, a guide to the city, which includes restaurants and clubs featured in the novel.
Warning: it is highly ethnocentric and may offend some! But I think it illustrates very well the privileged life of foreigners in India seventy years ago.
Book Excerpt
The Flower says I was born from the dust.
Kindly, kindly
Let me forget it
Let me forget it
Let me forget.
—Rabindranath Tagore, from "Chandalika," 1938
Johlpur, West Bengal, 1930
You ask for my name, the real one, and I cannot tell.
It is not for lack of effort. In a proper circumstance, the narrator must give her name. In fact, one of the first English phrases I learned was "What is your good name?"
Over the years people have called me many things. Not all of them are repeatable. But in the early days, I was always called Didi or Pom, the last being a village nickname you will not find in any book. To me, Pom sounds hard: a hand on a drum, or rain pounding on a tin roof. Both are sounds that I remember from the Bengali village where I was born: Johlpur, the Town of Water.
Pom, Didi, Pom! Those who shouted for me the most were my younger sisters, Rumi and Jhumi, twins who looked as similar as grains of rice. But what a difference between them! Rumi was the easy one: quiet and helpful. Jhumi cried more and always demanded to be carried, even when she and Rumi were big strapping girls of six. Double curses was what my grandmother Thakurma called them. But when our father, who we called Baba, was alone with us, he would sometimes say that a daughter's birth lengthened a father's life and that for having three strong girls he might live to one hundred.
I tell you this only so that you will understand how rich I once was.
But nobody in my family understood that those days were perfect ones. Most mornings when my mother made her prayers, she whispered her hopes for a son. If Goddess Lakshmi would bring one, my mother was willing to give her a goat. Or five rupees. Anything, for the boy everyone wanted. Then, in the spring of 1930, the flatness under Ma's sari rounded. Thakurma and Dadu—my grandparents—were suddenly happy with everything she did, and my father sang songs every evening.
As summer came, my mother's belly expanded to the size of a good pumpkin. I marked my tenth birthday, and we ate sweet payesh pudding to celebrate. It was the same time that the daughter of Jamidar Pratap Mukherjee, the landed aristocrat who owned all the rice fields, was studying with a foreign governess. The jamidar's daughter had long been my object of fascination because of her lacy pastel frocks and the white-skinned doll she carried. I did not know the little girl's name then, for we could not ask such a thing of our superiors. In my mind I called her the Princess; and that was not out of envy but amazement that another little girl could be so different.
My acquaintance with the jamidar's household formed at the time I was about seven, old enough to walk distances carrying a bundle of homemade brooms that Ma and I sold throughout the villages. When we reached the jamidar's estate, the ritual was always the same. A servant would call for the jamidarni to see us; she would come out with her daughter hiding behind the folds of her shining silk sari. Then our two mothers would examine the brooms: hers looking down, and mine squatting on the stone veranda, turning over each of our brooms to find the jamidarni the best. The jamidarni would suggest that her Sweeper didn't really need a new broom, then my mother would counter, Jamidarni-memsaheb, the rains are coming and with them, mud! Or, if it were a few months earlier: This is a frightfully dry season, please look at the dust on your veranda; it's a shame that your Sweeper missed it. Not the woman's fault, just the broom's.
On our last call to the estate, my mother was heavily pregnant and could not make her usual bright banter. Perhaps because of my mother's condition, the jamidarni gave me a gaze that seemed especially soft. This gave me the bravery to ask where the Princess was hiding herself. The jamidarni replied with a word I hadn't heard before: school. Two Ingrej women came to the house to teach the Princess reading and writing and numbers—all in English! The Ingrej had turned a parlor into a proper schoolroom with a desk and chair and a blackboard on which they wrote with a short white stick.
"Would you like to see her?" the jamidarni asked in her gentle voice.
As I was nodding my head, Ma said no. Disappointment flooded me, but she ignored the look I gave her.
Then the jamidarni asked my mother why I wasn't in school. She'd heard some village children were learning to read and write under the banyan tree behind Mitra-babu's shop.
Then I understood what she meant by the word school, because I'd seen boys sitting in Mitra-babu's yard, scratching with reeds on palmyra leaves. For a girl like me, there would never be time to sit under a tree; that was why Ma hadn't wanted to me to see the Jamidarni's daughter in her special room.
I said to myself that it didn't matter; I didn't want to be the only girl studying with those boys, and I was already doing something more important than they: I was with Ma, earning money for the family. And I didn't need a numbers class to know how to count coins; by the age of ten, I was proud that I couldn't be cheated. All this I wished I could say to the jamidarni, but it wasn't my place.
Ma was murmuring something about needing my help now that a baby was coming. She placed her hand on her belly, emphasising this, and the jamidarni pledged that she would make a special prayer for a boy. Ma smiled at this, looking as grateful as if the jamidarni had brought ten brooms. And that day, the jamidarni bought her broom without bargaining.
We did not have such luck at other places on our route. By midafternoon, my mother and I slowly trailed home, the heat wrapping itself around us like a scratchy woolen shawl. We were still a month from the arrival of the monsoon, and the last weeks were always the worst. By the time we were home from broom selling, I was as wet as if I'd played the Two Turtles game in the pond with Rumi and Jhumi. I knew that for my mother to carry her waiting baby during that last hot month was not only uncomfortable but also physically risky. Some women in the village had even muttered to one another that it would be a blessing if Ma lost the stone she carried, because three girls first was only likely to bring a fourth.
Everyone knew that we'd had trouble. Dadu was forced to sell the one rice paddy he owned to meet the debts of our family, and now his son, my baba, farmed for others, receiving as payment a portion of rice. Still, we were not poor like the ragged ones living in the alleys of the village. These were the ones my mother called lost souls, and if they came for food, she still always gave something. We had potatoes and eggplants and tomatoes and greens from our own vegetable garden. Fruits beckoned from old abandoned orchards and from neighbors who did not mind sharing. To buy foodstuffs we could not grow, my mother raised a small amount from selling the brooms in summer and catching fish during rainy season. I would do all this work with her until it was time for my marriage, and then Rumi and Jhumi would do the same.
"Your face is our jewel," Ma would say sometimes, and I would laugh and crinkle my nose in embarrassment, because I felt awkward compared to the rosebud prettiness of the twins. But I knew that of all the girls in the family, I looked the most like Ma. It might help me get a husband, especially since there was no dowry we could give. At ten, I didn't think much about marriage, even though my mother had married at eight, moving into my grandparents' hut to live with them and Baba when she was thirteen. I was born two years after that. Sadly, Ma's parents died from typhoid before my anaprasum, the six-month first-rice-eating celebration of a child's life. So I had nobody around except my two sisters, my parents, and one set of grandparents. In our village, this was a very small family.
Two nights after our final broom-selling journey, I awoke to realize that Thakurma was hovering near Ma. Baba was lighting the oil lamp. Thakurma whispered to me that my mother was going to have the baby soon, and that I should take my sisters to sleep outside and then fetch Chitra-massi, the dai who lived in Johlpur village. Thakurma reminded me to call Chitra-massi's name four times at the door: to call her once or twice might lead her to worry that I was a nighttime ghost. I thought this was nonsense, but her door did not open until the fourth time I called. Together, Chitra-massi and I raced back to the hut, carrying her special bucket and cloths. Then Thakurma took her inside and ordered me to rest with the twins.
It was a hot night, so it should have felt easier to sleep outside. But how could any of us sleep as the minutes turned to hours and our mother's groans evolved into a tiger's roar? Village women flowed toward our hut like ants on the trail of a dropped piece of sweet shondesh. I knew they felt especially concerned because Ma could not go to her childhood home to give birth, since her parents had passed.
Ma's cries grew wilder, but still the baby would not budge. Eventually Chitra-massi told my father to fetch Dr. Dasgupta from the next village. My father rode off with a neighbor in his cart; it was some hours later that they returned with the doctor. The sky was light and my mother was hardly crying at all, which made me fear for her all the more.
I watched the doctor's black case bang against his legs as he hurried inside. What did the case hold? I did not trust doctors and their tools. If he had a knife, he could kill my mother or the baby by accident. Silently, I begged the goddess Lakshmi to watch over my mother and the baby. I was beyond wishing for a little brother; I just wanted whoever was inside to come out alive.
Morning traffic to the river was under way when new sounds broke from the hut: happy cheering and laughter. Thakurma emerged covered in sweat but with a smile as wide as the lightening sky. She told us that a little brother had been born, with big ears for listening to his sisters and lots of black curly hair. He had been locked inside of Ma, and Dr. Dasgupta had used something called forceps to free his head. She said she'd almost fainted from the sight of it, but it had worked. Ma was quite tired but wanted to see us.
My sisters and I could not get inside the hut quickly enough. The air was full of heavy smells: incense, the afterbirth, and sweat. After kissing Ma's damp cheek, I turned to look at the new one in the family.
"Bhai," I breathed softly. Thakurma gently lifted part of the red swaddling cloth to show his miniature boy's face with closed-shut eyes. His skin was fair, but the sun would darken him to the same golden-brown color as me.
"Double curses wiped out by a gift from Krishna himself. We will give ten rupees to the temple!" Thakurma hugged me against her thin frame.
It didn't matter whether Krishna or Lakshmi or any other deity was responsible, I thought while studying my brother's wet curls plastered from the sandalwood-scented bath he'd just taken. He was so beautiful that calling him Bhai—brother—seemed too ordinary. All the other children in Johlpur called their brothers Bhai. And they had not prayed as hard for a miracle.
As I retreated back to the sleeping mats and settled between Rumi and Jhumi, I drowsed off, pondering what kind of name my grandfather would choose for my little bhai. Then another worry came: how would we ever come up with the goat Ma had promised Lakshmi and the rupees owed to both her and Krishna?
You may think such karmic debts are old-fashioned Hindu superstitions worth as much as an Englishman's crossed fingers or thrown salt. But I have sometimes wondered whether paying those heavenly debts right away might have kept them from becoming my burden. Then I would never have left the beautiful shores of Johlpur, and I would be able to tell you my name.