The following is bonus material from Sujata's latest newsletter. You can subscribe by clicking here.
INDIA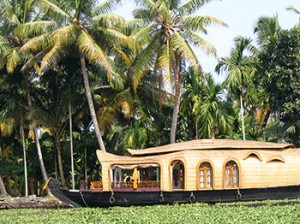 The Kerala backwaters are hundreds of miles of brackish waterways that you can travel for an hour or days on houseboats. The gateway for arranging all this is in the town of Alleppey (also known as Alappuzha).
Fort Cochin, the historic section of the major business city, Cochin/Kochi, is a great area for historic exploration. Brunton Boatyard, an old boatyard that has been converted into a lovely hotel, is a stately haven in the midst of everything. This is the first place I brought my then-one-year-old son Neel to stay. We were treated like royalty. I just checked and saw that non-sea-view rooms are quite affordable!
Calcutta, now known as Kolkata, is a such a vibrant city with lots of theater, film and bookshops. Any traveler should stop by Oxford Bookstore, where a reader can browse for hours and in the evenings, attend exciting readings or sip coffee right at the inhouse coffee lounge. Nearby is Flury's, a historic European pastry restaurant, and a streetcart selling delicious khati kababs.
To stay overnight in Calcutta, I recommend the very civilized, but not stratospherically priced, New Kenilworth Hotel. It's an old British bungalow that's been converted into a hotel with excellent food. It's a pleasant walking distance to Park Street, Chowringhee, the Victoria Memorial and the city's excellent, clean subway system. It's also a few minutes' walk from Middleton Street—the home of Mr. Simon Lewes in The Sleeping Dictionary.
JAPAN
The Zen temple town of Kamakura is very close to Tokyo and much less crowded than Kyoto. If you want to see dozens of historic Buddhist sanctuaries without the expense of Kyoto travel, just hop on a southbound Yokosuka Line train and explore my favorite Japanese town. You'll get a great lunch in town and be able to buy lacquer, washi paper, blue-and-white textiles and all kinds of antiques. Zen Attitude is set in Kamakura and has specific mentions of real places to visit, so use that as your guide.
Nezu is a walkable, historic Tokyo neighborhood that abuts a better-known neighborhood called Yanaka. You will find tofu and sembei cracker shops, shrines and temples just by walking out the door. Staying in a minshuku in Nezu or Yanaka is a great idea for any traveler who doesn't need things to be super-comfortable. Also, Hotel Asia Center of Japan in Akasaka near Roppongi is inexpensive, clean, modern and safe.
More Tokyo Treasures: the whole neighborhood of Asakusa for delicious, well-priced food and shrines; Omote-Sando Avenue for cappuccino and cosmetics shopping; and  Harajuku neighborhood for youth culture, cheap fashion and food. Roppongi is a must, not just for the fun musical nightlife, but for daytime shopping at clothing boutiques and Kurofune Antiques. If you want to shop at a Sunday morning flea market, the vendors move to a different shrine location each week, so check with the Japanese Tourist Board for the latest information.
CAN A SOPHISTICATED AUTHORESS TRAVEL TWO WEEKS IN EUROPE WITH ONE CARRY-ON?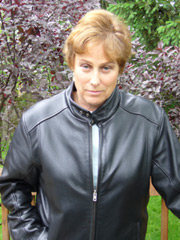 My friend Libby Fischer Hellmann, writer of fabulous mystery and international suspense fiction, is traveling in Germany, Austria and Eastern Europe for two weeks using a single carry-on suitcase. I used to work in fashion journalism so I find this idea of limiting oneself severely, especially when traveling in cities, pretty hard. So I asked Libby what she would squeeze into her expanding Samsonite case for an itinerary of six countries.
Sujata: Libby, what goes into your carry-on?
Libby: 4 pairs of pants, 2 skirts, 1 dress (both skirts and dress can be rolled up without wrinkling, a la Kinsey Millhone; assorted tank tops, 3 scarves, 3 sweaters, 2 pairs of tights. And two T-shirts ;). Toiletries go in the zippered outside compartments.
Q: What about shoes? Do you have a favorite brand or two of comfortable walking shoes that are not sneakers?
A. I'm taking a pair of walking shoes and a pair of black suede ankle boots for evening. Black WaveWalk shoes by Clark were suggested by another international traveler, mystery author Cara Black. They are the most comfortable shoes I've ever worn.
Q: Are you bringing a raincoat?
A: I bought a Scottesvest trench jacket with 18 pockets, also at Cara's suggestion. And an across-the-chest Baggolini as a purse. If it's not enough, I guess I'll have to buy a jacket.
Q: Do you buy clothes when you travel? What are some favorite purchases and where did they happen?
A: Libby: Love to buy clothes and accessories… the UK for scarves, Paris for skirts, Italy for shoe and purchases, and, curiously, Gibraltar for a leather jacket!
Thanks for the intel, Libby. To find out more about her travels and books, click here: