I met my first mystery novel at age twelve. It was The Moonstone, a prescient holiday gift from my father. In the years since, I grew into my life as a mystery and historical fiction writer. Turning bits and pieces of my imagination into something others can read is a thrilling experience.
From 1997 to 2008, I wrote ten novels in an amateur sleuth series about a young Japanese-American antiques dealer. I created a young woman, Rei Shimura, who left California to build a creative life in Tokyo; however, she kept stumbling upon secrets that led into bona fide mysteries. Due to Japan's low crime rate, Rei's mysteries involved very few guns, but did have a lot of art, sociology and romantic fun, starting with book #1, The Salaryman's Wife. Nine more books followed, and then I took a holiday from Rei.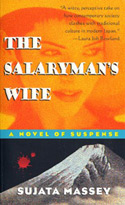 In March, 2011, a 9.0 Richter earthquake occurred 200 miles from Sendai, Japan. A powerful shifting of plates under the Pacific built a lethal tsunami wave that hammered the northeastern Tohoku region. More than fifteen thousand people died in one afternoon. An estimated one million buildings suffered damage and hundreds of thousands of Tohoku residents became homeless. Historians declared this was the toughest time for Japan since World War II, and TV footage made it look as if the country had suffered an irreversible fall.
During the weeks after the tsunami, I tried to learn whether my Japanese friends' families were safe and how people were coping with gasoline, electricity and food shortages. I also wondered if the light-hearted, beautiful world I'd written about could continue. The Rei books were still in hiatus. I wasn't sure what to do.
So I did what a lot of other people did: I followed the news. I learned that even as the wave was approaching, police, medical personnel and municipal employees stayed in the danger zone to help fleeing people reach higher ground. After the waters had subsided, survivors assisted others, not talking about the losses they were going through. Fukushima nuclear plant workers stayed onsite to shut down the reactor. As the nuclear situation worsened with persistent fires, soldiers, sailors and firefighters came from all over Japan, risking their lives for the safety of the nation.

Kizuna, a uniquely Japanese word meaning "bonds of loving kindness," was used to describe this selfless behavior toward others. And as I heard even more stories of bravery, self-sacrifice and kindness, I felt these events were worth recording somewhere beyond short news reports that I knew would trickle into nothing after a year. But I had some worries about writing a tsunami book.
My first concern was that the tragedy was still ongoing, if you counted the thousands mourning the dead and suffering from health problems and loss of their homes. I considered making up a fictitious earthquake hitting a different part of Japan. However, that didn't seem like it would be any more sensitive to survivors' feelings. It also wouldn't satisfy my desire to credit the citizens of Tohoku for what they'd endured.
Ultimately, I decided to write about the real tsunami, setting the book in a fictitious town close to real places. I brought back the same characters my longtime readers know, and I introduced new people of all ages from Tohoku. As well as a dog! I incorporated scenes of stylish Tokyo trying to pull itself back on track, as well as the battered coast. I found myself moving between two worlds—just like my protagonist had always done.
And with her voice in my head, I began understanding that beauty endures. While I needed to describe the impact of millions of dead fish on a town, I also could note the Buddha statues placed respectfully by residents to overlook the shattered streets. In my mind's eye I saw children happily playing on a jungle gym washed clean by their loving parents; and the pleasure shelter residents took sipping the first hot bowls of miso-vegetable stew.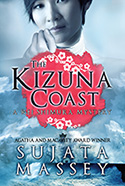 By the time I'd finished writing The Kizuna Coast, I felt grateful for what the people of Tohoku had taught me. Just as I felt blessed by the power of fiction, which allows us all to take the long view past misery and onward to hope.