For the last couple of weeks, I've been spending up to a half-hour every day with a coloring book and a 48-pack of gel pens. The idea of coloring as a way to get writing juices flowing came from a great blog post on raising productivity for writers by Joanna Penn. I don't know about you, but I haven't done anything artistic since elementary school. But from age of 7 to 12, I spent a lot of time making paper dolls from the lightweight white cardboard that came inside packages of socks and pantyhose (remember?). Once my paper dolls were cut out, I'd trace clothing wardrobes for them. I loved coloring in the clothes.
Imagine my delight when I discovered a Dover Coloring Book by Tom Tierney called Fashions From India.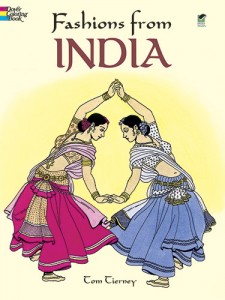 There are 44 illustrations of historic to modern Indian costumes for men, women and children!
My hours outside of writing and caring for my family are few. But right now, I need to do this, just like some writers need to run or do yoga. Here's why:
Coloring is meditative and relaxing. There's a reason "art therapy" was invented. It can give you the satisfying pause you may need to get back to the rest of your life.
I've been delighted, though, to find that this coloring book dovetails nicely with my writing. The protagonist of Bombay Angel (the working title of my next India historical)  is a costume and textiles designer. She must think about putting colors and patterns together in the 1920s, when almost everyone still wore clothing particular to their region and role in society.
Coloring leads me to think deeply about the appearances and roles of all the characters who might appear in this book. As I spend time concentrating on line drawings of landowners and coolies, dancers and maharanis, I feel my own book's cast of characters growing.
If seen a Bollywood film or visited India , you've probably noticed that everyone wears fantastic color, regardless of social position. Remember how the late Vogue editor Diana Vreeland said "pink is the navy blue of India?" It's true for both genders.
Rajasthan gentleman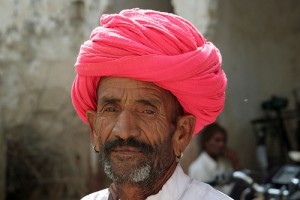 Women Farmers
Urban political protesters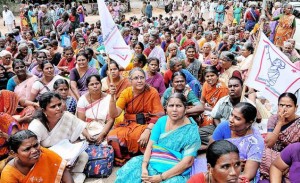 Back to my coloring. It's kind of hard—and I don't mean just staying within the lines. When I'm indecisive about which colors to use for a busy-patterned sari, or which color is appropriate for a military man's turban,  I roam around Google Images to learn. But choosing colors for the figures in the coloring book also sends me into my own brain to find the colors that speak to me. It's exciting to try new combinations—some failures and some successes. Which is exactly what a writer has to do when creating a novel from thin air.
Another artistic exploration is taking place on Pinterest. I'm collecting historic photographs and images pertaining to my novel-in-progress, Bombay Angel. You can look at the Bombay Angel board at Pinterest. Enjoy the pictures—I'll keep updating, in case you want to follow me there.