This post originally appeared on Murder Is Everywhere.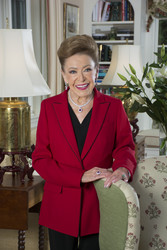 Literature became less suspenseful on January 31, the day that Mary Higgins Clark slipped out of the world.
Often called the Queen of Suspense, the 92-year-old author published more than 66 books in a forty-four year career. She was in Naples, Florida, working on a book when she passed away from complications of old age.
Mary was a native New Yorker who grew up in the Depression and suffered the loss of her father to heart attack while a young girl, and her husband to the same disease while she was raising their five children. That loss, however, did not result in the expected situation of her living out the rest of her days in hardship.
Mary's tragedy put into motion the creative writing career she'd always wanted—to move from short stories to novels. She started out writing between 5 and 7 in the morning, then got her kids out the door, and then went by train from New Jersey into Manhattan to her office job at a script-writing company. When I think about how busy these workdays must have been, and then add on the five children in morning and evening, my head spins!
A lot is being said about the exemplary fortitude of Mary, and of her genius in creating a signature genre of domestic suspense novel that has exploded in the last few years.
But what I find most significant about Mary Higgins Clark is that she told secrets about women's lives at a time that women were routinely silenced for their supposedly unimportant observations. Through her novels, Mary illustrated the wrongheadedness of the silencers, without seeming to be composing anything more than a vastly thrilling commercial novel.
After the breakout of her second book, Where are the Children?, MHC was able to write full-time. From that point on, every book she wrote was a national bestseller.  Her longtime publisher, Simon & Schuster, estimates she's sold more than 100 million books in the United States alone.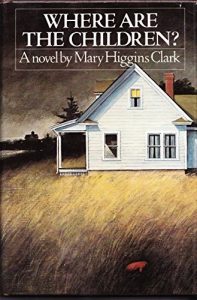 I first caught sight of a Mary Higgins Clark book at my local B. Dalton bookstore in the mid-1970s. I should have been in the children's section, but had ventured over to adult mystery, because I had become a fan of Conan Doyle and Christie. Where Are the Children? had a book jacket showing an isolated house in a windy field, and you could tell a bad storm was coming. I quickly discerned the story's premise was  that children had disappeared and might have been killed by their mother. It seemed too much to handle. Now that I'm older and wiser, I'm sure Mary would have approved of the eleven-year-old me walking away from her blockbuster novel.
Recently, I listened to the audiobook version of Where Are the Children? Now that child abuse is not a huge cultural secret, there was a veiled child on the cover, making it even creepier.
I found the most disturbing parts were the chapters narrated by the killer/kidnapper. I fast-forwarded during most of his narration. But there was a lot else that I took in to with fascination. She transported me back to my memories of the early 70s. It was a time that America was split between "squares" and "rebels." You were either a Nixon fan or absolutely against everything he stood for. To say you supported equality for women meant you were a "women's libber," which was usually uttered as an epithet.
The novel's flawed protagonist, Nancy Eldridge, is no "women's libber." She is a housewife admired by the Cape Cod community where she lived for her gentle ways with her children. Nancy is very private because she is mired in an earlier trauma. There is no talk of women's liberation; she's married to a dear man who wants nothing more to protect her, just as she believes her first husband did.
The trauma is shared with the reader early on. Nancy recalls her college-age marriage to a professor. When she had two young children, her health and memory began to fail and the children disappeared and were later found murdered.  Nancy's first husband, Carl, drowns himself in apparent grief when Nancy is charged with the children's murders. She knows she didn't kill them—but she doesn't remember much about the time, and a witness claims she spoke of killing them. Nancy is released from prison on a technicality and leaves the country. Then, seven years later, when she's remarried and living quietly on Cape Cod with a second husband and their two young children, they suddenly disappear on the morning of her birthday—which is also the anniversary of the earlier abductions. Nancy is sure they've been kidnapped and will be killed just as her first children were. She collapses. The police, after learning her past, think she's their killer.
Nancy presents as a hysterical woman at a time when women were often considered hysterical and incapable of speaking for themselves. A psychiatrist using a truth serum is the key to uncovering what happened before, and he insists to the police chief that this might have bearing on the present crisis. The novel is packed with many paternalistic males, some of whom conspire to help Nancy, and others who suspect her. And there are three other strong women characters in the book, including a real estate secretary, a housewife and a grocery store owner,  who are repeatedly shut down by the men around them. A very negative male character presented to the reader is a military deserter, a recognition of the country's divided feelings about the draft.
While Mary Higgins Clark had something very important to say about how society hushed up women and children, including those who are wounded by sexual abuse, she always did it through the lens of popular fiction. She wrote the kind of book that conservatives would pick up and consider just an other exciting book. The feminism goes down easy, like the cup of coffee or glass of wine her heroine enjoys when she is feeling relaxed and safe.
As decades passed, the books piled up and the heroines became career women. At their sides were good men who might be community members, although an attractive young one would usually serve as a love interest. There were always strong women characters close by the heroine. These ladies are often older relatives or secretaries, and presented by the author with glowing recognition of their attractiveness, compassion, and insight. These women know something's wrong—and they speak up.
MHC had every book become a bestseller and was celebrated as a Grandmaster by the Mystery Writers of America. But she'd seen over the decades, how mysteries starring men racked up Edgar awards while those featuring women as anything other than victims, mothers or girlfriends were scarce. Mary asked her publisher to assist her in establishing an award for mysteries about women. She had strict criteria for the award winning book's protagonist. The character was to be a woman without professional crime fighting occupation, to be someone with mostly positive family relationships who becomes sucked into a threatening situation that she must overcome using her own courage. The book also had to be free of explicit violence and sex and harsh profanities. The award is not exclusively for women writers; a male writer, Bill Floyd, has won, and the mother-son writing team of Charles Todd also took the prize one year.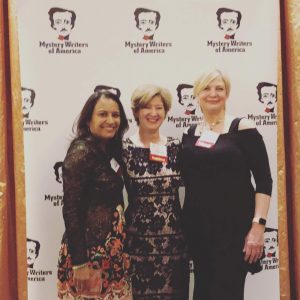 To select the Mary Higgins Clark Award, a judging committee of MWA members reads hundreds of novels that are whittled down to an announced shortlist of usually five or six books. Out of these nominees, a winner is announced at the Edgars dinner.
I was stunned to be nominated for The Samurai's Daughter in 2004. In 2019, I was again nominated for a book in my new series, The Widows of Malabar Hill, which shared the nomination with books by Mariah Fredericks, Dianne Freeman, Julia Keller and Paula Muncier. Widows turned out to win that night, and I experienced so much surprise and joy that my heroine, Bombay lawyer Perveen Mistry, was now part of the MHC tradition. Mary was not at the Edgar Awards Dinner that night. We missed her.
I wonder what she would have thought, if we'd met. I don't see myself as being close to MHC in style of writing or structure—and certainly, I lag behind her in productivity and sales. But she might have liked my heroine. A long time ago, I decided to commit to writing books about intelligent women who support themselves and those around them. It just felt natural.
This is how a lot of us go through life. We are sailing along minding our business, and something awful happens. Our crisis could be one of many terrible things: an incident of racism in the neighborhood, a family member's pain, a financial setback or the news of a friend's serious illness. We throw ourselves into action and try our best, no matter the outcome.
In the books of Mary Higgins Clark, we see ordinary women saving the universe. Ourselves amplified, everywhere.