This post originally appeared on Murder Is Everywhere.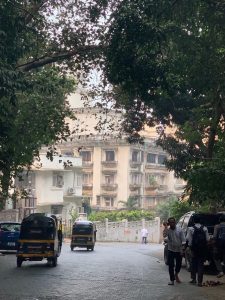 The first welcome I had in Pali Hill was from a rooster.
I'd just entered my bedroom in the Airbnb rental. It was about three-thirty in the morning. As I put down my suitcase, exhausted after eighteen hours of flying and lots of airport waiting, a series of mournful squawks began. The glass window was latched shut; it was January, with evening temps in the sixties. But the valiant rooster's cries carried, despite the earplugs I'd brought on suggestion from the host and previous Airbnb guests in the review.
You may wonder why I decided to stay in a flat where I knew a rooster made an impact. The answer is two-fold. First, I thought the rooster would just wake me up a little early in the morning. And the second is that I really wanted to stay in a residential neighborhood of Mumbai with a local host, rather than a hotel. I am willing to try new things, because I'd rather stay in the real world.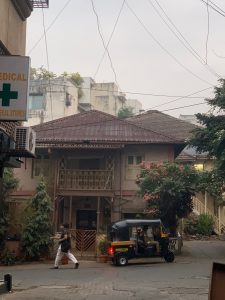 But is Pali Hill, a posh historic neighborhood within the area known as Bandra West, the real world? Plenty of people would say no—it is too elite and full of many people of different countries and faiths. It is far more mixed, and liberal, than a typical Indian community.
I was a temporary visitor, so I am not a Pali Hill expert, let alone one on Bandra itself. The larger village known as Bandra (Vandre means port in Marathi) began as a fishing village. Its identity was stamped in terms of architecture and a grand Catholic Church, during the Portuguese colonization. The British took over, and the new buildings that went up—charming bungalows and flats—were home to wealthy Parsis, Anglo-Indians, and others with the taste for quiet living in the hills north of Bombay. In the 1930s, film people began settling here. Today there are splashy new shopping areas with crowded streets, but most  in bungalows and apartment buildings that were grand in the 1920s and are faded-grand today. The simpler places are still locally owned and many are rented to the French and other international residents.
Some grand houses that aren't occupied are held close by the owning family and rented for use as film sets. Many homes are guarded by high walls with signs proclaiming stern statements such as: "This is the home of the Perreira Family. Absolutely no trespassing upon penalty of law" or "This home belongs to J Winslow and family. It is not for sale and do not enquire about it."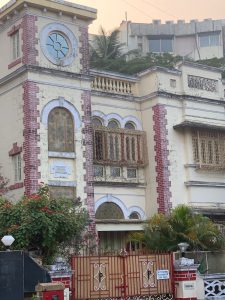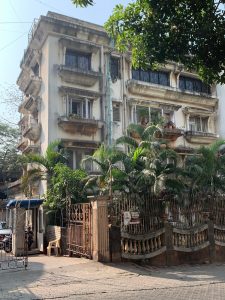 Keeping one's hold of property in Mumbai is not always easy. A charming sky-blue cottage across from my favorite coffee place is titled to an elderly couple. They traveled for a few months and left the property in the hands of a servant who promised to take good care. When the couple returned, the locks had been changed and the servant had taken over the house, refusing them entry… saying the house was now his. Because of the city's rules affirming the rights of people to stay on properties where they've had a history of living, the servants may trump the owners in this contentious case that has Pali Hill neighbors talking.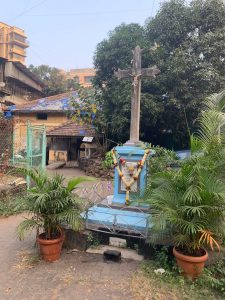 Back to the names on the cottages. Many of the names are Portuguese ones like Almeida, Pereira, and Braganza. It turns out that the Catholic community in Bandra is quite different ethnically from the Christians of Goa, Kerala and other areas. Bandra and the villages around it like Santa Cruz were home to a very old Marathi speaking community who lived in the area as farmers, fishing people and salt gatherers. They were converted to Catholicism during Portuguese rule in the 15th and 16th centuries. This is when they began taking Portuguese surnames, celebrating Christian holidays, and enjoying roasts and sausages.
Today, Bandra is a prime location to  run a restaurant or cafe with high prices, offering sustenance to foreigners in search of almond-milk cappuccinos, as well as affluent young Indians wishing to have fun away from the prying gaze of their family and neighbors. A number of Airbnb listings for Bandra West state that "unmarried couples are welcome," which would not necessarily be true throughout the city.
In The Widows of Malabar Hill, Perveen travels secretly to meet an attractive young man. The Bandra Bandstand area is where she experiences a burning kiss on the rocks close to the Arabian Sea. This business was inspired by the kind of hanky-panky that has been going on there for at least a century.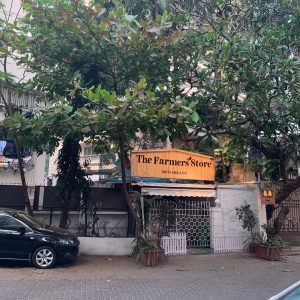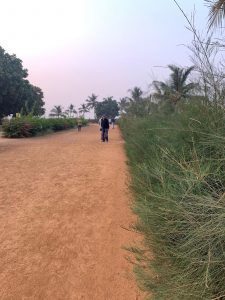 One of my favorite rituals while staying in Bandra was fitness walking in Joggers Park, a scenic park with greenery in the center of an oval track. Along one side, you can see the sea. The park is popular all day long with friends who come to walk together, or to do yoga and training exercises.
There was a series of oval tracks—one dirt, another stone, another brick, and so on. The youngest or fastest people usually moved on the outside track, while the old friends wishing to catch up could meander and stop on the old-fashioned walkways and take time to gossip sitting on benches.
Just like a beautiful Indian garden, the track has floral flourishes and a dramatic center point: garden with a bridge over a pond with ducks. And on its banks, to my amazement, was a cage holding a rooster and some chickens. This fellow was quieter than the one near me; perhaps because he had so much to look at around him.