This post originally appeared on Murder Is Everywhere.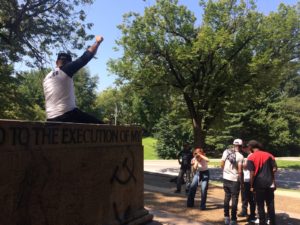 I cannot call myself a native Baltimorean. However, I've spent almost two-thirds of my life in this so-called "Charm City," so I call myself one by conversion. I love my town.
When I arrived here fresh off the plane for college, I believed I was going to a Southern city—but I quickly reversed my thoughts, as I realized I was 3 hours from New York, 1 hour from Philadelphia and Washington DC, and almost everyone at school was from the Northeast. Yes, there were crabs that came from an amazing microclimate on Maryland's Eastern shore, but the accents were nothing like true Southern accents. But evidence remained. Before the Civil War, Maryland was a slave-holding state—although its proximity to Washington DC put it on the Union side during the Civil War. 65,000 Marylanders fought for the Union while 22,000 joined the Confederate troops.
The Civil War ended with President Lincoln issuing the Emancipation Proclamation freeing all people in the US from slavery. For some, that was a hard pill to swallow. All across the South, efforts were made to keep blacks from living free and dignified lives. Jim Crow laws established boundaries between blacks and whites. In Baltimore in the early through mid-1900s, Confederate organizations raised funds and got permits to put up four monuments to their past on public land.
But statues aren't just placeholders in parks.
Earlier this month, a heavily-armed white supremacist rally gathered to carry torches and shout messages of hate at a Confederate monument in Charlottesville, Virginia, that the city had voted to remove. "Unite the Right" brought together Nazis, the Klan, and new white supremacy groups. And then they turned on the peaceful counter protestors who'd come. One woman died and 33 people were injured during hours of violence where the police stood by. Although President Trump took it in stride, many people in the country were aghast.  And mayors and governors of Southern states realized that the monuments on their streets could very likely bring the supremacists to visit them.
Within days of the Charlottesville rally,  Baltimore's recently-elected mayor Catherine Pugh ordered the monuments removed. Her action was received with relief by many Baltimoreans, including myself.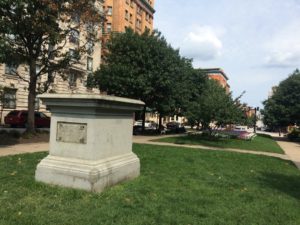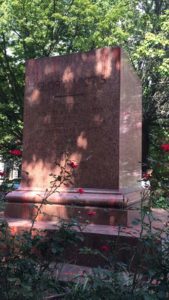 To the outside, the action to remove might have looked like a quick reaction, but it was a long time coming. Many activists in recent years have showed up to protest the Confederate sympathizers who chose to gather at the Robert E. Lee/Stonewall Jackson monument during Martin Luther King weekend. As my friend who organized a silent vigil there over many years said, it was stressful for her children to see the people come to mourn the loss of slavery. It seemed like a slap in the face to do it during the King holiday, although the Confederates explained to the protestors they were doing it at the time of both Lee's and Jackson's birthdays.
Some people have suggested that removing the Confederate statues is an act comparable to the what the Taliban or Isis has done when they've conquered places. But these statues were erected many decades after the Civil War. They are not part of the city's slave history. The organizations that erected them were shrewd to place them in the city's most beautiful and prestigious locations, near museums and colleges where visitors to Baltimore would have to see them. The monuments were put up during times that whites were intent on pushing back civil liberties for racial minorities.
Baltimore tried to deal with the statues gently. They experimented with placing plaques next to the statues explaining this provenance—but the statues were still upsetting to people. A commission of Baltimoreans appointed by the previous mayor, Stephanie Rawlings-Blake, studied the issue and recommended removal of two statues, but to leave two in place with plaques of explanation. The two the commission decided to leave were the ones relating to Confederate soldiers who perished—rather than Roger Taney, the former Supreme Court chief justice who affirmed the right of slave owners, and Stonewall Jackson and Robert E. Lee, the Confederacy's most famous generals.
Why shouldn't the statues remain with plaques of explanation? My mind was changed after I heard Baltimore City Councilman Brandon Scott speak. He said that slavery is a 9-11 for African-Americans. Allowing the statues of those who loved slavery is tantamount to putting up statues of the hijackers who hit New York's World Trade Center in 2001. And these statues weren't destroyed. Right now the removed statues are safely covered up and waiting on an undisclosed city lot. They have a future, somewhere.
I drove around last weekend to look at what was left of the monuments. The bases were still standing. Some of them had been hit with red paint that looked like blood, and others with graffiti.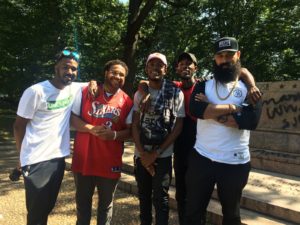 When I arrived at the site of the former Robert E. Lee-Stonewall Jackson monument, I was intrigued to find a cluster of young men there. Several had cameras out, a boombox was playing, and one man sat atop the statue performing a rap song.
After the song was done, I met the rapper/songwriter, Cellis, who is a well-known artist activist. Cellis comes from Baltimore and has recorded strong songs outspoken on police brutality and gay rights. His new song will be a proclamation of resistance to white supremacy.
The Baltimore Sun's photographers have photographed the statues and their sites before and after. See whether you think we suffered a devastating cultural loss. The Baltimore Office of Promotion and Arts is inviting artists to create sculptures to stand where the old monuments were. A beautiful future, which we can't yet imagine.