This post originally appeared on Murder Is Everywhere.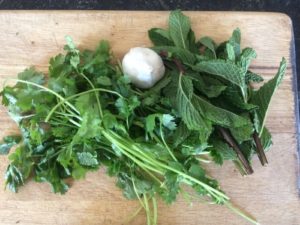 In the height of summer, a heap of imperfectly gorgeous tomatoes rest on my kitchen island. They beseech me to touch them and make something great. The obvious thing would be to make a lush sauce—but it's 90 degrees outside, and I'm not in the mood for cozy Italian pasta.
No. These tomatoes are calling out their wish to become a chutney.
"Chatni" is a classic accompaniment to a South Asian meal containing rice, meat and vegetable dishes, and breads. In a typical chatni, fruits and vegetables such as tomato or mango are slow-cooked with spices and ginger, various forms of chilies and the solid brown sugar called jaggery. Jaggery comes from palm sap or sugar cane and is sold in Asian grocery stores. Sometimes garlic and onion are part of the mix. Before the British, mustard and other oils were used to help keep the chutneys from spoiling. The ingredient of vinegar in chutneys comes from Britain, but is now part of some Indian chutney recipes.
Yogurt-based sauces also are known as chutneys; most famously the coriander-mint chutney served at almost every Indian restaurant, and the creamy, sweet and spicy coconut chutney essential to South Indian dosa.
When the British tasted chatni, they loved it. They anglicized the spelling to "chutney" and found ways, after they went back to Britain, to make new chutneys with fruits like apples, plums and rhubarb and the preservative vinegar. A few months ago, I had a great experience making rhubarb chutney. They also created "Major Grey's Mango Chutney," a style of sweet and sticky chutney containing raisins, vinegar and a bit of tamarind that is an ingredient in many an American chicken salad. In my family, it is the standard slather over a cheddar cheese sandwich—or grilled cheese.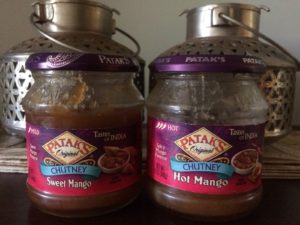 Sweet mango chutney is the starter chutney for children who are cautious about foreign tastes. Growing up, I had a big spoonful of sweet mango chutney with almost every home cooked Indian meal. I can't imagine eating biryani without some mango chutney mixed in. These days, Indian food companies such as Patak's make these Anglo-style mango chutneys with chilies included, if you like.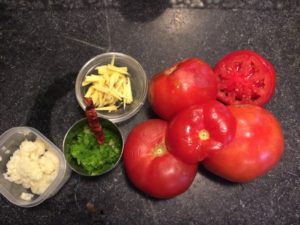 Back to the homemade tomato chutney. My recipe is inspired by a traditional one found in The Calcutta-Cookbook, A Treasury of Recipes from Pavement to Palace by Minakshie "Kewpie" Das Gupta, Bunny Gupta and Jaya Chaliha. Kewpie was a legendary Bengali home cook and cookbook writer. After Kewpie's passing, her family opened a jewelbox of a café in her honor within their historic home at 2 Elgin Road. Kewpie's is a must for lunch, if you are visiting South Kolkata. And the cookbook details how to make "Colonel's Sweet and Hot Mango Chutney," which is surely more delicious than the commercial version.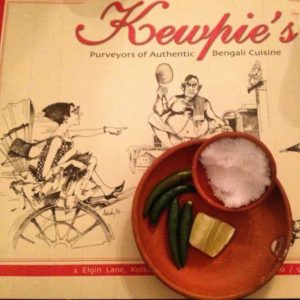 During my frequent lunches at Kewpie's in the late 1990s, I enjoyed food served on banana leaves and old-fashioned terra cotta plates. There would always be several extraordinary fresh chutneys served. Not to mention spicy pickles—but vegetable pickle is a story for another column!
My tomato chutney, which does not include raisins or too much chili firepower, is great on sandwiches, burgers, alongside grilled meat and fish. You can mix in 1/3 cup of it with eggplant that's been roasted and mashed. You wind up with something very much like the famous dish Baigan Bharta, but with 75% less work.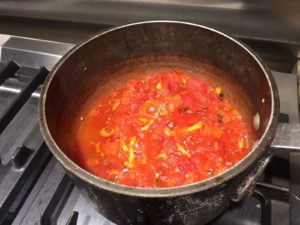 The farmer's market sells larger bunches of herbs than can be eaten in a week—so again, the answer is chutney. I make my cilantro-mint chutney with Greek yogurt for extra protein. It's a natural with crispy treats like samosas, pakoras or with grilled fish. This green chutney is a great marinade for chicken pieces to be baked or grilled.
Here are my tomato, cilantro-mint and rhubarb chutney recipes. Please note that these chutneys are designed to be refrigerated in glass jars or bowls with lids. They are not shelf-stable.
I'm winding up my culinary adventures to return to my real work: writing a novel. It strikes me, though, that concocting a chutney is a bit like writing a mystery. There are so many interchangeable small parts: fruits and vegetables, spices, and preserving vinegars or oils. When I write, I pull together many pieces: characters, plots and sub-plots, settings, conflicts, motivations. I contemplate when I've got too much of one thing or am missing an important element. My book's components are adjusted as it grows toward a finished state.
But while it takes a year for me to write a book, a chutney rarely simmers more than thirty minutes.  This makes it a small but gratifying accomplishment.