Tomato Chutney
(inspired by The Calcutta Cookbook by Minakshie Das Gupta, Bunny Gupta and Jaya Chaliha, Penguin India 1995)
Makes 1 generous cup
500 grams/18 ounces summer tomatoes, skins removed by blanching in hot water, quartered—any tomato and seeds included
½ cup sugar (granulated, turbinado or light brown)
¼ cup apple cider vinegar
½ teaspoon plain red chili powder
1 teaspoon fresh minced garlic
1 teaspoon fresh ginger, peeled and cut in matchstick silvers
1 fresh green chili such as jalapeno, seeded and chopped (don't include the white seeds)
1 dried red chili, broken in pieces
Salt to taste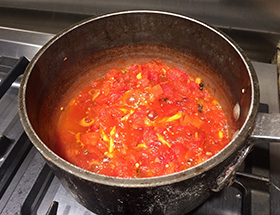 Combine all ingredients in a non-reactive pan such as stainless steel or porcelain-lined.
Simmer gently, stirring occasionally, until the color has deepened and the tomatoes look jammy.
Let cool and taste for salt. Stir in salt and put the tomato chutney an airtight glass container and refrigerate. Serve cold or at room temperature.
Cilantro-Mint Chutney
6 tablespoons plain 2% or full-fat yogurt (Bulgarian is best; Greek- or American-style also fine)
2 generous tablespoons washed and dried mint leaves
2 generous tablespoons washed and dried cilantro leaves
½ green chili such as jalapeno, seeds removed
1 small clove garlic, minced
1-2 tablespoons fresh lime or lemon juice (you'll need more if you are using Greek yogurt)
½ teaspoon salt or more
Process the herbs, chili, minced garlic, lemon juice and salt in a blender with 3 tablespoons of the yogurt in a blender or food processor.
In a medium bowl, mix the processed ingredients with the remaining 3 tablespoons of yogurt. Taste for salt.
Store the cilantro-mint chutney in the refrigerator for up to 4 days.
Rhubarb-Apple Chutney
Makes 1 ½ cups
1 ½ cup diced rhubarb (about 1-inch)
½ cup diced apple (any sweet kind)
½ cup dried cherries
¼ cup finely chopped red onion
¼ cup water
¼ cup honey
1 tsp grated fresh ginger
1 ½ teaspoons red-wine vinegar
¼ teaspoon crushed red pepper (1 dried chili pounded)
In a small non-reactive saucepan, add rhubarb, apple, cranberries (or cherries), onion, water, honey, ginger, vinegar and crushed red pepper. Bring to a boil, stirring occasionally. Reduce heat to medium-low, cover and simmer until rhubarb is tender, about 10 minutes. Uncover and simmer about 5 more minutes, until it becomes a thick sauce.
Pour into a glass container with lid and refrigerate.