This post originally appeared on Murder Is Everywhere.
The word "binge" comes heavily into use at this time of year.
Alcohol and chocolate are common splurges, but relaxing activities of all sorts can become crazy bad habits  when you've got holiday time away from work. I've a confession to make: I'm binging on something I very rarely imbibe: television.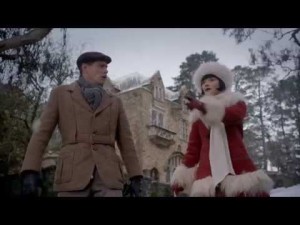 Typically, there's so much computer usage in my day that I'm spent by evening and have no more interest in screens.  But during Christmas 2014, I forced myself to make use of our Netflix subscription. I fell in love with "Miss Fisher's Murder Mysteries" from Australia—and to my regret was done with all episodes of the first two seasons in two weeks, including the infamous Christmas Special pictured above. Next I moved onto "Bletchley Circle," a suspenseful BBC miniseries. International TV was better than I'd ever thought! As the holidays ended, I lost the time for my new hobby and returned to work.
This past Christmas Day, once the gifts were opened and papers and boxes captured for recycling, I got to work on my binge project. My requirements were lovely cinematography, an international locale and either humor or love.
Netflix suggested a series called "Atelier" based on my past, pitifully few selections.  Description: A young "fabric geek" lands a job at an upscale Japanese lingerie company and quickly discovers she'll need help to survive." Performed in Japanese, the subtitle options are English, French, German and Spanish, opening the show to viewers in many countries. In Japan, the show title is bit more blunt: "Underwear."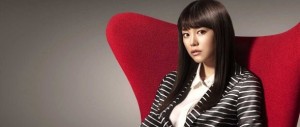 Before tuning in, I was suspicious the lingerie aspect might mean the show was exploitative, but I was happily proven wrong. Atelier is a 13-episode series featuring an awkward, plainly spoken university graduate named Mayuko who gets an entry-level job at Emotion, a legendary atelier (designer's salon) specializing in custom-made lingerie.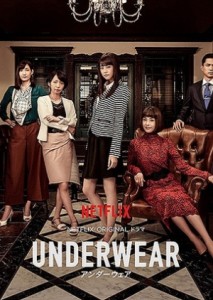 Who is the oddball heroine? Mayuko explains to a co-worker that her first name is written with the kanji character meaning cocoon; this is nicely symbolic for a girl with a deep love for silk and other fibers—and a person who grew up raised only by a father who worked at a textile factory in the country. She''s been entirely insulated from modern femininity. Mayuko wears the same gray business suit with a white button down shirt and black Mary Jane flats in at least the first three shows. Her boss calls it "tacky," and this very typical Japanese business suit gets her expelled from a chic party on Episode 3.
Emotion's team of six experienced professionals teach Mayuko about the mysterious power of style, the construction of garments, and providing the world's best customer service when selling bra-and-panty sets for $1000 apiece. Mayuko makes lots of mistakes, but is forgiven by her formidable boss, Nanjo-san, who has a heart of gold behind all the lace and underwire.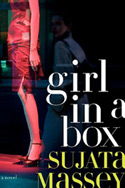 I wrote an eleven-book mystery series set in Tokyo. In these novels, the young Japanese-American heroine Rei Shimura rhapsodized about Japanese customer service and lovely products she could not afford to buy. One of these books, Girl in a Box, is set in a fictional Ginza department store. When I was writing the first draft, I returned to Japan and tried to set up research visits at several department stores. I was always politely refused. The only way I could learn about Japanese retail was through my own shopping and secret interviews of retail employees at cocktail bars and restaurants! At the time, I was happy to get this stealth intelligence; however, what I've absorbed from watching Atelier is more illuminating.I had a glorious time living near Tokyo in the early 1990s. During these days, I was a devout visitor to department stores in Tokyo's Ginza. I could tell if I'd been shopping too long by glancing up at the iconic Seiko clock tower atop the Wako department store–a lovely sight that is shared on Atelier.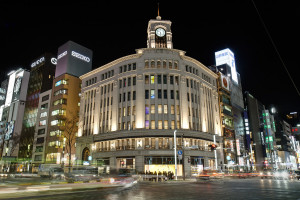 I always felt safer when I was living in Japan: a fairytale lifestyle that was bound to end. "Atelier" has provided me a surprising return to that serenity, one hour at a time.