This post originally appeared on Murder Is Everywhere.
I shouldn't be in Hawaii right now, watching the waves roll in and basking in sunshine.
The only reason I'm here is because I'm a worrier.
In 2014, I began the application process for an artistic residency at the Iolani School in Honolulu. I worried I wasn't going to be able to pull myself away from my household—even though the event was two years away. I applied because I thought I couldn't possibly be chosen. But after several months I was surprised by the exciting news I had been chosen as the Keables chair holder and would travel to teach writing workshops to students for two weeks in the winter of 2016. With more than a year to go, it wasn't hard to plan out the classes, think about what I'd do for the Community Night Public Lecture, assemblies and other events. The school bought my airline ticket five months in advance and booked a two-week stay at a nearby hotel.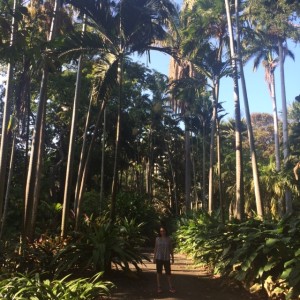 About a week before my departure, my worrying spiked. Forecasters were predicting a massive snowstorm for Maryland and Washington, D.C. I had the sinking feeling the snow would ruin the carefully laid plans. And if my flight was cancelled, how long would it be till I found a seat on another one? How many classes and Waikiki sunsets would I miss?
Such worries led me to constantly keep checking with American Airlines the whole week. And then, on a Wednesday, I saw a "travel advisory" pop up button on the airline's homepage that offered a chance to rebook flights for no charge. I recklessly nabbed a seat on the last flight with any space to Hawaii—which left two days before my scheduled flight on Saturday, Jan. 24. My school contact fixed the hotel reservation so I could check in as soon as I arrived. I started to feel better.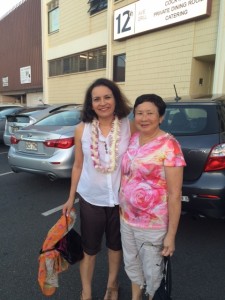 I arrived in Honolulu on Thursday evening and had a quick sushi dinner by myself on buzzy Kalakaua Boulevard before crashing. When I rang my husband the next day, he was quick to show pictures of the snowstorm. After we said goodbye, I stared at the waves from my hotel balcony and contemplated the power of nature, for better or worse.
That day I fought jet lag by exploring Waikiki in all directions. I went to dinner with Jackie and Ryan, who picked a great Cantonese restaurant. I ate beyond my usual capacity at a wonderful Cantonese restaurant in the Kaimuki neighborhood called Duk Kee, where I tasted a stir-fry of Chinese New Year's vegetables.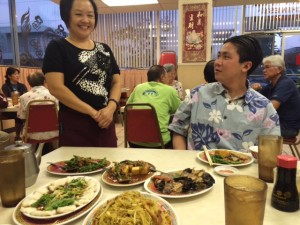 The next day, my mystery convention buddies Marji and Hank who now live full-time in Honolulu brought me to Foster Gardens, a historic botanical garden, where I marveled at trees both huge and small. The palm below was barely ten feet tall after 150 years of growth. Sometimes, writing a novel feels about that slow!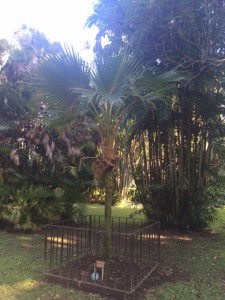 I was pleased to see that Honolulu residents were growing vegetables in personal plots set up on Foster Gardens grounds. I saw a lot of kale, ginger, and chilies and began imagining how to mix them.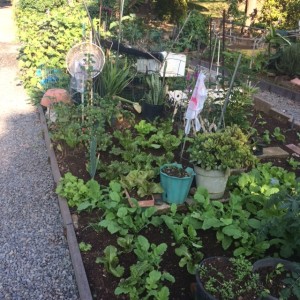 Marji and Hank also brought me to see Honolulu from an excellent vantage point on Sand Island below. A high rise building surge is on. Unfortunately, the new condos are priced for overseas investors, not local people. Not that it was a surprise.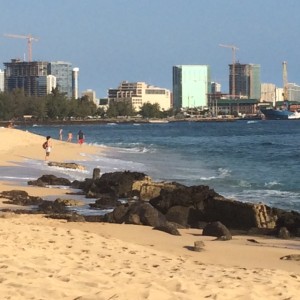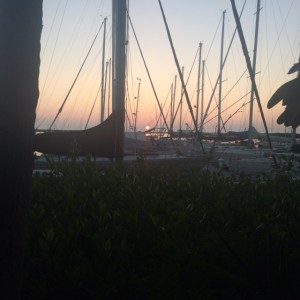 We rounded out the night with mai-tais and dinner at La Mariana Sailing Club, a delightful open-air restaurant on a marina filled with sail boats. This hideaway is styled the way it's always been since its founding by the famous Mariana in 1957. It's built with with vintage carved tiki and rattan furniture and glowing colored lanterns in the shapes of pufferfish. The menu contains fish, pasta, and other classic indulgences cooked to perfection. It was too dark to get good photos of the interior, so you'll have to be content with the above view of the marina.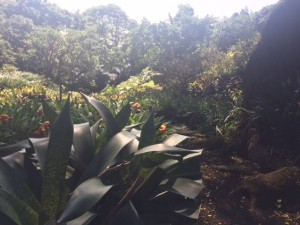 On the mellow Sunday that followed, my friend Liz and I visited two locations of the Honolulu Museum of Art. First was the Spalding House in Makiki Heights. This small contemporary art museum has a glorious, rambling garden and an excellent café.
After losing ourselves in the garden, we continued along to Honolulu Museum's main building. Because this is my fourth time visiting Honolulu, this museum is well-known to me. However, the Japanese decorative arts collection is so huge I'm always entranced by something new. This time, I was captivated by  beautiful painted Japanese screens from the Showa period (1920s and 30s) in immaculate condition. And I was impressed by a brilliantly curated exhibit of  21st century fashion worn by young people in Tokyo's trendy Harajuku neighborhood. For the last fifteen years or so, designers in Japan have catered to teenage style-setters with astounding dresses riffing on commercial stuffed animals, fairies, Alice in Wonderland, Gothic horror, steam punk, and Elizabethan England. Another museum-goer who was into Cos-Play told me the retail price for one of these modern masterpieces was $700-$800. Wow!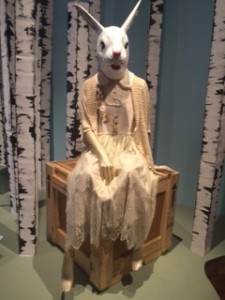 After viewing the fanciful outfits, I had a brief desire to be eighteen again. But then I remembered that Japanese and Hawaiian culture weren't part of my mental landscape then. I wouldn't know what Gothic Lolita meant and if you served me sushi, I would have run from the table.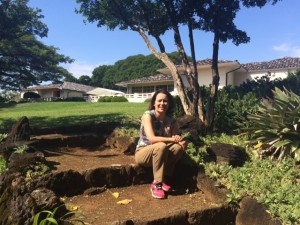 Sometimes it takes years to arrive at the places you're meant to go. And after such a highly relaxed weekend, I'm ready to start school.  More about that two weeks from now, in Hawaii Journal Part 2.