This post originally appeared on Murder Is Everywhere.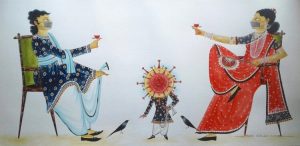 Once the pandemic is a memory, what image will you remember? The tired mask on a hook by the door, or it a dear friend's face trapped behind an oxygen mask—a sight you're only privy to because the shot was beamed into Facebook?
Coronavirus pictures have been dismal until the last week or so, when media published proof of health care workers in England getting vaccinations, and now Americans as well. As gratifying as these pictures of jubilant workers are, they are digital images with limited visibility. The next day, something else fills up the center spot on the newspaper's home page.
And we must never forget.
The museums that recently re-opened have closed because the virus is surging. But art never sleeps; I suspect many of its makers are contemplating the coronavirus. And I'm certain that  what these artists can eventually show us is different from mass perceptions.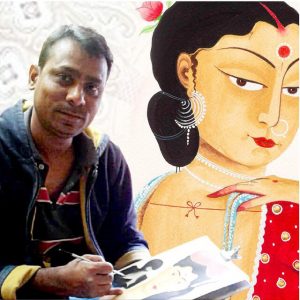 Bhaskar Chitrakar is a Kolkata artist in his early 40s who works in the Kalighat painting tradition that's been identified with his city since the early 1800s.  The painter's surname, Chitrakar, literally means "illustrator," and he's the last descendent in a clan of painters who have trained father to son and grandson for generations.
The type of painting that this family and others made is an endangered art called Kalighat Patachitra. These small paintings, bought as souvenirs, were created inside a Kolkata neighborhood called Kalighat in honor of its temple celebrating the goddess Kali. The art form started with small-scale religious paintings were sold at low cost to ordinary people. As British dominance in Bengal increased, people chafed at the foreigners' oppression and the pretentiousness of the expanding Bengali upper class who eagerly took jobs as English-speaking clerks and officials. Babu, the honorific suffix these gentlemen favored for themselves, became slang meaning a silly gentleman. Babus were mocked for wearing western men's pumps in conjunction with the Indian dhoti, and for smoking hookahs, and making a nuisance of themselves. Babus, artists, and wealthy women became recurring protagonists in Kalighat Pachitra work.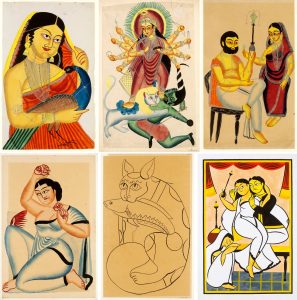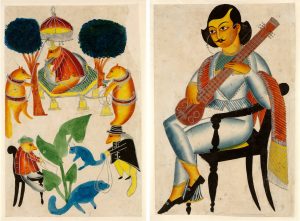 Bhaskar Chitrakar was six when his father started to teach him painting. By thirteen, he was working full-time. While remaining respectful of the exquisitely detailed painting form, Bhaskar experimented with his own social commentary: strong women, jazz-loving cats, cell phones and taxis. To suit his his own sensibility, he continued to clothe his men and women in traditional 19th century garb—the sherwani jackets, draped dhotis, and flowing saris that light up up his paintings.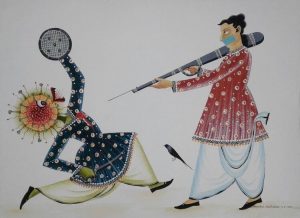 Bhaskar Chitrakar's art entered my life in the most quotidian way: a marketing email. The Khazana Gallery, a Minneapolis, Minnesota venue representing South Asian artists, created an online event called Tree of Life last July. This was an art sale designed to offer extra support to Khazana's artists living isolated and unable to sell their work because of India's long and strict national quarantine. The gallery decided not to charge its usual commission in order to give all the money raised from the art sale to the folk artists.
Feeling curious, I clicked into the gallery of available images. Not all of Chitrakar's watercolors had a coronavirus theme, but I smiled the most at ones that did.  "Love in the Time of Coronavirus" shows an elegant couple toasting each other from a six-foot distance, and "Have No Fear, I am Here" shows a smug, rounded corona molecule awaiting a syringe held by a flamboyant babu.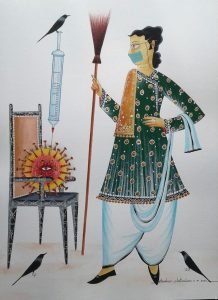 I drew my husband Tony into the digital window shopping. When we choose a painting to admire or even buy, we usually see eye-to-eye.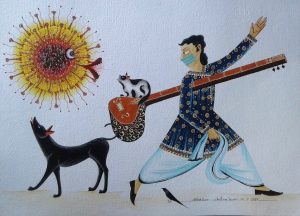 This time was harder than usual, but we eventually chose the painting pictured above. A musician is wielding a musical instrument called a tanbura, all the while deftly balancing a cat on top of it and defiantly regarding the burning corona sun. He's like all of us, balancing everything despite the difficulty of the situation. The man's handsome coat is patterned with tiny corona images, and the coat's tassel trim repeats the corona motif. I loved the grace of the musician's movement, and the irony of his modern surgical mask against his fine clothing. Those masks made all of us look ridiculous. The picture is rounded out by a dog howling at the sun and a tiny crow. The three animals make me think of working parents with children underfoot.
After I'd placed my online order, the gallery emailed to alert me the picture we'd selected had already sold; yet Bhaskar was willing to recreate the same picture (he paints about eight works a month). I agreed, feeling glad that artists painting in a historic tradition are generous enough to recreate their visions by hand.
"Leave Me Alone!" departed India in early August and arrived in my home before that month's end. I took it out straight away and admired it—along with six other works by different Indian artists. Art fever had infected me.
Yet despite my excitement over these purchases, I dragged my feet when it came to getting them framed. I didn't feel especially safe going into the big box store where I usually got framing done. Working with a consultant to select the right frames and mats would take ages, and how many customers would be waiting ahead of me or breathing on the back of my neck?
In November, Covid-19 rates were rising, so I knew I had to get a move on before stores might close. I decided to try a small, socially distanced artist supply store in Towson, MD. I was the only customer at the framing desk, where a massive plexiglass shield protected staff and customers from each other. The process took about an hour, and I was glad that for three things: the framing consultant also liked the pictures, nobody got in line behind me, and I was putting some money into the pocket of a small business.
I collected my framed paintings today—just 24 hours after the first Pfizer vaccinations went into the arms of health care workers in my country. I had a place in mind on the living room wall, and when I hung the painting, it looked like it was home.
From where I sit, I can keep one eye on a blazing fire and the other on a mythical battle with an unnerving disease. In the distant future, I imagine a world that is healthier in some ways, and sicker in others.
In my imagination, a cute young child is running roughshod through my living room and clambers to stand up on an upholstered chair to better inspect "Leave Me Alone!" And then it's time for me to answer:
Why is that funny guy's mouth and nose covered up?
Khazana has revived its Tree of Life fundraising sale for the month of December, 2020. You can shop for available work from Bhaskar Chitrakar and four other folk artists working in India.