This post originally appeared on Murder Is Everywhere.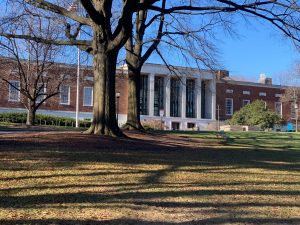 Have you heard? Another historic myth is being pulled apart like a sweater with moth holes.
Johns Hopkins, the great Baltimore businessman and founder of a university and hospital, wasn't quite the social reformer that history told us. Recently, Hopkins historians shared news that he was a slave owner, rather than an abolitionist. And this controversy has made me reflect on my own journey to Baltimore and my relationship with Baltimore.
It started back in the 1980s, when I was a high school senior contemplating college. I knew I wanted to leave Minnesota, but I wasn't sure where I should go. Geography was not even taught at my public school in Minnesota, so confusion was perhaps natural. When faced with a choice, I wondered: was Baltimore a Northern East Coast city, or was it a proper part of America's South?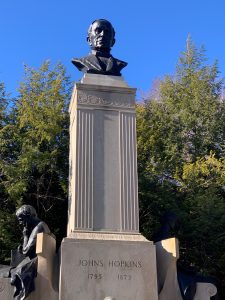 Baltimore lies south of the Mason-Dixon line, a geographic boundary from the 1700s that was later used to mark off Confederate and Union sides during the Civil War, it wasn't entirely clear to me. The South was less appealing to me than the Northeast, but Baltimore, Maryland, was where I got the most out-of-state scholarship money. And I was desperate to leave the Midwest.
When I arrived at the Baltimore airport for the first time, I felt welcomed by a bus driver, but I could only understand a few of his words. So, it was the South! It took me at least a month to be able to translate the vowels of many locals. By the time I went home for Christmas, I didn't hear anything strange. Furthermore, my own accent had changed to the point that one of my sisters said I sounded like a 'snob.' I didn't care. By then, I was very excited about the place I'd landed: Goucher College, a historic women's college in Towson, a suburb just north of Baltimore.
One of the first surprises at Goucher that another Indian-American student with my first name had recently graduated. It meant that "Sujata" was easily spelled and pronounced throughout the college—a big difference from Minnesota, where I was tormented for having a foreign name. Heubeck Hall, my dormitory was diverse, with women from around the world, and, like me, immigrant backgrounds in the United States. The Black students in my dorm had mostly graduated from Baltimore and Baltimore County high schools. It was easy to make friends with them as anyone else—a big difference from high school, where my name, skin color and national origin made me an outsider.
Even though I had good friends and caring professors during two years at Goucher, my career focus shifted toward a writing career, so I transferred as a junior to Johns Hopkins to study in the Writing Seminars department. At Hopkins, I was embraced into the heart of a very international, multi-racial circle who socialized in Gilman Hall. Here, every Black student I knew either came from out of state, or the African continent. This was very different from Goucher.
I regret not thinking about this discrepancy during my time at Hopkins. I thought all that battling  racism meant agitating for the end of apartheid in South Africa by pressuring Johns Hopkins University to divest its stock portfolio. I didn't think about the informal apartheid in Baltimore that sent white kids to private schools, lest they go to the "terrible" public schools. I was aware that the university was set on land that had originally been a plantation owned by wealthy Catholics, John and Harriet Carroll. The plantation house was a small museum on campus; the fact was not hidden. These days, there are markers throughout the campus pointing out more of its slave history, including where the slave cabins once lay.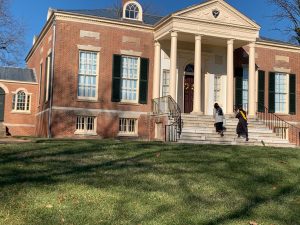 I still come to campus regularly; and when the Hopkins library is open to the public, I'm usually there weekly, writing quietly away in the place where I first dreamt dreams of writing novels and articles.  My academic advisor, Bob Arellano, shaped my life trajectory by insisting I apply for an internship at the Baltimore Evening Sun. My junior year internship at the paper led to a Sunday work shift my senior year, and a full-time job after graduation. Although though the paper's editorial workforce was majority white, I worked alongside many Black reporters, most of them University of Maryland journalism graduates. During this era, when the Baltimore Sun Company was privately owned by the Abell family, it was committed to building out a reporting force that mirrored the diversity of the city—which was 54.8 percent Black in 1980, and about 59 percent Black in 1990. The friendships I built over five years in that newsroom endure to this day—and I know that the diversity project was not just good for the city, it was joyful for me as a person. I should note that my friends did not complain to me about racist behavior toward them at college and on the job. Decades later, I was to hear some of these stories. Why didn't they tell me then? I did not grow up marked as the descendent of slaves. I would not be able to understand, and how could I possible effect change?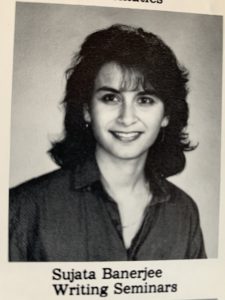 Working at the paper made me feel like I was growing up. Another step toward maturity was joining a spiritual community. Going to a university built from a Quaker bequest made me want to learn more about the Religious Society of Friends, the faith community my parents had been active with during their years in England. At a Quaker Meeting House right across the street from Johns Hopkins University, I found silent worship thrilling, and the absence of a minister made me feel empowered to dig deep. As I learned about Quakers' work for peace and social justice, I felt sure this was a group I wanted to stay connected with.  Five years later, I visited a second Quaker meeting in Baltimore that felt even more of a haven, and I joined as a member. I've now been part of this meeting—as others might call a church—for twenty-three years. The essential tenet is that God's presence is Light, and that Light exists in every human being. Everyone is part of the Divine, with no person closer to God than another.
Johns Hopkins was a birthright Quaker who became a member, and was later reduced to being an attender, of the Baltimore Monthly Meeting of Friends, the meeting in Baltimore that predated the two meetings I know. Which brings me back to the difficult information that's been shared—that Johns Hopkins was never an abolitionist, as had been described previously by the University, based on a 1929 biography written by his great-niece, Helen Hopkins Thom. The fact was, he'd owned at least five slaves during his lifetime. This information was discovered by Johns Hopkins historians through old census records listing slaves, and then was fact checked and confirmed as true. The University immediately shared the information with its community and held a Town Hall a few days later that was open to the public, providing a place for people to express pain and ask more questions about the new information.
Did Helen Hopkins Thom repeat a story she accepted as true from an older relative, or did she have suspicions and want to lay them to rest? As a writer who researches history for my novel, I wonder if she accepted a story told to her from a contemporary of the times as truth. I know that I've done the same, when I was researching religious riots and the independence movement in 1940s Calcutta.
And then I wonder about whether anyone at the Hopkins Press felt they had to fact-check…or if anyone who read Ms. Thom's manuscript might have known something was off about the story. Yes, Quaker abolitionists existed and had safe houses on the Underground Railroad–but they were considered a radical, dangerous minority by  prosperous, big city Quakers.
Today, cynical minds (realists?) may think that Johns Hopkins gave away all his money at life's end to buff up his image. Others might think he regretted the choices he'd made and sought to atone, by not only founding a university and hospital, but also an orphan home for children of color, and making sure his Black servants (no longer slaves) were well provided for in his will.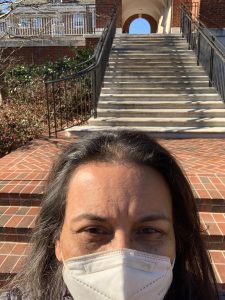 Johns Hopkins may remain an unknowable man, just as Baltimore can be both a Northern city, as well as part of the South. But I am here for the duration; and I give my commitment as an active alumna to Hopkins, just as I give my commitment to the city's public schools, arts, library and the hungry.