This post originally appeared on Murder Is Everywhere.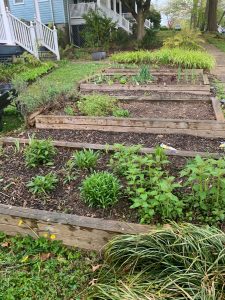 The skies are blue, the clouds dense, and it's quiet enough that you can hear the birds. Our two dogs have never had more attention. And with a lack of places to go, I am in my garden.
The leading picture for this blogpost is a raised bed garden belonging to my neighbors, Joe and Sarah. Their practical, proud use of front-yard real estate takes on new meaning this year, as people long for a small way to be in control during a time of uncertainty. Everywhere, people are planting masses of herbs, vegetables and fruit into so-called victory gardens—a term that hasn't been used since World War II, when people were encouraged to provide for themselves to allow more resources for men and women serving overseas.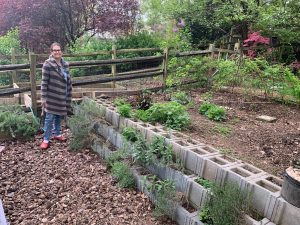 Growing vegetables and fruit is an exciting challenge for me, because I am more of a wishful gardener than a skilled one. I have had the blessing of green space around home throughout my life. I have been planting and marveling at my small progresses over the years. Yet I don't believe I will ever have the commitment to be a daily gardener.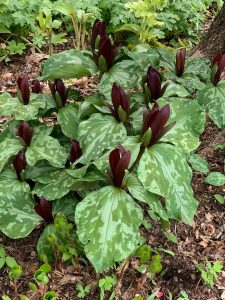 My mother gave me Frances Hodgson Burnett's The Secret Garden when I was 9. This masterwork of children's literature was written in 1911. It romantically details how gardening transforms two depressed children—her very old-fashioned theory that has recently been recognized as a therapeutic practice. In the novel's Misselthwaite Manor, an estate in Yorkshire, England, gardens are described as being set up in a series of outdoor rooms that literally have stone walls and wooden doors that lock, presumably to keep out animals and others who don't have rights to food or flowers. Glancing through my beloved book this afternoon, I realized that gardens in my American city suburb are anything but walled and hidden. Quite a few people, like Joe and Sarah, have turned their front yards into working kitchen gardens. Fruits and vegetables and flowers intermingle, and in my particular section of North Baltimore, plants native to the Mid-Atlantic and Appalachian mountains are widely encouraged, with transplants shared like bonbons by those in the know.
I enthusiastically visit public gardens and my neighbors' yards with an appreciate eye. Until recently, I would say, "next year I will get serious about gardening." Fortunately, I decided 2020 was going to be my serious year, and I had the foresight to start working last fall. Kay McConnell, a tremendous, environmentally oriented garden designer in my city, masterminded a backyard garden planted with natives that would thrive in the various conditions of my space; wet, dry, shaded, and sunny. Together Kay and I planted over 400 native perennial flowers, shrubs, and trees.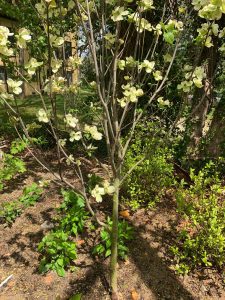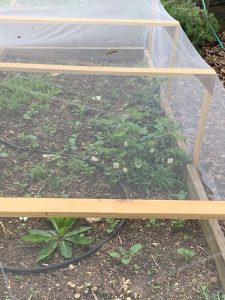 In the past, I've grown a few herbs and capsicums and lettuce in a tabletop vegetable garden (often called a salad box). My husband built the structure in a weekend (yay!) and we filled its shallow pan with soil meant for raised bed gardens. It works fine, but it's pretty small.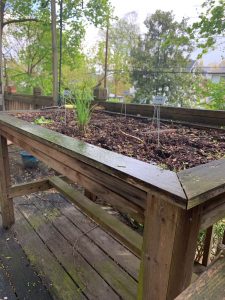 I decided a few weeks ago to go a little bigger with vegetables. I began by making Zoom calls to accomplished gardening friends who had been eating from their gardens for years. I picked and chose from what they were doing. I see that almost all of my mentors have blueberries growing, some of them interwoven in floral landscapes; others set aside as little monarchs, walled off from intruders. When you plant things that taste good, you have to put in obstructions, if you want some of it for yourself.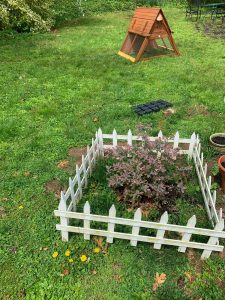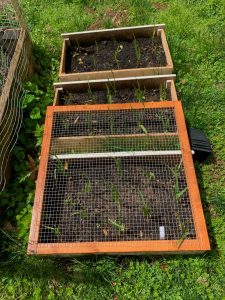 I heard that blueberries are good in sandy soil, but I will spread them around to various spots to hedge my bets. The blueberries will be shielded from the birds by netting.  I don't feel guilty, because there's an open row of flowering chokeberry shrubs for the birds and anyone else. Apparently, squirrels and rabbits aren't interested in garlic and onions, so I planted shallot bulbs and garlic cloves right in the dirt under the lilacs.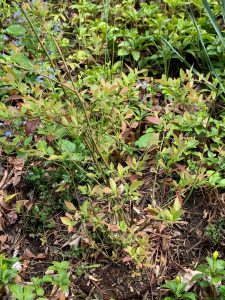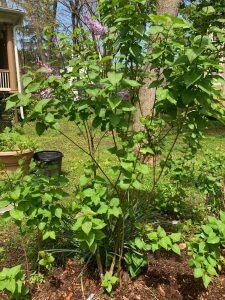 I hope to harvest something for our family; therefore, most of our vegetable and herb plantings are on an elevated, gated deck just off our kitchen. This is the same location of the tabletop vegetable garden, and various pots of struggling tomatoes. And something new—dresser drawer garden. It's just like it sounds. We drilled holes in the bottoms of the boxes for drainage, filled them, and put them on a granite workbench.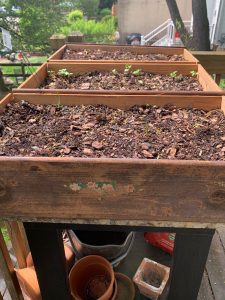 I'm fortunate to live in a state with an early spring, and long warm summers that allow fruit trees like plums and peaches. Another blessing is that although my city of Baltimore offers plenty of restaurants, shops, and arts establishments and diversity of experiences, it also has city neighborhoods with trees and gardens and plenty of walking space.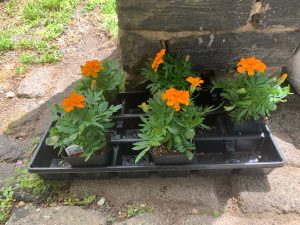 How can I feel housebound when my garden has so many corners to spend time in—whether it's to attack a patch of truculent ivy, or plant herbs and flowers in a pot, or hunt down dandelion leaves for salad? To stroll onto the deck and pluck a few chives to sprinkle over soup makes me feel wealthy beyond measure.
This spring, gardening books are piled high in the living room coffee table, next to my bed, and fill the shelves of the dining room. Still, nobody should feel they need a book to explain how to start growing flowers, fruit and vegetables. The internet is full of help. For a non-commercial, knowledgable overview, check out the New York Times column by Margaret Roach, as well as her long running podcast, A Way to Garden. (The podcast episode I've linked is a discussion of the idea of a pollinator victory garden). Adrian Higgins, the longtime gardening columnist for The Washington Post, also writes inspiringly about modern victory gardens and many other topics.
The quarantine gives us room to breathe and get close to the soil. And that's a victory in itself.