This post originally appeared on Murder Is Everywhere.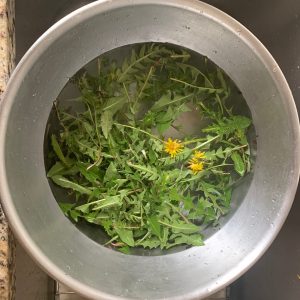 On a recent day that I was missing fresh greens,  I walked into the garden. It was long before I'd planted my first seeds for lettuce. Not much was there. And yet…
I appraised the dandelions. Their gay golden faces are dotted all over the lawn and garden beds. I needed to weed anyway, and as I got down on my knees, I saw how beautiful and crisp and long many of the leafy plants were. They were absolutely fit for a "spring mix." As I dug up a few clusters of dandelions, I saw more and more that I wanted.  I could have a series of salads. I hesitated, wondering if I was depleting my garden of food I might need later.
After I had taken many handfuls of crisp greens, I washed them in a deep bowl, rinsing them over and over until the water ran clear. I dried the greens in a towel and then and mixed them with hearts of palm, red onion slices, a bit of orange, and a little bit of leftover fennel. With a little oil and vinegar and honey, it was a delicious salad.
I have butter lettuce and romaine now, thanks to a couple of businesses that have their own delivery truck service. When I make an order, I get things for my neighbors, too. I am making my own bread and biscuits. I feel like no matter what, I can feed myself.
I was so glad for the dandelions the day I needed to eat them. They're still popping up here and there, and I doubt they'll ever be eradicated. I'm also taking wild chives from the lawn, and feeling grateful for their snap. It reminds me of the stories from elderly Japanese people who recalled eating grass during the war years, when there was no rice and not much of anything else.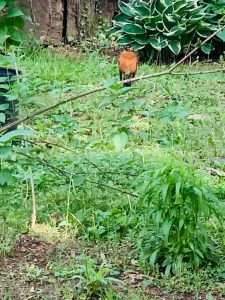 I was placing a blueberry bush into the garden today. Turning to get some compost, I noticed a large black bird with a tangerine-colored body was staring at me.  Could this be a Baltimore Oriole, a bird that represents our city and sports team, but that has eluded my gaze in the decades that I've lived here?
The oriole was sitting on the branch of the lilac that I've considered removing because it grew horizontally rather than upward. Now I realize the handicapped lilac make the perfect perch for this bird to watch over the garden. Did he realize the awkward human was planting something that would make exquisite dining for him in the next months?
The makeshift becomes magical sometimes. And as daunting as the next months are supposed to be, I will keep hope in my heart.