This post originally appeared on Murder Is Everywhere.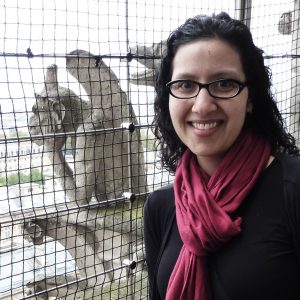 Continuing our journeys to Paris, I'm interviewing author Gigi Pandian about her new book, The Lost Gargoyle of Paris. Gigi has been a friend of mine since the time she was writing her first mystery featuring archaeologist Jaya Jones. She grew up as the daughter of anthropologists from New Mexico and South India and spent her childhood traveling the world with them for research. Those adventures built the imagination that created the Jaya Jones mystery series, followed by the Accidental Alchemist series, and many locked-room short stories. Gigi has won Agatha and Lefty awards for her fiction and made it to the USA Today bestsellers' list. The Alchemist's Illusion, published in 2019, is a finalist for the GP Putnam Sons' Sue Grafton Memorial Award, which we'll learn about on Edgars Night, April 30. Yes, I'm also competing for the same award, but I'll happily lose to Gigi.

I was thrilled that Gigi could join us to talk about her latest Accidental Alchemist mystery, a novella titled The Lost Gargoyle of Paris. It was released last week and is an immensely cozy, comforting read for me during these difficult times.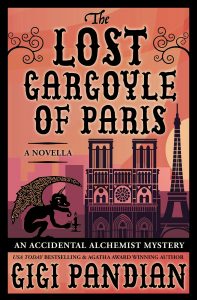 Thank you for inviting me back to Murder is Everywhere, Sujata. I hope everyone is doing well in these difficult times! It's great to see everyone remotely, from my cozy little house in Northern California where I've been sheltering in place for four weeks now.
Tell us a little about your new book, and especially its connection to Paris.
The Lost Gargoyle of Paris is a novella in my Accidental Alchemist mystery series about a centuries-old female alchemist Zoe Faust and her impish gargoyle sidekick Dorian Robert-Houdin. I hadn't planned on writing a novella set in France before the next full-length novel, but the idea came to me after watching helplessly as Notre Dame Cathedral caught fire in April of 2019.
Both Zoe and Dorian's histories are connected to the cathedral, so I found myself unable to focus on their next adventure set in Portland, Oregon. I knew they had to go on an excursion back to Paris first. Like all of my books, it's a lighthearted puzzle plot mystery steeped in history.
In The Lost Gargoyle of Paris, Zoe and Dorian travel to Notre Dame Cathedral in Paris to investigate a mysterious discovery found in the wreckage of last year's tragic fire: a long-lost gargoyle illustration drawn by Victor Hugo himself.
American secret alchemist Zoe narrates the novel. Her Dr. Watson figure is Dorian. He's the most extraordinary sidekick imaginable. What's his bio? 
Dorian would definitely take issue about being called a Watson rather than the hero! He thinks of himself as a modern-day Poirot—and as a gargoyle, he has the "little gray cells" to make him convinced of his brilliance.
Dorian Robert-Houdin is a gargoyle who was originally carved in stone for Notre Dame Cathedral in Paris, but was accidentally brought to life through alchemy. He was a prototype who was just a little too small, at three-and-a-half-feet, so architect-restorer Viollet-le-Duc gifted the cast-off carving to his friend, famous French stage magician Jean-Eugène Robert-Houdin. The magician didn't realize an antique book he was using as a stage prop contained real magic until it brought his carving to life. He raised Dorian in secrecy, teaching him to be a proper Frenchman.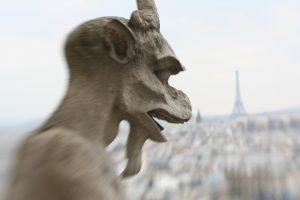 I am a gargoyle lover—there are so many gargoyles and whimsical animals built into the grand stone buildings of old Bombay, and I'm always trying to photograph them. Was there a special time that gargoyles were in architectural fashion worldwide? Besides England, India and France, where else were gargoyles adored?
True gargoyles are water spouts, but the term "gargoyle" has come to be used more broadly for all sorts of animal grotesques. Gargoyles can be found in ancient Egyptian and Greek architecture, but they're most associated with medieval European cathedrals. But there's a mystery that scholars disagree about. What were they meant to represent? Were gargoyles meant to be demons who would frighten people into attending church? Did they represent the trapped souls of people who'd been wicked on earth? Or perhaps to ward off evil themselves?
By having Dorian a living, breathing character, you've woven a little magic realism into cozy mysteries. How has that been received by the reading audience?
When I created Dorian, I didn't imaging it was for anyone beyond myself. I was 36 years old and had just been diagnosed with breast cancer. I had a year of cancer treatments ahead of me, so I threw myself into writing something meaningful to me. I've always found gargoyles to epitomize all things mysterious, and have been fascinated by them since I was a kid, so I created a gargoyle character to amuse myself. (And of course my subconscious had kicked in and had me create an alchemist who'd discovered the Elixir of Life, while I was going through chemotherapy.)
I've been surprised at every step of my publishing journey how much readers love Dorian and Zoe's cozy world of alchemy. From my agent and editor to the enthusiastic readers who made the series a success, I'm still pinching myself.
Do you draw the covers for the Alchemist series? If so, what is your art background?
I do have a background in art, but illustrator Hugh D'Andrade is the talent behind the amazing illustrated gargoyle image. In a funny coincidence, Midnight Ink hired him to illustrate the book covers, not knowing that he'd been one of my instructors in art school!
You have a career that is sometimes called a hybrid: some of your books are published by traditional presses, and some, like this current book, are self published. What advantages does this give you?
I've learned so much about publishing through the various ways my books have been published. I've been able to see firsthand the challenges of different types of publishing—not just self-publishing versus traditional publishing, but also what it's like to be published by presses of different sizes.
I began my career self-publishing after my agent had been pitching my debut mystery for a year and kept hearing that marketing departments weren't sure what do to with my books. It was a rewarding experience but a lot of work, so I was happy to be picked up by publishers after my debut novel novel did well. When the large publishing house that published my Accidental Alchemist mysteries closed their mystery imprint, I knew I wanted to continue writing the series and that my readers wanted more books, so I decided to publish the series on my own (and happily I was able to buy the gargoyle illustration so I can continue to use it). It's an in-progress experiment that I'm having fun with, but I'm not sure what the future holds.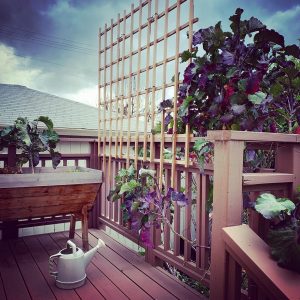 How's quarantine going for you? What are some of your stress-beating tips for us?
My agent is patiently waiting for a project I owe her, but I'm finding it so difficult to focus these days! But I'm very fortunate to have a house full of books and a small but beautiful backyard vegetable garden.
I had an online video meet-up with my writer's group last week, and that helped me see I wasn't alone in having trouble focusing on writing, so I'm not being too hard on myself.
The things that are helping most with stress are staying connected to my distant loved-ones, cooking, and getting plenty of exercise. I love to cook and already cooked most of my meals at home, so I'm making a point to experiment with more recipes while I have additional time at home. I'm the cook and my husband is the gardener, so we each get the benefits of both. Personally I think I got the better end of the bargain.
Sending good wishes to everyone! I hope you have many fulfilling armchair travels this spring.
Get a free Jaya Jones eBook download and recipes by signing up for Gigi's newsletter and say hello to her on Facebook.