This post originally appeared on Murder Is Everywhere.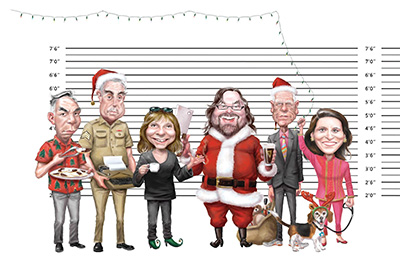 It seems like yesterday, but it was last summer. I was dutifully working on edits when I got a surprising email. My editor, Juliet, had informed me about a Christmas mystery short story anthology scheduled for October 2017. Soho Press authors writing mysteries set in different parts of the world had turned in their contributions a year earlier—but there was enough room to add one more story. Did I want to submit something?
I thought about it for a few days.  Short story crime fiction is more terrifying a process to me than novel writing. It means grabbing an idea and introducing suspects, motivations and various twists and turns within the space of a few thousand words. While there are many writers—including right here, amongst my Murder is Everywhere comrades—who can dash off a short story in a day or two, I find the process of writing a story takes months. And when I'm done, the story is always longer than the guideline. If the average writer can take ten words to say something—I'll use twenty.
I had to ask myself—how can I afford the time to write a short story? And would it really be good enough to go in the collection? The formidable lineup included our very own Cara Black. And speaking of lineups, the book's title was coy: The Usual Santas.
I really wanted to do it. And despite my slowness, I had an idea.
Like many writers, I have built a graveyard of rough drafts inside my computer. I had a full draft of a story featuring my new mystery heroine, Perveen Mistry, Bombay's first woman lawyer. She's a Zoroastrian living  in a city filled with others like herself—as well as Hindus, Muslims, Sikhs, Jews and Christians. My story was almost there—but not quite. Could I "Christmas up" the story and meet the 4 week deadline?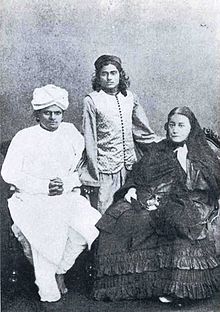 There's nothing like a deadline to get the juices flowing. And the fact was that Bombay in 1921 was a place rich in spiritual interchanges. My story draft was inspired by the history of the Theosophists, a group of European, American and Indian seekers who had interest in shared mystical roots of world religions. The movement was divided into competitive factions in the early 20th century. It was also led by two strong women: the first, Madame Helena Blavatsky, was a fascinating Russian expatriate who settled in India, and the second, Annie Besant, was an Irishwoman who worked alongside Indians resisting British rule.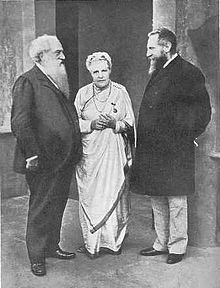 Inspired by these folks, I created a fictional group of international thinkers called "Realists" for my story titled "Hairpin Holiday." My heroine, Perveen Mistry, is just an everyday lawyer working in her family firm. She has to make sure her client, a Jewish hotelier, does not suffer any losses during their controversial lecture booked into his hotel ballroom—at the same time as the Asiatic Society's swinging Christmas party.
Of course, the problem is more than a contract. And yes, Father Christmas makes a brief showing!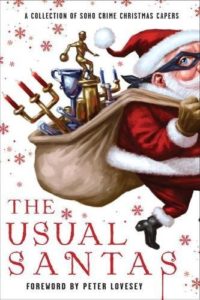 When the handsome, 400-page collection of 18 stories was published a couple of weeks ago, I received my complimentary copies. I opened it up to smile at funny endpapers featuring caricatures of a number of us. Even one of my dogs—the gentleman beagle Charlie—made it into the drawing! We had been asked by the artist what we usually have in our hands. Cara chose her cappuccino cup, and I carry a dog leash.
I was fascinated by Cara's story, "Cabaret Aux Assassins." Without giving too much away, I'll hint that it's a epistolary mystery that has something to do with both Sherlock Holmes and the Dreyfus affair, and the tale is set in Paris of the 1890s.
There are terrific stories by more writers you may already know: Stephanie Barron, Henry Chang, Gary Corby, Colin Cotterill, Timothy Hallinan, Mette Ivie Harrison, Teresa Dovalpage, Line Kaaberbol and Agnette Fries, Martin Limon, Helene Tursten, Mick Herron, Ed Lin, Stuart Neville, Tod Goldberg, and James R. Benn. And the inimitable Peter Lovesey, who also wrote the foreword.
"I'd better warn you there are shocks in the plenty," Peter Lovesy promises. "Nothing will top the appearance of the heavenly host to those hapless shepherds, but there is plenty here to get your heart thumping."
Read our starred Publishers Weekly review—and enjoy a taste of a December, bright or bleak, all around the world.
Psst! Several terrific bookstores will holding holiday parties this December 2017 where you can get The Usual Santas signed! The raft of participating authors at these book parties is a mystery still unfolding—but I'm gonna leak to you that I will be among them. Check with McIntryre's Books in North Carolina and the Mysterious Bookshop in New York. And watch my website for more details of the Santa parties as they emerge.