This post originally appeared on Murder Is Everywhere.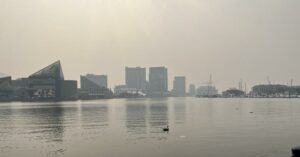 When the cloud came, I didn't know what to expect.
The Mid-Atlantic Area is known as a middling kind of place. It serves up four seasons, none unduly extreme. My city, Baltimore, usually has a hot and humid summer, but quite bearable. The area doesn't have the disaster experience connected with the Caribbean, Asia, and parts of the U.S. like California and the Mississippi Delta.
So last week, when the smoke from wildfires in Nova Scotia clouded our skies for almost a week, it was a shock. The sky wasn't blue anymore—it was a kind of grayish. It's hard to believe the picture of Baltimore's Inner Harbor above is in color!
Just to the south of us in Washington DC, the cloud of smoke obscured the monuments.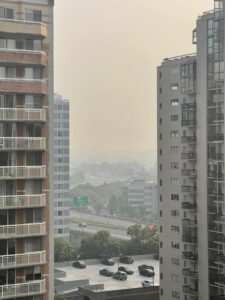 New York City got the temporary rating of "worst air in the world' last week. And the sky there went orange.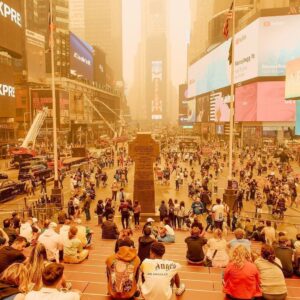 I went out for a short look around one evening in Baltimore. The sky seemed to be vibrating, and I realized I was witnessing the falling of almost invisible particles of smoky air. The thickness of the downpour reminded me of a blizzard. Back inside, I showered, but I could not wash away the feeling of dread.
A lot of people with asthma felt their throats close after just a few moments outside. I don't have that illness, yet my breathing was uncomfortable. The birds weren't singing as much—and it being a new baby bird season, I worried about the tiny avian airways. Our dog walker sent us a list of danger signals for asthma and respiratory problems that dogs can experience. Daisy's walks shortened to 5 to 10 minutes, and I wore a mask.
All over the East Coast, swimming pools closed, and so did parks and zoos. The gutter cleaners didn't come, and lots of people who do outdoor work had their jobs cancelled for reasons of safety. I postponed a planting event that I wanted to work with someone in my yard and instead concentrated on watering the hundred or so native seedlings that I'd put in the previous week. I  And of course, it hadn't rained for weeks.
Drought is often a contributor to bad air events. The "dust bowl" years of the 1930s in the Great Plains were tied to four separate drought events, making the topsoil of aggressively farmed prairie land blow great distances. The photo below shows the drama of the clouds in Kansas in 1935.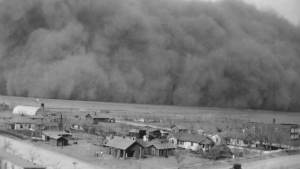 Nova Scotia was also suffering from drought, and the increase in temperatures globally conspired to give longer and wider burning time for the wildfires that occur there naturally every summer. And we've had drought in Maryland, too, without rainfall for weeks. The first drops finally fell this past Monday, building into a tumultuous downpour that gave us back our first "good air" day—and what looks to be a resolution of this crisis in Maryland.
And that's for the time being. Global warming means more episodes like this, more changes in the way we live.