This post originally appeared on Murder Is Everywhere.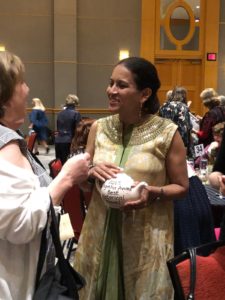 When I began writing fiction, I didn't know conventions for writers even existed. (I think the Murder is Everywhere gang might excommunicate me for the confession). Before I was published, I joined   the wonderful international program Sisters in Crime. Experienced women writers in that group told me that I would learn a lot to help myself at mystery conventions. For example, I could hear famous mystery novelists talk about how they wrestled with plots; make friends of readers who knew everything and everyone, and maybe even catch up with a literary agent.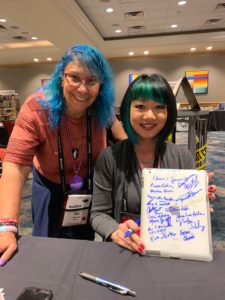 The first mystery convention I visited was Malice Domestic, a fabulous convention that advertises it is "not everyone's cup of tea." Malice does not usually have pleasant connotations, but if you meet a Malice reader, chances are she will hug you before the conversation is over.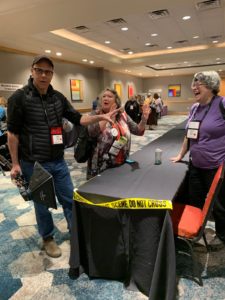 Mystery authors drawn here are primarily (but not exclusively women and the style of mystery storytelling is "traditional" (no gratuitous sex or violence). Yes, the favored mysteries are chock full of suspense and bad things happen—usually a murder that must be solved—but the reader will not feel like vomiting at language and painful images in a Malice book. Also, the mysteries of choice tend to be series books, rather than stand-alones.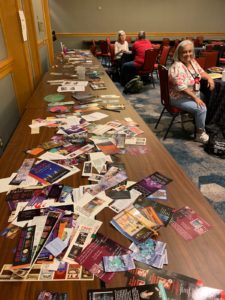 And Malice Domestic is itself a long-running series, if you talk about location. Unlike many conventions, this one does not move around: it has been in the Washington DC suburbs for all of its 31 years, save a couple of years in downtown Washington, when something mysterious happened in an elevator that made the convention shoot back to the suburbs. Currently it's housed over a three-day weekend at a Marriott Hotel in North Bethesda.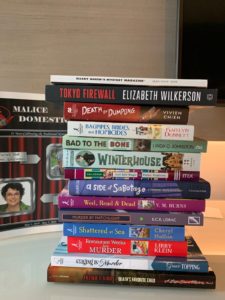 Because of the recurring DC area location, many of the fans are from DC, Maryland, Virginia, Pennsylvania and Ohio. It takes me about an hour to get to the con by car or train. What could be easier?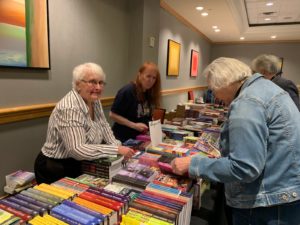 However—writers come here from Canada, England, and all over the country—and they also tend to be repeat offenders. Male mystery folk are welcomed like brothers come home from college, but to my unscientific eye they make up less than ten percent. Bloggers are a new crowd that came in over the last fifteen years or so… these hardworking, usually unpaid book reviewers are great company.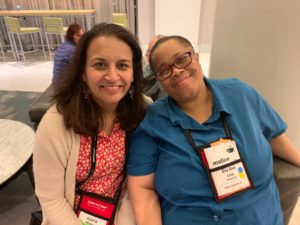 I began my association with this crew when I won a Malice Domestic Unpublished Writers Grant. In 1996, I submitted a partial manuscript of my first mystery novel into a contest that was overseen by longtime serious mystery readers on the Malice board including Bill F. Deeck, a marvelous mystery man who sadly passed away too young—and as a result, the award is now named in his honor. There are other awards, too: the Agathas, named in homage to the mother of the traditional series mystery, Agatha Christie. Malice attendees nominate their favorite novels, stories and true crime books that relate to writing mystery and the traditional mystery genre from the previous year. These are extremely coveted awards because they come in the shape of a teapot. Yes, an actual working teapot that is custom made to the convention's specifications, with a lovely new design revealed each season.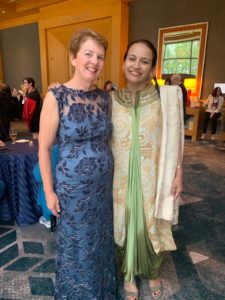 I returned to Malice Domestic last weekend. Over the 23 years that have passed, I think I only missed six conventions because I'd moved to Minnesota. I always wind up having long, happy conversations with the friends I've met over the years—and I make new ones each time. In a way, Malice is like the high school you should have gone to, where everyone is welcoming, and everyone wants to read (as opposed to playing sports).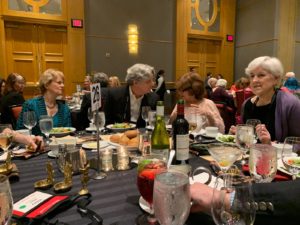 This year, I was on quite a high because The Widows of Malabar Hill was one of five nominees in the Best Historical Mystery category. This first novel in my Perveen Mistry series brought me very good luck at the Left Coast Crime convention and the Edgar Awards, so I figured my luck had run out. And just look at these fabulous fellow writers who were nominated.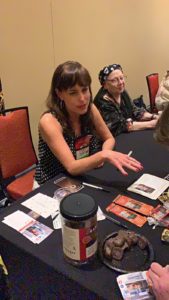 I nearly passed out when I heard that I won… I managed to float through the ballroom up to the stage but proceeded on the exit stairway rather than the entry stairway, so I had to go down again to get my beautiful teapot before making my acceptance speech.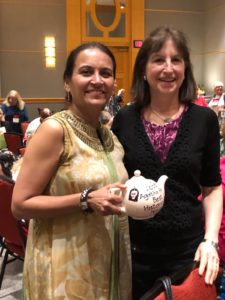 Several days later, I am still reeling from the shock of this recognition for Perveen Mistry. I am so happy that a book set in India, telling a tale of strong women facing adverse circumstances and ending on an upbeat note, made it into the hearts of so many readers.
I am about to launch the second Perveen Mistry, The Satapur Moonstone. I don't expect lightning to strike twice, but the joyful celebration at the Malice convention will buoy me through whatever comes next.