This post originally appeared on Murder Is Everywhere.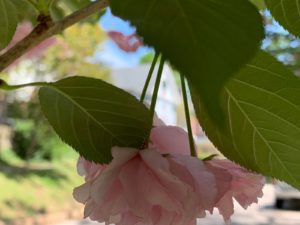 These days, pink is everywhere. Millennial Pink is the official name of the soft hue that now colors chairs from Target, rose-gold phones from Apple, and yes, pink clothing for both genders. Why this soft shade now? Is it because treatment of people has become so hard? Pink is a color of childhood, whether you call it blush, petal, nude or cherry.
Cherry is a pink that simply gives me joy. The Baltimore-Washington area has a long, mild spring, and the crowning glory of our area from March through April are the cherry trees, which bloom in waves, depending on their age and variety. I grew up in snowy Minnesota reading Japanese fairytales with cherry blossom themes and books about dolls from Japan such as Rumer Godden's 1961 delight, Miss Happiness and Miss Flower. Did that set me on a lifetime love of sakura trees?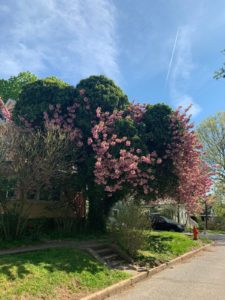 My street in North Baltimore has some very large, sprawling flowering cherry trees that might be older than the 40 years I've been told is the average cherry tree lifespan. But how old are they?
Sakura trees were brought into the United States by an American food explorer working for the US Department of Agriculture called David Fairchild. Mr. Fairchild first shipped them from Japan to his garden in Chevy Chase, MD in 1902.
President Taft's wife, Nellie, took to heart his idea of beautifying Washington with cherry trees. It was also a difficult time in the country, when there was popular agitation over immigration of Asians. This idea was a variation of an olive branch. Could Americans see something good about Japan?
Mr. Fairchild was tasked with brokering a deal for cherry trees in the nation's capital with the Mayor of Tokyo, who then offered them free. The first cherry trees were shipped to Washington DC in 1909; however, their roots were found to be heavily infested with insects that could have wreaked havoc across many agricultural species in the United States. These trees were burned in 1910. The Japanese who heard about it were not angry—they were sorry to have sent a defective gift and insisted on sending more. In 1912, healthy trees were planted in Washington and celebrated ever since.
I have been to the Tidal Basin to admire this sweep of cherries and see the excitement of Washington DC's annual Cherry Blossom Festival. I've also seen the blossoms celebrated this year in Vancouver, Canada. Cherry blossoms create a kind of worldwide party where we all stop and pay attention to nature. And in the 1990s when I lived near Yokohama, I've participated in Hanami parties, enjoying not just the trees but the special decorations throughout Japan and cherry-themed foods that go with the fleeting blooms.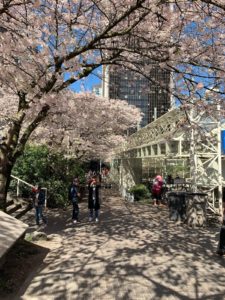 Entering their second century of life in the United States, the cherry blossom tree is no longer a fragile, exotic beauty. The City of Baltimore's tree program donates all kinds of trees to neighborhoods where residents want them; not just cherry, but serviceberry, redbud, and others that are beautiful, yet support native insects. My street had suffered the death of several aged giant cherry trees, so an enterprising neighbor put together a plea for more cherries to go on any street in our neighborhood five years ago.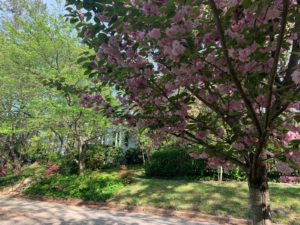 One early spring day, trained gardeners planted four seven-foot-tall trunks with bare limbs in front of my house. I bought water-bags and tucked them around the young trees, so they would have a slow release of water all the time during our hot summers. Now the trees are approaching 30 feet high and don't need their waterbags, except in extremely prolonged heat waves. They flower several weeks after the street's grand dame cherries, so we are fully blooming two weeks long.
I am grateful to our block's seven new children, and four senior citizens, for showering me in pink every spring regardless of politics and fashion.