This post originally appeared on Murder Is Everywhere.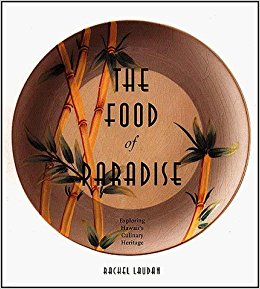 I'm the last member of Murder is Everywhere to write about the Left Coast Crime convention on the Island of Oahu. Jeffrey shared the people part of the convention and the contrasts between busy Oahu and quiet Kauai. Susan got up insanely early to photograph a sunrise view from Diamond Head crater. Here's my takeaway from a week in Paradise.
I've been coming regularly to Oahu since the early 1990s—five visits so far, and each time I feel more at home. In the early years I  was a military spouse spending time with my husband, who was on TDY (that's temporary active duty, not tidying). We stayed on the Leeward side  and began developing a long-lasting group of coworkers and friends.
Later on, I came to Hawaii to teach as an artist in residence at the Iolani School, so I stayed at a hotel on the Waikiki tourist strip. And most recently, I was with the mystery convention at the Hilton Hawaiian Village on the edge of downtown. I've been to the North Shore, to Kailua and Kanaoehe, to Waimanalo Beach, Hanama Bay, and just about every museum the island has. While it's easy to deplore the concrete invasion of Honolulu, I enjoy everything else, and I appreciate the fact that Honolulu is a real city with a diversity of jobs that go beyond tourism.
Oahu's balmy, non-humid, sunny weather with temps mostly in the 80s make it a great island for walkers. I did 10,000-20,000 steps daily on my recent week at Left Coast Crime. This was not part of an exercise plan. I simply woke up early, left the hotel, and walked along the water, whether it was Waikiki Beach or Ala Moana. Then I'd have some breakfast. Last year, I did the same amount of walking on my way to dinner.
Any time of day, the food is quite amazing. Honolulu has developed a regional cuisine with an evolving emphasis on healthy fruits and vegetables. Due to Hawaii's distance from where most fruit and veg is farmed, food is never going to be dirt-cheap; not even at the Kapiolani College Farmer's Market, which surely is one of the best farmers markets in the US. My friend Jackie from the Iolani School  brought me to this fabulous Saturday morning market, where we shared a mouthwatering banh mi sandwich prepared by the chef-artisans from Pig & The Lady in Honolulu's Chinatown. I used to shop weekly at the farmer's market in Kapolei, on the Leeward side, where I could get a bag of live shrimp to freak out my children and turn into dinner that night.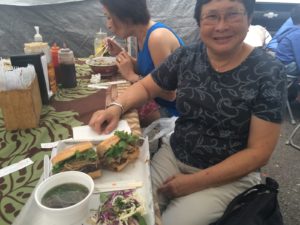 Oahu was once all about sugar farming. On the leeward side of the island, sugar barons recklessly sucked natural moisture from the earth to support their plantations, which wound up all closing down. A lot of people are stuck in the Wainae coast where these plantations were. Jobs are scarce and the ground is too poor too farm. While the windward side of the island has wetter land, there isn't much space left for it. Typically "local" fruits and vegetables come from other islands in the Hawaiian chain.
This is great, because most food in Oahu's supermarkets is shipped or flown the 2500 miles from California and beyond. You can see the distance in the indifferent shine and taste of Red Delicious apples. They don't even taste like apples. But why eat such things when there are local oranges with an interesting green skin? Apple-bananas? Papayas, passionfruit, pineapple and mangoes?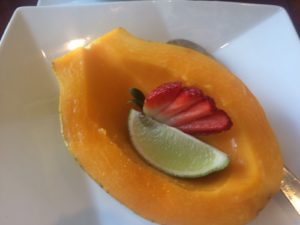 This sumptuous, perfectly ripe papaya at Tango Contemporary Cafe was one of the best I'd ever eaten. The other great papaya was a takeaway item from Good Earth, a small organic grocery chain  introduced to me by my friend. Karen helped me pick the perfect local papaya, apple-bananas and oranges to bring back to my fridge at LCC's hotel, Hyatt Hawaiian Village.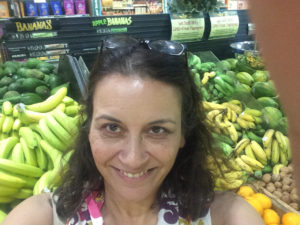 During the time I stayed in Waikiki, my evening walks made me discover the outdoor farmers' and chefs' markets that run Monday through Saturday evenings at either Kings Village Shopping Center or the Hyatt Regency Hotel. On site I devoured delicious pad thai and crisply fried Chinese dumplings, and I set myself up for the next day with luscious green salads and containers of fresh-sliced local fruit. I also bought colorful Hawaiian sea salt smoked with different flavorings that I use on a daily basis in Baltimore.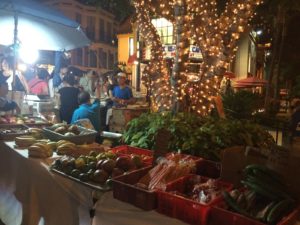 Hawaii's chefs are working hard to bring local produce, meat and fish into their restaurants. In 1991, 12 chefs committed to developing a new Hawaii Regional Cuisine. The goal was to help local farmers and fishermen grow delicious, sustainable foods that would be the centerpiece of hotel and restaurant fare. These chefs have prospered, and their mission has been supported by so many other cooks. This year, I noticed almost every restaurant and hotel menu boasted about serving locavore or Hawaiian regional food.
The genuine HRC came onto my plate at the restaurants I'm about to describe.
One night I went to Honolulu's artistic district known as SALT to eat a Peter Merriman restaurant called Moku Kitchen. Led by my intrepid gourmet friend Jackie, we enjoyed a pizza topped with wild Hamakua mushrooms and fresh herbs. I sampled a chopped poke appetizer of local ahi tuna mixed with shoyu and ginger, and tiny tacos filled with roasted bulgogi pork and crisp raw vegetables. A high point were the dumplings stuffed with pumpkin, spinach and chèvre. The small plates were so intensely tasteful that we finished them up, but had no room for dessert. It's always hard to walk away from a great restaurant without tasting dessert, but it would have been too much!
Goofy's is a tiny second story restaurant just outside the Hilton Hawaiian Village. A long line of people is usually waiting outside its doors. Many of them are Japanese tourists who have read about Goofy's in guidebooks and have come for the "local first, organic whenever possible" casual gourmet cuisine. It's a peaceable wait in line, because the weather's so pleasant.
Susan Spann and I walked over to Goofy's for a quick lunch on Sunday. I got a bibimbap bowl with an egg on top and she went for the loco moco, which is what I'd call a heritage Hawaiian dish: the kind of recipe you'll find in the definitive food memoir/recipe book, The Food of Paradise by Rachel Laudan. Loco moco is a garlic-and-onion flavored beef patty atop a scoop of moist fried rice that floats in a sumptuous meat gravy. And why not put an egg on top?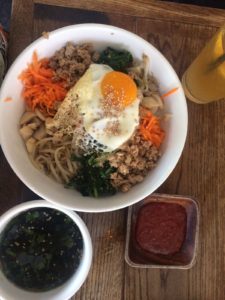 Fusion's scrambled my brain. I think I'm going to try the loco moco concept at home, but do it vegetarian. I'll keep the sunny-side up egg, but substitute leftover vegetable paella for the fried rice, and use sambar, a spicy Indian vegetable soup, for the meat gravy. Is that a travesty?
Goofy's was so good I went back with my friend Vallery a few hours later for dinner. I wanted to try a dish that had sounded enticing: green spaghetti. The pasta was tossed with a pesto made from local green herbs and macadamia nuts. It was as good as it sounded.
One of my favorite restaurant discoveries this time was the Tango Contemporary Cafe at the Queen Street and Ala Moana Boulevard intersection. It's owned by a Finnish chef who participates in the Hawaiian Island Chefs group supporting sustainable local agriculture, aquaculture and education. One cafe breakfast specialty, Pytt-i-panna, translates to "stuff in a pan" and offers variations with a lot of vegetables and meats, including loco moco beef and smoked salmon. I decided to go for the vegetarian version: a nicely browned hash of grilled vegetables with spinach, kale and tomatoes, topped with you-guessed-it.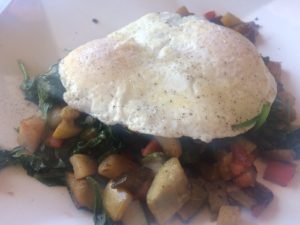 I breakfasted at Tango one Sunday morning and found almost 20 people waiting for the 8 am opening. I was seated near a Japanese couple who ordered the regular pancakes with maple syrup. Twenty minutes later, my order for Swedish pancakes with fresh fruit, berry compote and whipped cream arrived at my table. The Japanese man called over the waitress and told her she had brought him the wrong dish. He preferred the pancakes that I had, which were ever so petite and enticing. Of course, he had not specified Swedish pancakes. Yet with utmost courtesy, the waitress brought him his request.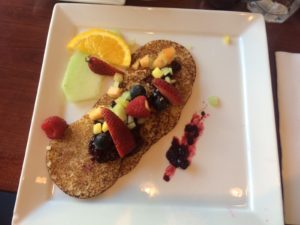 Some restaurants aren't being buzzed about, but continue to reward eaters. Quite a few of them are in Chinatown. Consider Duc's Bistro, where classic Vietnamese ingredients combine with meat and fish and vegetables prepared with French techniques. Duc's is a favored spot for locals out for a quiet, elegant, and delicious meal, and the fish I had there was delicious.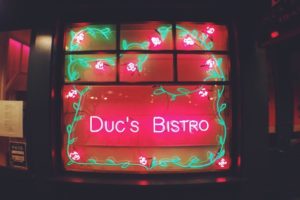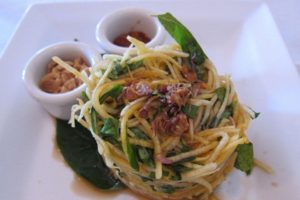 On the old favorites trail, I went with with my new friend Diana to Little Village Noodle House. This is an inexpensive Szechuan Chinese restaurant that played a stake-out role in my Hawaii mystery novel, Shimura Trouble. I always get the crispy green onion pancakes pictured below. This savory vegetarian dish always surprises me with its similarity to a fried Indian paratha bread. Of course, China and India aren't that far apart. And as Hawaii teaches us, you may as well take influences from all around the world, mix them loco moco, and offer with a dash of aloha (peace).