This post originally appeared on Murder Is Everywhere.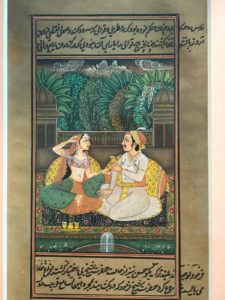 Mixed families often double their holidays. Which means the culinary options are rather excellent.
Take Christmas.
I grew up the daughter of a German mother who still makes hundreds of beautiful cookies each year. I have learned to bake some of these cookies, but I can't hold a candle to Mom. My father is from India, where most people don't celebrate Christmas, and the majority of homes don't have ovens. A typical Christmas dinner dish for us, growing up, was chicken biryani.
But I believe there is one Indian delicacy with the power to satisfy like a cookie can. This treat is crunchy, sweet, salty and as spicy as you'd like. I call it Masala Nuts.
In India, you'll find a man on a street in any village or town or city roasting nuts in a big steel pot set over a wood fire. The roasted nuts are tossed with spices and a bit of sugar. Everything's poured into a small paper holder and handed off to the salivating customer.
In the West, you can visit a South Asian store and buy a factory made "hot mix" coated with heavy spices, oils and preservatives. They're not terrible—but they're nothing like the real masala nuts.
At Christmas, I've begun to make my own spiced nuts. Savory nuts are welcomed by people who don't want as much sugar as a cookie or cake contains. Pistachios, almonds, walnuts and their near cousins are recommended anti-inflammatory foods high in good fats. They are great at cocktail parties and also used anywhere else you'd put very special nuts: a salad, oatmeal, and rice pilaf.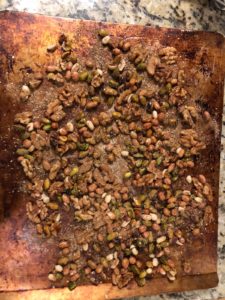 There are probably as many recipes for spiced nuts as there once were princely kingdoms in India. The diversity of nuts must be credited to Moghul invaders of the 15th century, who brought their plants and culinary traditions. Nuts such as almonds, pistachios and cashews began decorating rice dishes and were incorporated into curries and sweets and even beverages. Who knows if the royal couple in this small painting I bought in Rajasthan are sharing a goblet of wine? It could also be a creamy punch with ground almonds or pistachios.
The ultimate joy of making masala nuts is they don't take a lot of time during a busy holiday season. I can whip up seven gift-sized portions of spiced nuts in about 45 minutes if I use a microwave.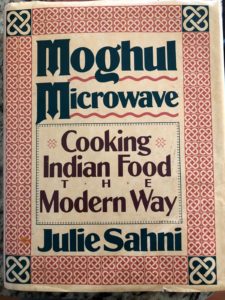 Yes, a microwave.  The genesis of my spiced nuts comes from Julie Sahni's 1990 cookbook, Moghul Microwave. The book has 5 different recipes for candied or roasted spiced nuts. In the 25 years I've had the book, I've found one recipe that is my favorite, and I've tweaked it a little bit. For instance, I'm not a fan of kala namak (black salt), so I skip it in my version. This year, I threw some chia seeds into the dry spice rub. Chia seeds have no flavor, but they  have a slight crunch that reminds me of kalonji seeds—Indian black onion seeds. And I like adding more Omega 3 fatty acids to make up for the fact there is a bit of sugar coating the nuts.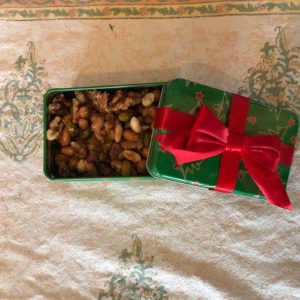 Happy holidays!
Spiced Mixed Nuts (inspired by Julie Sahni)
2 cups (10 ounces) shelled raw whole unsalted mixed nuts such as pistachios, unblanched almonds, cashews, peanuts, walnuts, pecans, pine nuts (I use 3 to 4 varieties per recipe)
1 tablespoon ground cumin (I roast the seeds before grinding, but that's optional)
½ teaspoon ground fennel seeds
1-2 teaspoons of cayenne pepper
1 teaspoon amchur (*dry mango powder sold in Indian stores. See headnote for an easy lemon juice substitution)
¼ teaspoon chia seeds (optional)
½ cup of sugar
1-2 teaspoons kosher salt, depending on taste
1/3 cup water
*If you can't find amchur, substitute 2 teaspoons of fresh lemon juice. Combine the lemon juice with the water, rather than the dry spice rub.
Arrange nuts so they lie flat on a microwave-safe pie plate. Roast uncovered for 3 minutes 30 seconds, or until the nuts are lightly browned and puffed. You can stir them once during the process. Take out of the microwave and let them stand.
Mix all the spices in a small bowl and reserve this dry spice rub for later use.
Mix the water, sugar and optional lemon juice on a glass or ceramic pie plate or casserole dish. Cook uncovered for 2 minutes 40 seconds, stopping the microwave to stir twice. You will end up with a thick syrup.
Add in the nuts and continue cooking uncovered for 45 seconds to one minute, or until most of the syrup is absorbed into nuts.
Transfer nuts to a sieve held over a sink and drain off the excess syrup. Spread nuts onto a cookie sheet. Sprinkle spice rub a little at a time over the nuts and mix, turning and tossing, until nuts have an even coating of the masala.
Keep stored in an airtight tin for up to six weeks, in fridge for six months, and for a year in the freezer.