This post originally appeared on Murder Is Everywhere.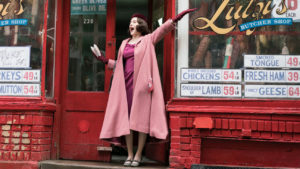 Watching standup and skit comedy shows became a kind of medication for me in the last year. Mental health maintenance, you know? I feel empathy in the jokes made by Stephen Colbert, Trevor Noah, Samantha Bee, and the cast of Saturday Night Live.
But there's also considerable relief in escapist humor that takes me completely away from the 21st century. Like an answered prayer,  "The Marvelous Mrs. Maisel," an eight-episode comedy series, appeared on Amazon Prime in November. The holidays are the only time of each year that I allow myself to binge-watch a series—and this was my choice.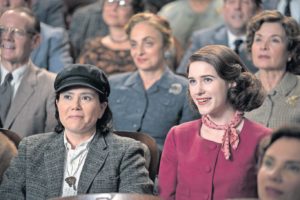 Here's the premise. In 1958, Midge Maisel is a 26-year-old, happily-married mom of two young children living in a gloriously large apartment on the Upper West Side in Manhattan. Her husband Joel is a rising executive who dabbles in stand-up comedy at a beat generation nightclub in Greenwich Village. The problem is, Joel doesn't have a special knack for it, and after a humiliating performance, he lashes out at Midge by walking out on her and the kids to live with his secretary. This shock propels Midge on a drinking spree. She shows up at that same nightclub where Joel bombed. She commandeers the stage and launches into a powerful, hilarious monologue about her predicament. Thus a career is born. Rachel Brosnahan, who plays Midge, is tidily pretty, sharp as a tack, and unafraid of the F word. She hides her experimental career from her parents. Midge's uptight mother is just as attractive as the daughter—and in fact has schooled Midge in the arts of excessive feminine behavior (like going to bed with makeup on, jumping out to remove eyelashes and put on night cream, and applying fresh makeup before hubby awakens).
The show also features interesting characters like Susie, Midge's talent manager, played by Alex Borstein, who is so masculine that most of Midge's family and friends think she's a man, rather than a lesbian. Also featured as a character in the show is Lenny Bruce, the ground-breaking comedian who serves as an occasional helper to Midge, following her kindness of bailing him out of jail after being arrested, like she has been, for verbal obscenity.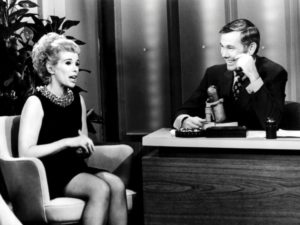 Critics have made comparisons with Midge's character to Joan Rivers, who also hailed from an affluent Jewish family and joked about female anatomy, birth control, and housework. Joan Rivers Confidential, a scrapbook of writings, programs and items saved by the late comic, was published recently. After seeing the challenges faced by Mrs. Maisel, I'm interested in learning more about Joan's early days.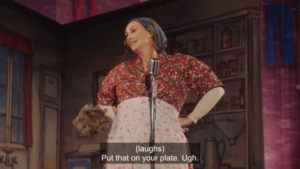 One of the most interesting episodes within the series deals with Midge getting an invitation to open for a famous woman comic who wears a fat suit and does a routine where she plays a loud-mouthed, folksy woman. Sophie Lennon, who's played by Jane Lynch, turns out be very hoity-toity and elegant off stage. Midge learns that Sophie is a drama school graduate who's taken on a character because she believes a male audience won't listen to jokes from a woman who looks like someone they could f***. She advises Midge to become an oddball character rather than talk freely about issues of the day.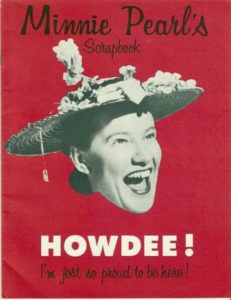 I realized Sophie Lennon is a lot like Minnie Pearl, a hillbilly comic who was famous in the mid-twentieth century for her down-home slapstick style. Minnie actually was an upper class drama school graduate putting on a show. Bustle Magazine ran a thoughtful article discussing the potent stereotypes of female comics raised by Sophie Lennon's character.
I won't give away whether Midge follows Sophie's suggestion to refashion herself into a sexless oddball. I recommend you watch the show and consider that the women who dared to stand on stage and swear in public were a special breed of early feminists: women who wouldn't shut up, even when heckled.
We could use a few more women like that in Washington.