This post originally appeared on Murder Is Everywhere.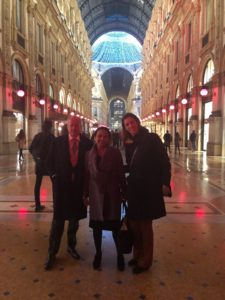 I send greetings from the north of Italy, where Christmas lights are twinkling and it's time to buy panettone.
It was a grand surprise a few months ago, when my Italian publisher, Neri Pozza, share an invitation to be a literary guest at Festival In Noir, an international festival for crime writers and film makers in Milan and Lake Como. The proposed four-day visit would involve connecting with festivalgoers, as well as giving interviews to the Italian press about La Vedove di Malabar Hill (in English: The Widows of Malabar Hill).
Allora! (As Aziz Ansari taught me to say in Master of None).
I have never been to Italy, but have dreamed of visiting since I was ten years old and first ate spaghetti carbonara. My interest only grew as I grew older and discovered neorealist cinema, cappuccino, Italian fashion designers, other popular representations of the best in Italian taste. I fired back an affirmative email to Neri Pozza, and off I flew—arriving on a sunny, cold Monday morning in early December.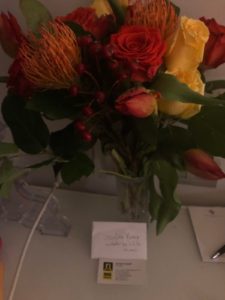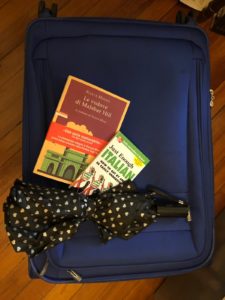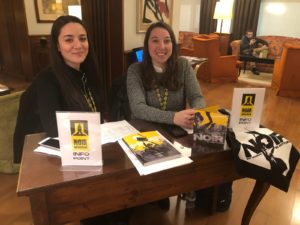 After I'd checked into the marvelous Hotel De la Ville, just a short walk from the famous 14th-century Duomo Cathedral of Milano, I couldn't believe what a sweet spot I'd landed in. But I was exhausted. I transferred a stunning welcome bouquet of roses from the festival into cool water, and then I slid into a hot bath.
I woke up two hours later, and it was dusk. I left the hotel and strolled nearby streets, taking in a grand city where historical architecture and holiday light displays made a beautiful combination.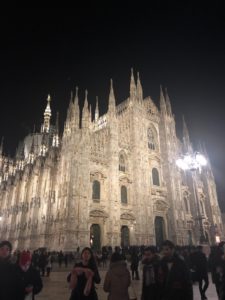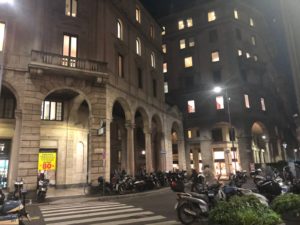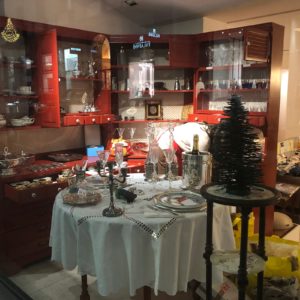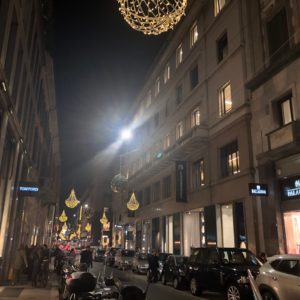 That first night in Italy, Giuseppe Russo, the director of Neri Pozza publishing, and Daniela Pagani, communications/publicity head for NP, led me through the beautiful streets to dinner at Ristorante La Brisas, where I tasted Italian haute cuisine: pork with braised greens, a salad with cod and vegetables, a rhubarb and raspberry tart. So sophisticated and yummy.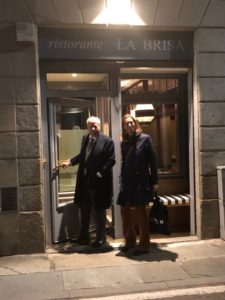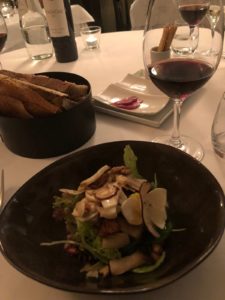 The next morning, Tuesday, my real Italian job started. I set an alarm to wake up in time for breakfast and a quick blow-out at a salon across the street from the hotel—where I spied another writer doing the same. All morning and afternoon was filled press interviews mastered  with the help of Daniela and simultaneous translator Sarah Cuminetti.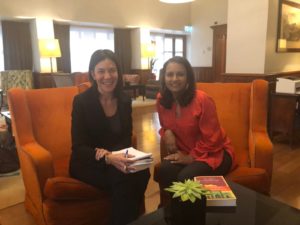 There were straight interviews with note-taking for people who wrote for newspapers and magazines, and some very interesting permutations, like the radio host who asked Sarah a question, which she then translated for me. I spoke my answer in English over the phone, and then Sarah took the phone and recorded her translation. How the producers will put it together I can't imagine, but he did say he was happy with the sounds of our voices. We also had plenty of breaks which included macchiato and an especially delicious pastry sweeping the international landscape called a krapfen.
If you don't like reading about food, now's the time to check out.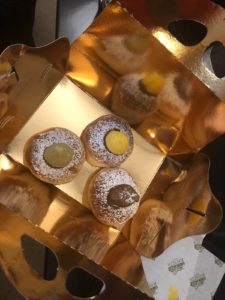 More talking the rest of the morning and then lunch with my Neri Pozza editor, Sabine Schultz. She is from Germany but speaks Italian and English fluently. What did I taste this time? Arancini balls of rice stuffed with ragu—and a green salad. Sabine and Sarah taught me how to dress my own salad with salt, some shakes of balsamic vinegar, and olive oil. It turned out pretty well.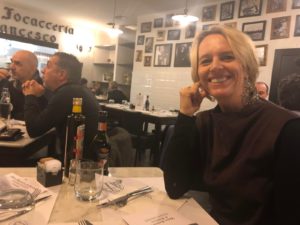 Toward the end of the afternoon I had an interview with Mirko Giacchetti of Milano Nera magazine, which focuses on crime and thrillers. Mirko asked what I'd say if I was back in the 1920s and spending time over a meal with Perveen Mistry (my series heroine). l realized that the two of us would chatter about our favorite Indian dishes, and then Perveen would probably confess she hated cooking. And then, I would try to get to the meat of things: how Perveen could make her professional dreams come true.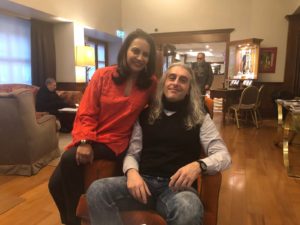 Tuesday rounded out with an interview with Italian journalist John Vignola at a bookstore, Libreria Feltrinelli Duomo, which is underneath a grand outdoor space, the Galleria Vittorio Emanuelle II. I was delighted that an Instagram friend whom I had invited after she commented on the Italian edition actually came to the event. It was rather crazy to have two people talking at once—John and another person doing simultaneous translation—but I made it. And the Italians who came to get their books signed had the most beautiful names. Paola, Flavia, Gabriella… they deserve their own book.
Tuesday night, the visiting writers and filmmakers feasted on beef slow cooked in Barolo, drank Pinot Noir, and mulled over a choice of gelatos and sorbets for dessert.
After tonight, there are two more days of press interviews, a panel about British mysteries at the university and very likely more delicious fare—both literary and on the plate.