This post originally appeared on Murder Is Everywhere.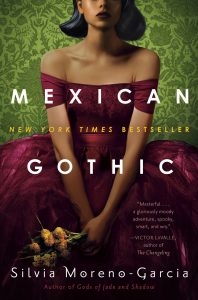 The most exciting kind of travel has been taken away from us. Borders are closed, flights cancelled, museums shuttered. And who dares go to a restaurant? Yet we can still escape quarantine with books. And nowhere has seemed more mysterious, gorgeous and suspenseful to me than the inner world of a book called Mexican Gothic.
This remarkable novel by Silva Moreno-Garcia is narrated by Noemi Taboada, a smart young single woman who is sent by her wealthy family in Mexico City to check up on a cousin who's sent a worrying letter after having moved to her husband's family estate in the mountains. This is a true Gothic novel, with the benefit of being enriched with Indian mythology and surreal dream imagery, and colonial history, warped eugenic theory, and biology of plants, animals and insects. Critics are calling it intoxicating and pitch perfect gothic and admire its chills and thrills. It debuted on the New York Times bestseller list and is still in the top 15 three weeks later.
I am grateful to Silvia for answering my questions about the book and her writing life.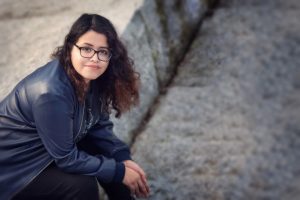 Silvia, this is a very special book. To me it feels like part historical suspense, part gothic novel, part Latin-American magic realism, part horror. Were you aware you were doing something ground-breaking with this book? Did you hear "this book doesn't fit any category" when you were in the submission process? Was this book an easy sell or a complex sell?
Gothic fiction is a hybrid genre. It contains elements of psychological suspense, sometimes of outright horror, sometimes romance, sometimes supernatural elements, often a historical setting. It can have a mystery. It's the literary grandparent to modern domestic noir, but also an ancestor of modern romance. It's why I was interested in working in a Gothic mode. It can spill out of categories.
As to how it sold, it was easy in the sense that Del Rey bought my previous novel, Gods of Jade and Shadow, in a two-book deal. So this was the second book I delivered and because I was under the contract we didn't have to shop it around.
However, that ease is relative. I've had a hard time selling almost everything I've ever published. Right after finishing Mexican Gothic we tried selling Untamed Shore, a noir, and it was basically impossible to move that. We ended going with a new, small press called Polis/Agora for a very modest advance of a few hundred dollars and a print run of 2,000 copies.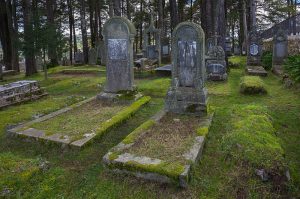 Is this book coming out in any other countries, and any film interest yet?
I've never had much luck with translation but Gods of Jade and Shadow and Mexican Gothic will be translated into a handful of languages. And there is film interest. Nothing firm, though.
Mexican Gothic has been on the NYT bestseller list for two weeks, and hopefully more, as word spreads. What is different about life for you now that you are a NYT bestselling author? 
I can hopefully worry less about my future. As I indicated above, it hasn't necessarily been easy to sell my work. My vampire narco novel Certain Dark Things and my fantasy of manners The Beautiful Ones both went out of print very quickly. Publishing houses expect very quick successes and have little patience in nurturing talent. And they didn't think much of my genre-switching ways. I'm not interested in writing in just one category, I don't want to write series, I write a lot about Mexico. All those were minuses for me. But now that might not matter.
This book presents an old-fashioned Mexico with most characters living elite lives, rather than the stereotype of suffering that is predominant in novels published in English about Latin America. Did you intentionally wish to share a different Mexico?
All my books show different slices of Mexico. In Certain Dark Things one of the POVs is a homeless teen, in Untamed Shore we have a woman in a very small town in Baja California with limited social mobility, in Signal to Noise the characters are different shades of middle class. There are programmers, cops, radio announcers, small business owners, translators, and everything else.
It's the 1950s, and two regions are central to the novel—sophisticated Mexico City and the quiet mountains, where peasants still labor in silver mines for foreign landowners like the Doyles. What is your relationship with these areas? Had you visited each place over the years and how else did you learn such intimate details of these places?
Mexican Gothic is inspired by Real del Monte (also known as Mineral del Monte), which is a town located in Hidalgo in central Mexico. It was mined by the Spanish and then by the British, which earned it the nickname of Little Cornwall. It has a very unique look and feel because of that. There's an English cemetery and it is high in the mountains, so it can get chilly and foggy. Yuri Herrera by coincidence recently released a non-fiction book about this region and its mines called A Silent Fury. If you want to learn more about it, check it out.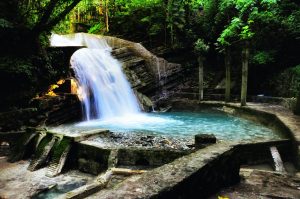 It's also worth mentioning that Edward James built a surrealist garden in Mexico, in Xilitla. I didn't include this in my book but at one point I wanted to have structures inspired by it, with stairs that go nowhere and things like that. I think it has a very haunting look.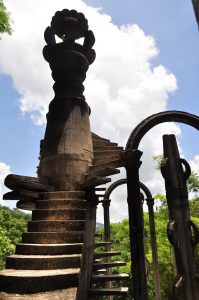 The novel's heroine, Noemi, is a pampered society girl who wants to study anthropology rather than marry. She longs to enroll at the national university, and her father promises to pay for it if she'll check on her cousin. Noemi arrives at the remote Victorian mansion with a suitcase of lovely clothing, cigarettes and a lighter. Tell us more about the inspiration for your protagonist.
My family on my mother's side was poor, my great-grandmother was a maid and my grandmother wanted to be a doctor, but her father forbade it. He said she couldn't go to medical school because there would be men there. Plus, they expected her to bring money in for the family. So at 15 she finished secretarial school and by her early twenties she married, which was what you did in the 1950s.
My father's side of the family, my aunts came from a family with some money so they were able to live a life of leisure, and a couple of my great aunts remain unmarried (solteronas) because the family had enough money to support them. One of my great aunts that did marry had a bad marriage and stayed for a while because she was terrified of what people would think if she separated. And in the case of my own grandmother, my grandfather abandoned the family and divorced her, but she couldn't say that publicly. They lied because if anyone knew about it, my father and his siblings would have been expelled from their Catholic school. There were a lot of secrets that we kept because of the prevailing morality.
My heroine is going to rural Mexico in 1950. Women don't even have the right to vote. She can't just phone the authorities and drag her cousin out of a house, even if the people there are creepy. And the family wants to keep this all obviously hush-hush.
Mexico was never a British colony, buts its land and people were exploited by British and American businessmen, following Spain. Discuss the Doyles and how they fit in with this picture.
Spain was the first European nation that exploited Mexico, but obviously it wasn't the only one. We didn't get a French empire in Mexico for a few years just because we were bored. Colonialism is not something that ends and everyone says let's go home. One reason why Latin America is an absolute mess nowadays is because the USA intervened in many countries there, backing coups and destabilizing countries. My next novel briefly mentions some of the CIA's work in Mexico in the 1960s when they helped train Mexican forces so they could repress and violently neutralize Communist activists. The Doyles are in many ways a much easier boogeyman than the horrific legacy we have in Latin America.
The description of ghostly people in the novel ring true to paranormal experiences people have chronicled. Can you share if you used real accounts of hauntings as background for what happens in the house, or is it all a glorious fantasy?
Ghost stories are fun but it's all completely made up.
When the pandemic is over and we can travel, what are a few must places in Mexico, that are beautiful and historic, you'd recommend? 
Mexico has very different regions. In the south you have the jungle and a number of Maya archeological sites, in the middle there are many cities that were colonial sites, in Baja California we have desert and water and whales and sharks, and we obviously have beaches too. And then there's Mexico City which is huge. So it really depends what you feel like doing.
Can you tell us about the crime novel that you released earlier this year?
Untamed Shore combines a coming of age narrative with a noir sensibility. It's set in the 1970s in a small shark fishing village where a young Mexican woman becomes entangled with some American tourists. I've seen people compare it to Jim Thompson's work. It had two starred reviews (Booklist, Library Journal) but because it came out from such a small press not many people heard about it. LA Review of Books said "Brutality takes on an almost divine quality." So, maybe check that out.
I think once people have finished Mexican Gothic they'll be ravenous for your other work. I'm grateful you've got all these books waiting for me, and that you continue to take risks and tell the stories that are in your heart. Thank you for visiting with Murder is Everywhere.