This post originally appeared on Murder Is Everywhere.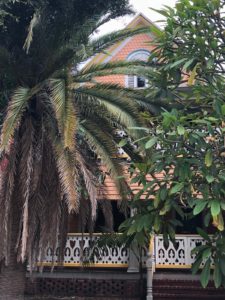 Winter has a way of making me want to fly the heck away from Baltimore's cold wind, leafless trees, and intermittent ice and snow storms. Sometimes, it actually happens. In the middle of winter of 2018, I spent time to Arizona and India while on book tour. The winter before, it was Hawaii for Left Coast Crime. This year, I'm unfortunately grounded until a late March trip (details later!). Until then, I've vicariously escaped by gawking at books about island life. I've also read so many Caribbean stories I now understand a lot of patois.
Poring through some photos I took last year, I stopped at the sight of this coral house. This old house covered in pretty fish scale shingles lurks almost unseen on a busy street in St. Petersburg, Florida. I passed it daily as I walked from my small hotel to the Vinoy, the grand hotel where the last Bouchercon World Mystery Convention was held.
As I traveled past Victorian houses in St. Pete, they never escaped me, no matter how hard their owners might have tried to plant trees and bushes for privacy. I actually admired the house for being clever enough to have palm and magnolia sentries shielding it from traffic and ugly new buildings and, yes, tourists such as myself.
I suspect this cottage was built in the late 19th century, possibly as a holiday home. In some ways it reminds me of my own 1890s unstained brown cedar shingle house, which also has a white wrap around porch. However my porch has matchstick style bannisters rather the delightfully elaborate lacy design, and its brown color is so dull when compared with orange sherbet.
The Caribbean design books explain that a fancy porch like the one pictured above could grace a home in the Bahamas just as much as Florida. And apparently there are special colors, like pinks, that are unique to particular islands because that was what was stocked in the island hardware store.
Bright houses laugh with happiness.
For a homeowner to dress a house in bright paint is akin to wearing a bright gown to the Oscars, as Gemma Chan did. A black dress that fits close to the body is conventional good test. On the other hand, an oversized, fluffy pink confection says, "Let's play."
When people paint their houses to bring smiles, it's an act of generosity. And even if the coral house is locked, the entry for dreams stands wide open.