This post originally appeared on Murder Is Everywhere.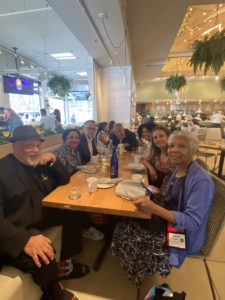 One hundred years ago, only a science fiction writer could have dreamed that being a writer would involve much more than a pen, typewriter, and some paper. Bookstores would take care of selling one's work, and there would be the occasional exciting invitation to lecture at a private club or educational institution. And of course, written correspondence with admirers.
Imagine telling Mary Roberts Rinehart and Georgette Heyer that they'd need to add on sharing photographs and short messages about their lives to FaceBook, Instagram, Twitter and TikTok. And how would they like to hear that sitting in front of an electric machine that saved your words, had a camera to focus unsparingly on your face, a microphone to pick up your ums, would become the way you shared yourself with others? And would the writers of yore have delighted at the idea of mystery conventions, or thought them an abomination?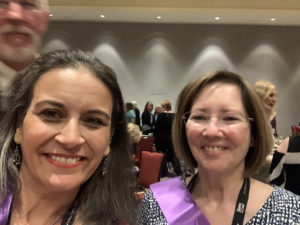 Although I write in a room alone, I've had a quarter century to slowly learn the skills needed to be a modern mystery writer. During the pandemic, I found community in booktalks sponsored by stores and libraries and bookclubs. I even got my own zoom account so I could sponsor some interviews with writers and historians. But I got zoom fatigue, like a lot of people. I didn't want to connect with a screen in the evening. I longed for the equivalent of an outdoor porch meeting with writing friends.
This spring, I got a fourth booster shot and prepared to go out into the world to two mystery conventions and the Edgars dinner. I tested myself for Covid before and after each outing, and was blessed to remain healthy. Some of my peers did catch the virus, and I'm relieved that they are either recovered or feeling much better. In my case, the trip was worth it, and I'm sharing a few highlights.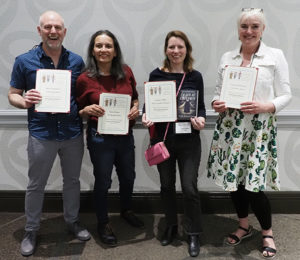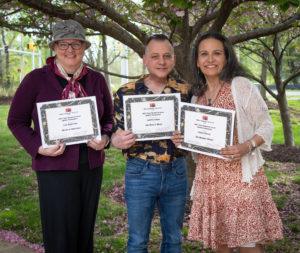 Firstly, I was going as a nominee. I had the thrill of seeing my 2021 book, THE BOMBAY PRINCE, receiving nominations for the Best Historical Award categories at both Malice Domestic Convention in North Bethesda, MD, and Left Coast Crime in Albuquerque, NM. This meant panels to talk about the book and lots of picture taking.
The actual Agatha award (given at Malice) and Bill Gottfried Memorial award (given at LCC) went to talented and kind author friends who'd written exceptionally original and well-researched historical mystery novels.
 Lori Rader-Day's Agatha award winner, DEATH AT GREENAWAY, is a brilliantly researched mystery set at Agatha Christie's country house during World War II, when the famed author gave up her property to the government to be a temporary home for London children who'd been sent to the countryside for their protection.
The rest of the convention was all about people for me. Malice also honored my longtime reader-friend, Dina Willner, as Fan Guest of Honor. Throughout the convention, a group of her friends wore sashes reading Fans for Dina, a big surprise for her. The Fan Guest of Honor for Malice's 2021 convention (which wasn't held in person) was Dru Ann Love, a wonderfully talented blogger who also came to the convention and was delightful to spend time with.This was a pattern with all the spring gatherings I attended: people who'd won while everyone was stuck at home were belatedly celebrated in person.
I also had time with friends who are longtime readers, and with my terrific literary agent, Vicky Bijur. Whether a cup of tea or conversation at lunch or dinner, or even in the car, these conversations we had built trust and understanding of how to move forward in a career and keep publishing a happy experience.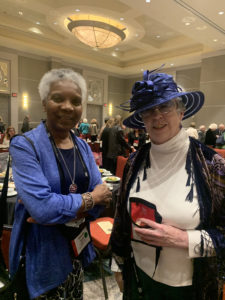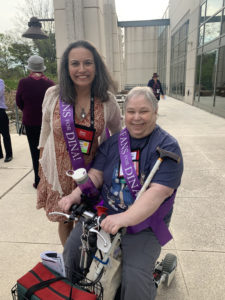 At Malice Domestic, some of us had time in our schedules to get to lunch with the convention's Lifetime Guest of Honor, Walter Mosley, who cofounded the organization Crime Writers of Color with a younger writer, Kellye Garrett, whose latest book, LIKE A SISTER, is making a big splash.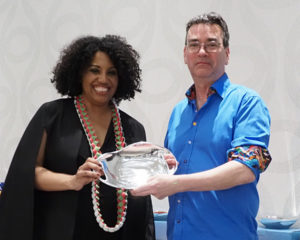 A week earlier, I saw Kellye take on the toastmaster role at Left Coast Crime; in the shot above, she's giving an award to the convention's international guest of honor, Mick Herron, whose Slough House spy thriller series is now on AppleTV with a first season, SLOW HORSES. LCC was in Albuquerque, New Mexico, this time. This convention moves locations usually around the left side of  the US (although it's once been on England's western coast and the same for Canada).
I was delighted to reunite with my California-based writer friend Naomi Hirahara at Left Coast Crime. We both started out writing mystery series connected with Japan, and as we have added different series to our bibliographies, we've also become members of an advocacy group, Crime Writers of Color. It was thrilling to see so many of CWOC members win!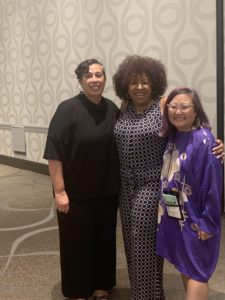 This was especially a banner year for Naomi, with her first historical mystery. CLARK AND DIVISION is set in a world not much explored in mystery fiction. It deals with the hardships that Japanese-American citizens faced after the War, when they couldn't return to their homes on the West Coast, often due to the economic and real estate losses caused by their imprisonment in concentration camps. A large number of them went to Chicago to start over with entry level jobs in an unfamiliar, cold place. The mystery in Naomi's book revolves around the supposed suicide of a young Japanese-American woman on the eve of her family's arrival. Just as in Kellye Garrett's book, it's a sister who finds justice for the one who perished.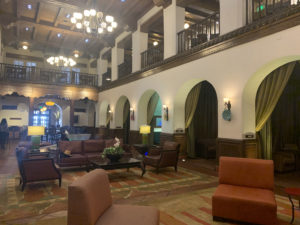 At Left Coast Crime, I made the choice to stay a block's distance from the main hotel in a small historic place, Hotel Andaluz. I found the atmosphere of the historic, Pueblo Revival hotel fed my soul and offered me intriguing places to write—not only my spacious room with thick, stucco walls, but these little nooks behind the tiled fountain in the lobby.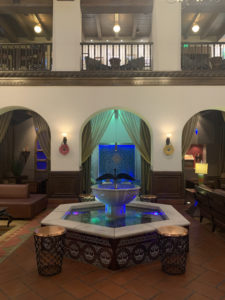 I got to have a lots of nice walks, including through a residential neighborhood, to little restaurants, and The Man's Hat Shop, where I got a marvelous new topper to protect me from the Albuquerque's strong sun.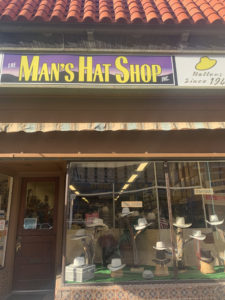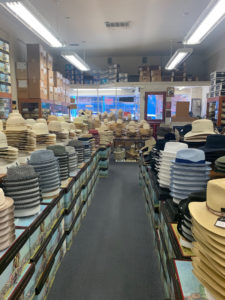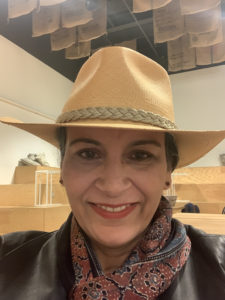 My last spring trip was short but especially vibrant. In late April, I went to New York City to celebrate the Edgar Awards, a gala presentation conducted by Mystery Writers of America members to honor the best books of the year, as decided by reading committees made up of authors in the organization. It was relaxing to sit near Vicky and other friends, close to the table with two fellow Soho authors with award nominations: Naomi Hirahara (winner of the Mary Higgins Clark award) and Kwei Quartey (finalist for the Sue Grafton Memorial Award).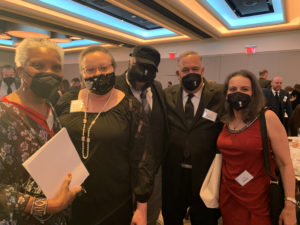 I was honored to go onstage and introduce my editor, Juliet Grames, who was receiving the Ellery Queen Award for her accomplishments as a mystery editor and an associate publisher of Soho Crime. I struggled to find the words to introduce my dear friend—because so, so much could be said. In the end, I spoke for about a minute, and I was thrilled that Juliet's award—and a few of my words about her—made it into Publishers Weekly.
The morning after, we were all business. I went to Soho's light-filled offices in a historic building in Chelsea and met with Juliet and my new editor, Yezanira Venecia, to discuss their thoughts on my manuscript for the fourth Perveen Mistry novel. Chiefly, we brainstormed about how to make each character's motivation more realistic—and how to tweak events to match up better with revelations of the plot. A few lost pieces began matching up in the gigantic puzzle that will be titled THE MISTRESS OF BHATIA HOUSE (Yeza's title idea!).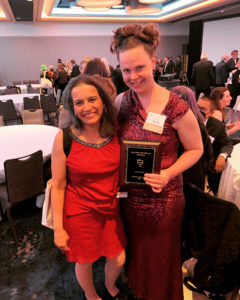 Riding home from New York on the train, I was tired but happy for the resumed connections in publishing. Yes, a writer's life is more complex now. And mysteries are similarly more complicated, especially if they're part of an ongoing series. Sometimes, spending time with a few more plotters is just what's needed.