This post originally appeared on Murder Is Everywhere.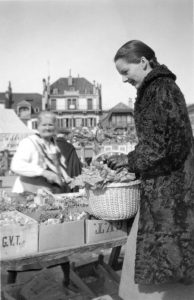 A few weeks into the pandemic, a big bang broke this stillness of a stay-at-home Saturday afternoon.
An electric fuse had blown, which meant the third floor had no lights, and the wi-fi was down as well.
When I say a fuse was blown, I don't mean a modern one made of steel that's neatly labeled. We have those fuses in the basement. The fuse that blew was antique, the kind of curiosity no contemporary electrician would have on hand.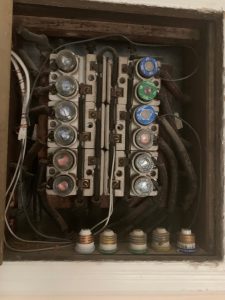 My husband called around to a couple of historic neighborhood hardware shops. The second store, Falkenhan's Hardware, still had such early 20th century fuses in stock. Tony got six of them for ten dollars, and an hour later, he screwed in the new fuse while I kept my fingers crossed. Once again lights shone, fans whirred, and a wi-fi signal allowed us to keep going with our work.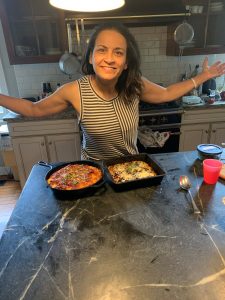 We are now solving problems with our own hands. In my neighborhood, several homeowners are up on their roofs, replacing shingles and painting the porch trim. And we are gardening like gangbusters. Seed companies and nurseries have an estimated 300-plus percentage rise in business. The green proof is visible in raised beds, garden boxes, and potted plants growing everywhere you look. 2020 is the best year for gardening, ever.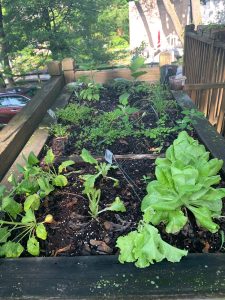 And while I don't peer through people's windows, I suspect many more people are cooking, some for the first time in their lives. Fortunately, newspaper websites abound with cheerful instruction, as do websites like Kitchn, Food52, and Bon Appetit, and King Arthur. Six times already I've baked King Arthur Flour's Recipe of 2020, a deep dish cheese pizza that involves making pizza dough yourself and setting it up for a no-fail rise by using a cast iron frying pan. King Arthur is also the go-to spot for fledgling sourdough bakers, and those who use sourdough discards to thriftily make more food, like the sourdough-chocolate cake below.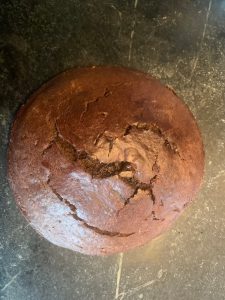 I leave no stone unturned, when it comes to culinary thrift. Before I got my garden box going, I harvested dandelion leaves and wild onion from my garden. I freeze vegetable scraps, chicken bones, and shrimp shells to make different stocks. In fact, I've become such an old-fashioned homemaker that I'm freezing cut-off pieces of fat to melt down into lard.
I can stay out of the stores because I've found local farmers who sell to customers directly—not just at farmers' markets, but by porch delivery, the US mail, or curbside pickup. And within the city, at least four restaurants I know are not just offering takeout, but regular  ingredients to home cooks.
Here in Baltimore, curbside pickup from my local restaurant, La Cuchara, means signing up online a day ahead for what they can order in for us from their farmers and food distributors.  On the luxurious side, these curbside pickups have included fresh Chesapeake Bay oysters and diver scallops and rockfish. More goodies have been local strawberries and turnips, garlic ramps, and morels, oyster and porcini mushrooms: all priced at, or slightly below, regular grocery prices. I've adjusted to buying what the farmers and restaurants can provide—blocks of butter rather than sticks, and takeout containers of olive oil and canola that I funnel into clean, recycled bottles at home.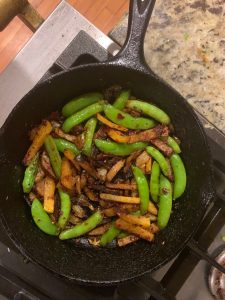 I wonder how long restaurants will keep going with the marketplace model. The truth of it is, I'd rather swing by a restaurant and open my trunk than enter the maelstrom of a grocery store, where I cannot count on all patrons being masked.
I also experiment with foods that arrives weekly in a Community-Supported-Agriculture (CSA) bag: things like kohlrabi, tatsoi, and many kinds of lettuce. The CSA movement across the United States was started by small farmers who want to sell their harvest to customers who've committed at the season's beginning to paying them for four to six months' worth of vegetables, fruits, and other products.
And what if the CSA throws more collards and kale into the bag than the Masseys can handle? It's easy to drop off extra greens or asparagus or lettuce to someone who needs it. Food is so precious now. One of the stories I like best is that of Michelle Brenner, a furloughed worker in Washington. During this pandemic, she got a new name: The Lasagna Lady, after baking and donating more than 1200 large pans of lasagna.
My mother was born in Germany during the war years. As long as I've known her, she has carried a small bar of good chocolate in her purse and kept an ever-changing assortment of chocolate bars and boxes in the house. All this chocolate—even though I rarely have seen her eat more than one square. The chocolate is for giving to others. She says having it in her bag is a legacy of growing up as a child of war. With the pandemic, I'm starting to understand this better. While chocolate's sugar is an energy and mood boost—instant food that keeps well—it's much more. Emotionally, holding onto something like chocolate is a reminder that we are safe, and we still have treats to enjoy.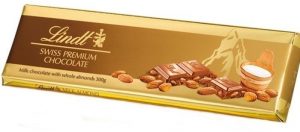 World War II food reminds me of the legendary Mary Frances Kennedy Fisher. Best known as MFK Fisher, Mary Frances was born in 1908 and became a legendary cook and writer during a time that gourmet food was a man's business.
My first taste of her writing was The Gastronomical Me, witty and wonderful essays about her life as a young bride discovering 1930s France through its food. Her adventures made me eager to start my own writing life overseas. And with the help of my husband, that wonderful amateur electrician, all that did come to pass in Japan in the early 1990s.
One of Mrs. Fisher's greatest works was written and published during World War II. It's a book of essays and recipes called How To Cook a Wolf. The grim title is a play on words referring to finishing off fear, and also satisfying one's appetite when there's little available to eat. Although my assumptions could be wrong; it has a graphic chapter on cooking small animals such as "hare" and pigeons.
Mrs. Fisher believed that while the war was terrible, it also shook people into the right frame of mind. Here's a bit that amused me, especially because of the COVID-19 sourdough boom.
"Lastly, perhaps because of the very propaganda that seems so contradictory, it has been easier to buy food with a little taste to it, once you have conquered your distrust of the thick neat slices and the transparent wrappings. You have even been able to get sourdough bread once a week in some groceries: a frail wisp of the old nose-tickling loaf, but at least an effort in the right direction . . . Sometimes, when you go past a factory in the "foreign" section of a town, and smell the honest exciting smell of real bread baking, you remember a part of your childhood, and feel a child's helplessness before the fact of a whole nation's cautious acceptance of its own simplicity."