This post originally appeared on Murder Is Everywhere.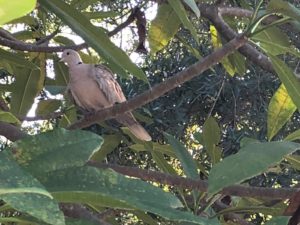 Bouchercon in Florida! Here's a glimpse of how I spent the convention. Like the birdie, I was a bit on the outside, commuting through the tropical St. Petersburg landscape from my hotel three-quarters of a mile away.
British writers are rumored to like Florida, and there were dozens of those geckos flitting through the bars. I'd been looking forward to meeting my literary twin, Abir Mukherjee, who writes mysteries set in 1920s Calcutta. Abir and Gigi Pandian and I put together our books in a basket for the auction that was bought by Delia!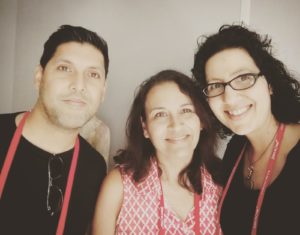 Cara Black is near the left on a panel with Mark Billingham, William Kent Krueger, Sara Paretsky and Tasha Alexander. Cara talked about how she takes French policewomen out to dinner and runs potential crime plots by them. I got together with Cara, Stan, and Caro one humid evening in the Vinoy garden to prove Murder Goes Everywhere Warm.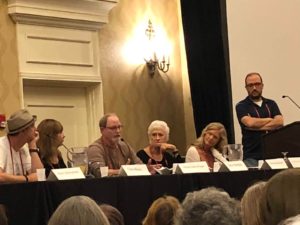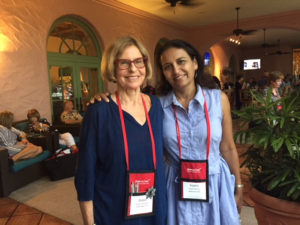 Sometimes great friendships are made at conventions. California-based writer Diana Chambers and I met at Left Coast Crime in Honolulu a few years ago and always make it a point to get together.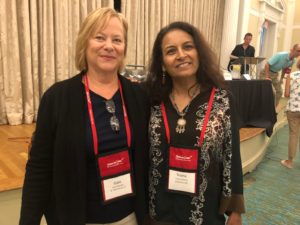 I got a kick out of being placed on a panel with another writer with the same surname. That's Gale Massey of Florida, on my left, who has a well-reviewed debut novel. I am convinced she and my husband, who is also a Southern Massey, must share some DNA.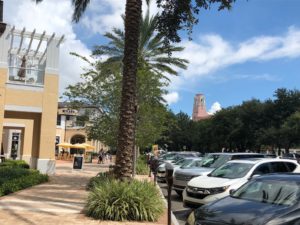 The best conventions are the ones where you get outside. In the distance, you can see the pink turret attached to Bouchercon's historic hotel, the Vinoy. The area around the hotel was perfect for strolling to restaurants, galleries, parks, and ogling yachts in the harbor.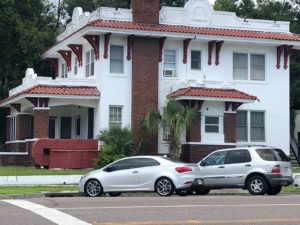 I am a house junkie, so I loved my strolls from hotel on 4th Ave North to the Vinoy on the downtown waterfront. There were enough preserved historic buildings to make me smile. This proud house seems to be a mashup of Mediterranean and Neo-classical.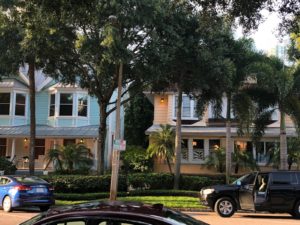 Pretty early 20th century clapboard cottages are painted in sherbet colors.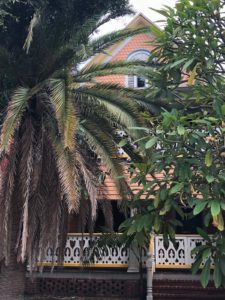 Gorgeous old palms and other tropical trees provide welcome shade in the sunny afternoons.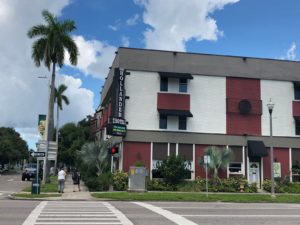 My hotel, The Hollander, is a lively, renovated hotel that retains its early 20th-century character. It has a nice coffee shop and restaurant, a pool for partiers and small but well-equipped rooms. The price was very reasonable, so I recommend it!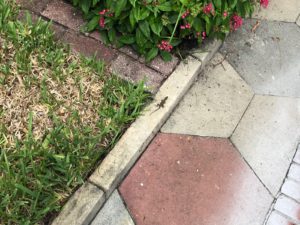 Often during the convention, I felt like this gecko racing along the edge of the sidewalk. So much to do, and not enough time to bask in the Florida sun. Next time I'm in St. Petersburg, I will actually get into the pool.