This post originally appeared on Murder Is Everywhere.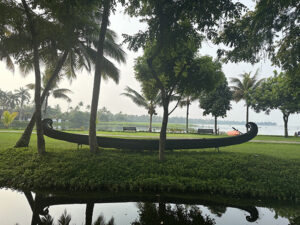 I've just returned from two weeks in India, utterly tired but happy to have gone. It's interesting that while I have lingering jet lag for a week on this end, I felt only a little tired during first two days of my time there. Perhaps because Kerala is magic!
This will be the first of a few posts sharing pictures of the places we stayed. Wanting to rejuvenate after a long flight with a layover in the Middle East, we landed in Kerala on a Thursday evening and got in the resort's chauffeured car onward to the resort—something much more chi-chi than my usual travel practices.
We stayed at Kumarakom Lake Resort, which is set along Lake Vembanad, a giant lake in the Backwaters area. We were surprised to learn that King Charles and Camilla stayed in the largest set of villas when he was celebrating his 65th birthday. The resort is owned by a local Kerala family, rather than a chain, and the personal touch showed everywhere. One of the things I liked best is how many of the buildings were made up of pieces and whole original historic dwellings that might otherwise have been lost to time.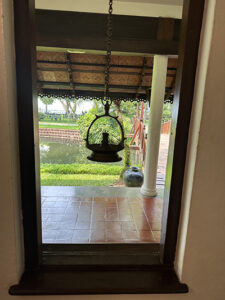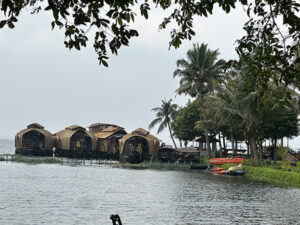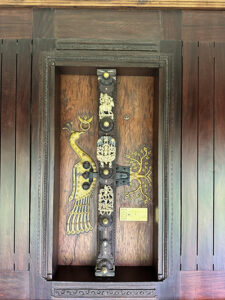 Kerala is famous for houseboat tourism, wherein people eat, sleep and lounge on boats that slowly are pulled through the backwaters. This time, I was in the mood to see the houseboats drift along, but I had no interest in doing more than a short sunset cruise. We only had two days at the resort, and I didn't want to miss out on sleep, swimming, yoga, and Ayurvedic massage. We were visiting on the tail end of Kerala's lengthy summer monsoon, and humidity was high, even when the sun was shining.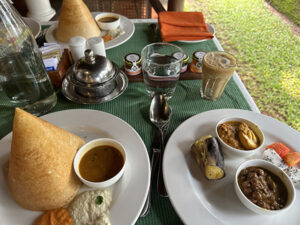 The restaurant was excellent. That's not a yellow hat, but a dosa, the famous South Indian crepe.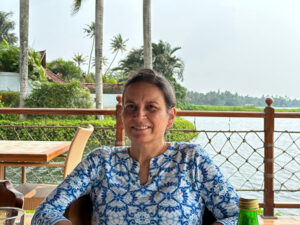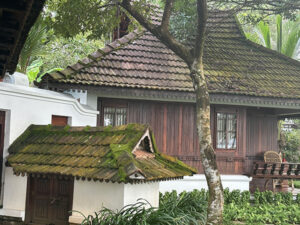 Our historic wood and clay tile villa—the little house is for the air conditioner's compressor equipment.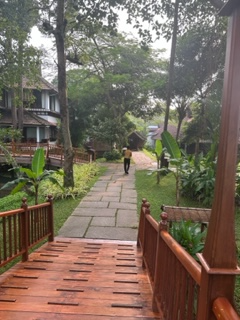 Small bridges connected the resort across streams that were home to many ducks and other waterfowl.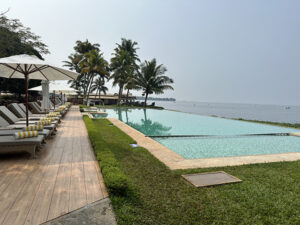 The pool was on the edge of infinity, overlooking the backwaters.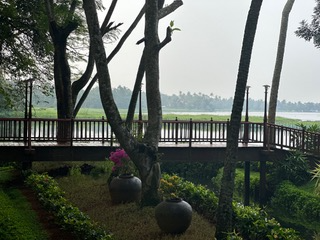 Every night it got cloudy, and then the skies would break open with rain.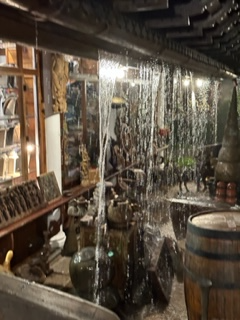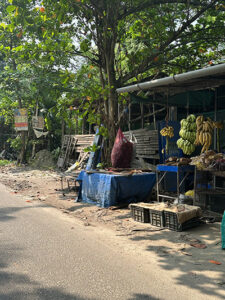 And then, on a Saturday, we regretfully got back in the car for a long journey along the lake and back to urbanity. Next stop: Fort Kochi!