This post originally appeared on Murder Is Everywhere.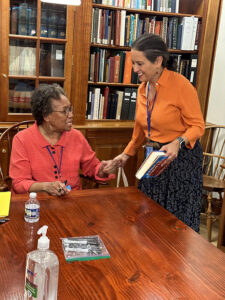 Last weekend, I packed my bags and headed to the beach at Lewes, Delaware. The weekend promised to be overcast, but that was no big deal: I was planning to spend my time in a library and museum. My kind of activities, but spent with hundreds of others who love history.
History is the raison d'être for the Literary Book Festival held last weekend in Lewes. It's the perfect setting, for starters. Lewes is the first town established in Delaware, which happens to be the first state signed up for the brand-new United States of America. It's a sweet beach town with a past as a hub for fish canning. Although the houses were charming, the smell in the air was not so much.
As that industry dwindled, the choice of what to do next concerned the locals. While Lewes almost became an oil refinery town, more people preferred to concentrate on tourism. This choice secured the safety of the sweet wooden Victorian cottages everywhere and raised real estate values, because many people from the eastern seaboard have come to retire here. And where retired people go, libraries must be strong. The History Book Festival—said to be the only such celebration in the United States—is a joint project of community organizations, the public library, and two bookstores, Biblion in Lewes and Browseabout in Rehoboth. The festival features both historical nonfiction and fiction, a surefire way to meet almost everyone's taste. Although most of the people present were from Delaware, those of us at the festival from other states were thrilled by the small size and beautiful atmosphere of the town.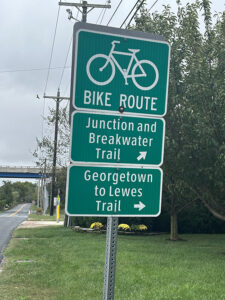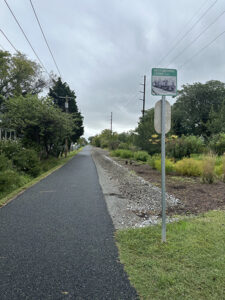 I've been a featured author before, and this year I was invited to put on my old journalist hat and do some interviewing. I sat with the highly successful young author, Lev AC Rosen, and he captivated us with tales of the secrets of GLBTQ life during the 1950s in San Francisco, which for a brief time had a thriving club scene, only to be shut down my Eugene McCarthy's witch-hunts. To paraphrase Lev, being gay in those days  was like living in a film noir episode, because around every corner, danger was lurking; nobody could be trusted. Lev's forthcoming book, Bell in the Fog, continues the adventures of Andy Mills, the private detective introduced in his first book set in 1950s San Francisco, Lavender House.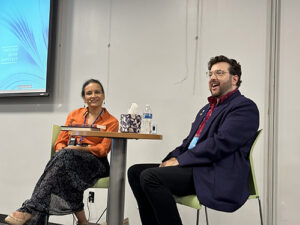 The festival opened with a talk about how Abraham Lincoln skillfully created bonds with people with whom he had significantly different beliefs—and the positive outcomes that occurred due to empathy and trust. Steve Inskeep, the host of "All Things Considered," talked with Christina Thompson Schutt, the director of the Abraham Lincoln Residential Library Museum in Springfield, IL. Steve's new book about Lincoln is called Differ We Must. Both of them had stories from history that greatly expanded the existing image of the sober-seeming president who ended slavery in the United States.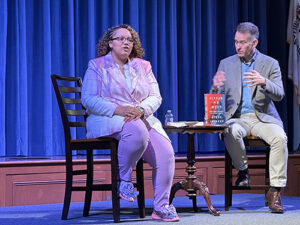 James McBride, the National Book Award winning author, was one of the festival's brightest stars. He signed copies of his newest book, The Heaven and Earth Grocery Store, and spoke to a crowd of 700 festival-goers  at the local high school auditorium.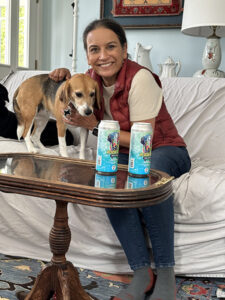 I was fortunate to be a spectator at Cheryl Head's well-attended talk about her recent novel, Time's Undoing, which fictionalizes a true unsolved crime in her own family's history. The crowd was riveted as they heard her read a portion of her book that was thick with suspense, and she also shared terrific photographs from her grandparents' days in 1920s Birmingham, Alabama.
With multiple talks going on at different venues, it was hard to decide where to prioritize. And Lewes was calling, with its beautiful walking and cycling trail. I made time for a quiet stroll by myself, and as if in sympathy, the rain held off.
Most authors stayed in hotel rooms provided by the festival, but I was lucky to stay with my friend, a festival volunteer and former high school history teacher, Tammy Chincheck. Tammy has a beautiful 19th- century cottage surrounded by flower gardens. One of her dogs, a beagle named Cricket, was rescued from several years of life in a cage in a facility that bred dogs for research. Cricket was so happy and sociable—and like many beagles, utterly focused on food. Cricket's face was chosen for the dog image on the can for Rescue Ale, a small batch pale ale made by Solace Brewery in Northern Virginia.
Dogs, friends, walking, and books! What could make a better weekend?