This post originally appeared on Murder Is Everywhere.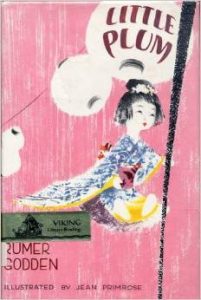 In Maryland, strawberries mean spring, and peaches and plums mean summer. These aren't the only fruits that prosper due to our excellent fruit-growing climate, but they are ones that are truly ravishing and worth only eating in season.
I feel especially passionate about plums this summer. They are so varied—my farmers market had at least five varieties last weekend. The sensual experience of looking inside a plum reveals gold, pink, or purple or red flesh. The taste ranges from tart to tangy to sugary sweet. Sizes range from slightly bigger than a cherry to palm-sized. It carries a rose-scented perfume, because the plum is actually linked to the rose family… stop laughing. I am not talking about sex, okay? I am talking about a healthy, anti-oxidant rich plant.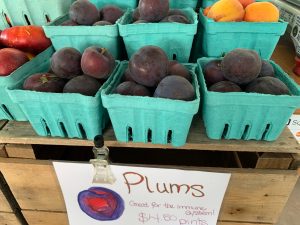 Despite its obvious allure the plum is regarded as the slightly odd cousin to most stone fruit. Perhaps this is because some raw, ripe plums are still tart—and after cooking, plums take on a deep flavor. If the plum is dried, it becomes a prune—and there are no end of jokes about the medicinal benefits of prunes.
I have a special affinity for plums because my German mother introduced me to them. In fact, she considers them the highlight of summer baking. I still remember my mother carrying crates of prune plums into our Minnesota house every August. These were not Minnesota plums—the weather there is too cold to plant plum orchards. But these California plums with tart interiors that were only in the supermarket for a few weeks were treated like treasures. Once the plums were free of stones—a tiresome process that could take hours—they became the stars of Pflaumenkuchen: neat rows of plum slices arranged atop a yeast dough stretched across a cookie sheet. Warm Pflaumenkuchen was served with coffee to adults, because very few children were excited about a sour fruit dessert topped with plain whipped cream. You could say that plums are the Cabernet Sauvignon of fruit. Big, bold, mind-blowing.
Other plums from the crates were boiled down into a dark, thick plum jam that would be eaten year round on toast. I liked this, too. After a childhood of plum jam, most jams made from strawberries and raspberries taste too sweet.
I live a thousand miles from my mother now, so we cannot make plum desserts together. But I am set on carrying the plum torch, and I have sampled all the different kinds of local plums that show up at my farmer's market. This past weekend, I got a $6 container of Methley plums, doll-sized, purple globes that are slightly bigger than cherries. They are sweet and much juicier than the plums used in German confections; I understand the Methley originated in Asia, where plums are much juicier than the varieties native to Europe.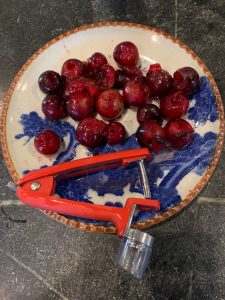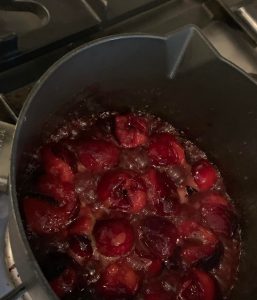 I remain cheerfully determined to introduce plums to the prejudiced. This week, I found an easy recipe for deconstructed plum galette on the Food52 website. It specifically calls for Methley plums. Preparing the fruit from pitting to cooking took less than fifteen minutes, because the plums are small enough to fit inside a cherry-pitting tool.
The dough was sticky and a little tricky to work with. It baked up delicious and crisp and the perfect foil to warm, juicy fruit. as the recipe suggested, I used two rounds to create a kind of plum sandwich. They were the perfect counterpoint. With cooking, the very sweet plums I'd tasted raw had deepened to a nuanced, bittersweet flavor.
My son took one look and said, no thanks.