This post originally appeared on Murder Is Everywhere.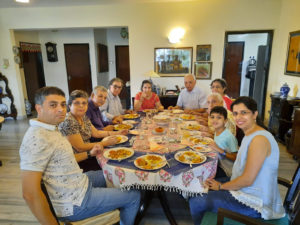 Jamshedi Navroz Mubarak!
According to the old Persian calendar, March 20 or 21 is the day that the new year named Navroze, Navroz, Nawrooz, and various other spellings is welcomed. This observance mostly celebrated by Zoroastrians—the group inside known as Parsi; Bahai worshippers; and Sunni Muslims with roots in Iran.
I "crashed" Navroze when I was twenty-five and visiting India with my father.
It was a hot March afternoon, and I was strolling the grounds of the Indian International Center in New Delhi I noticed a long tent set up on the grounds and the guests going in, all dressed in white and having animated conversations. I edged closer. A stately gentleman with a tall white feta approached me and said, "Do come in! It's our new year. We are celebrating Navroze, and there's plenty of food."
I sampled the buffet, tasting rich and sweet, tangy and spicy dishes that were different from the Bengali and Punjabi dishes with which I'd grown up. Parsi food seemed sweeter and savory and spicy—all at once!  I briefly exited to find my father and tell him about the wonderful New Year's party taking place on the lawn. He came with me and tasted the delights. We had many conversations with people of all ages. I felt honored that this community would reach out to strangers and share food with them; as I learned more, it seemed that this was a casual example of the "good thoughts, good words, and good actions" that are the pillars which Zoroastrians aspire to uphold.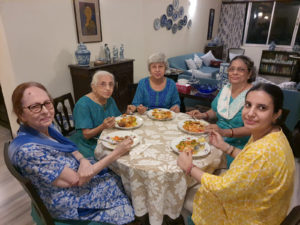 Before we continue with food, a little history seems in order. The Zoroastrian faith is thought by most scholars to have started in Central Asia and spread south toward Iran in the 6th century BCE, or perhaps even earlier. The religion is named by followers of the prophet and social reformer Zarathustra (also known as Zoroaster) who established a monotheistic belief system. Zoroastrianism stressed reverence for all elements of nature, but worship was to be focused on a single God. Zarathustra introduced the concept of an opposing devil, helpful angels, and heaven and hell. There's a lot more to the faith—but as an outsider, I will leave it up to the experts to provide more, and of course–there are followers who are very orthodox, and others more liberal in their interpretations.
Zoroastrianism was practiced by citizens and rulers of the Sassanian Empire and thrived until Arab conquerors bested the Sassanians.
As the Islamic faith was adopted by most of the local people, a number of Zoroastrians wanted to keep their religion. Some Zoroastrians stayed and quietly maintained their ways. Others went searching for a new home, with a number sailing to the southwestern side of the Indian subcontinent. These Zoroastrians had landed in Gujarat, where they had to convince the ruling maharaja that they would be peaceful immigrants, not seizing land or converting the resident Hindus. And so, Zoroastrians continued fleeing to India up through the late 19th century—with that latest group labelled as "Iranis" by the earlier immigrants who called themselves Parsis, or "people of Pars," an area within Perisa. (I've also heard that Parsi literally means "person from Persia." The truth is hard to pin down, just as it's impossible to date the arrival of the first Zoroastrian settlers in India.)
Parsi families grew roots throughout India, but they are in largest numbers today in Mumbai, followed by the state of Gujarat, Kolkata, and Karachi, Pakistan. The total Parsi population, worldwide, is now believed to be under 50,000.
My father, Subir Banerjee, is a Bengali Hindu. He experienced most of his childhood years growing up in a very unusual, Parsi-built city: Jamshedpur, which stands in a province called Bihar during British rule and is now renamed Jharkand. Dad remembers his childhood days fondly, and that his neighbors were Muslim and Hindu who played and socialized together. Parsi people in Jamshedpur typically held very high jobs at Tata Steel, so he doesn't remember socializing with Parsi children, although his school was named Ratanji Tata High School.
I remain intrigued by the idea of a Hindu growing up in a planned community built by a Parsi, without very many Parsi people in immediate contact.
Jamsetji N. Tata, the namesake of Jamshedpur, created many successful businesses, including the Taj Mahal Hotel, India's first luxury hotel that admitted Indians, and he also was very philanthropic. Carefully considering people's needs also made good business sense. When Mr. Tata desired to build the largest and most advanced steel plant in Asia, he knew that thousands of people would be involved. This meant he needed undeveloped land outside of his home base in Bombay in order to house the steelworks and the workers' families. He directed the city planners to allow ample space for Muslim mosques, Hindu temples, and Christian churches. He insisted on generous planting of trees and establishment of parks for leisure and playing sports.
The tremendous output of steel from Tata Steel was essential to the British Army during World War I. In 1919, a grateful colonial government formally named the area Jamshedpur in his honor.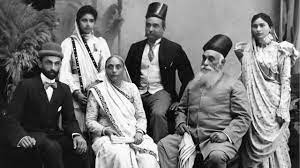 Despite his fame and wealth, Jamsetji Tata did not hold himself aloof from commoners. My dad tells the story of his dear schoolfriend's father. As a young man, this Mr. Roy tried to get a job as a musician. When he wasn't chosen, he sadly took a train home and walked through the station in Jamshedpur, dragging his feet. He was almost too dejected to say hello when a fair-skinned Indian man fell into step with him. But the kindly older man asked him a few questions, and the story about the ill-fated job search unfolded. At the end, the gentleman revealed himself as Jamsetji Tata and offered Mr. Roy a job inside Tata Steel. Mr. Roy wound up rising to work as an engineer at Tata Steel, even though he didn't have a college education.
Niloufer Mavalvala is a Parsi cookbook author who grew up in Pakistan and now lives in Canada. Niloufer remembers a joyful childhood celebrating with Parsi family and friends in Karachi and traveling to see the family branch in Bombay (now Mumbai). Niloufer preserves Parsi heritage through her cooking; she has a website, Niloufers Kitchen, and has authored several cookbooks. Last week during an online program sponsored by Howard County of Maryland Libraries, Niloufer demonstrated Parsi cooking, and discussed with me her craftiness with Parsi food, and I shared some ways I use cooking to illustrate social issues within my novels. In my favorite food scene in The Widows of Malabar Hill, Perveen Mistry, my Parsi heroine living in 1917 Bombay, fries shoestring potatoes for an important Parsi dish and recklessly tosses the golden potatoes out onto paper to drain off the oil. The trouble is she's grabbed a newspaper. The potatoes become smudged with ink and her mother-in-law is shocked at her act.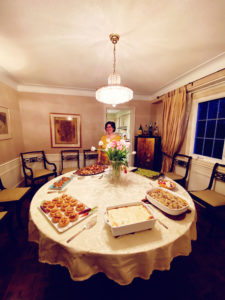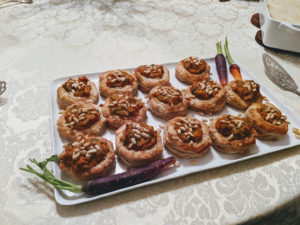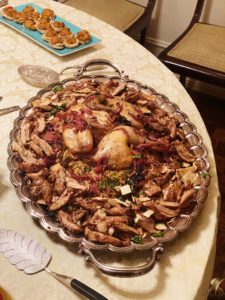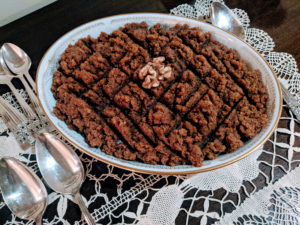 I can't imagine Niloufer ever being so ruffled in the kitchen that such a thing could happen. For the library program, she taught us to make a Parsi-style dal and patri ni machi, the chutney-garnished steamed fish I'd tasted at my first Navroze party. Niloufer also displayed a beautiful hafseen table, a New Year's welcome table that precedes the dining table. It's pristine, covered in a white cloth and  decorated with religious and natural objects that play a role in a good new year. Guests arriving must look at themselves in a mirror placed over the table to be blessed with good luck. Niloufer talks more about Navroze and the history of Parsi people in her article for Parsi Khaber.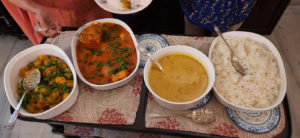 Niloufer and I share a common friend, Farida Guzdar. Farida was the first person to pose a question  at a live book talk outdoors near Lake Kittamaqundi in Columbia, Maryland in 2019. When she revealed herself as a Parsi, I became excited to know such a friendly information source lived nearby. Our friendship grew, with sharing of books and family stories.
Farida has lived in the US for 43 years. She holds dear the memories of her 1960s childhood in Kolkata with a large extended Parsi family who owned Elphinstone's Restaurant, the city's only Parsi restaurant. For Navroze, everyone got new clothes. Her mother would cook ravo, a semolina pudding. A festive lunch was served at her grandparents' home including dishes like a slowly simmered, spicy lamb dhansak; a savory dal; sweet-and-sour fish dishes called Patio; a baked custard called Lagan Nu; and a pink milkshake with tapioca pearls delightfully called Falooda. Many of these exact dishes are mentioned in my books without my having tasted them really good versions of them, due to the lack of Parsi restaurants in the Delmarva area. Herein lies the value of using my recent purchase, an excellent cookbook by Niloufer Mavalvala.
And to put a cherry on top, today I'm heading out to have a post-Navroze lunch at Farida's house.