This post originally appeared on Murder Is Everywhere.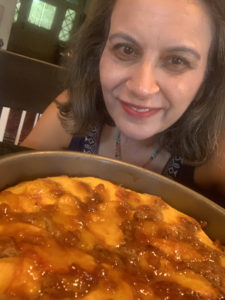 I consider myself tolerant of heat. Yet over the last few days, I'll admit that the air in Baltimore, Maryland, has felt like a poison gas sauna. And it's not just me. Even Daisy, my energetic Yorkshire terrier, refuses to take a walk.
At the same time, the early mornings of late are wonderful—warm without being oppressive, and somewhat shady in our neighborhood. I try to get to the farmers market on the weekend and have been rewarded with gorgeous produce that's not available other times of the year. I'm getting purslane to use in salads. Tiny sweet plums, for devouring in two bites. Melons that taste like the sweetest perfume, and fragrant boughs of basil. Every color of tomato, and what I wait for each year: white and golden peaches.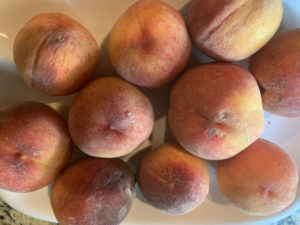 Because I'm I in an end stage of editing (Perveen Mistry Book 4 almost turned in), I decided to celebrate with a relaxing hands-on activity that was far from my keyboard. I'd been thinking about a paleo peach cake recipe that my sister emailed me. Also, I'd noticed an old recipe for something called Baltimore Peach Cake was doing laps on the Internet. I thought, why not throw caution to the wind and just bake them both? Yes, on the same day. It would be a showdown of two different styles of cake.
My bet was in favor of the more historic recipe, Baltimore peach cake. I first tasted it during my early years in the city, when I'd spot $3 pieces of this bargain cake wrapped as a to-go item on the counters of casual cafes and bakeries—but only in mid- to late summer. I didn't know then that "Baltimore Peach Cake" was an actual recipe for a simple yeast-dough cake topped with sliced peaches. And everyone in the city knew it, just as they know about sauerkraut being an important Thanksgiving dish.
The most-shared published recipe for this dessert originates with an alternative newspaper, The Baltimore City Paper, which I freelanced for toward the end of college. I didn't come across the recipe, then, though. And truly, it goes back to Baltimore's German community. I take this as gospel because I've had the fraternal twin to this cake, a yeast dough topped with plums, made by my own German mother. My mom's pflaumenkuchen was rather sour because we were limited to California prune-plums that shipped to Minnesota; there were no plum trees in the state. Pflaumenkuchen was served with a bowl of sugar next to it, so the eater could ladle the sweeteners it sorely needed on top. I did enjoy plum cake, but it was strictly a connoisseur's dessert.
So how did a German cake get labeled a Baltimore cake? The answer is immigration. Germans began settling in the area of the Chesapeake that became the city of Baltimore since the early 1700s. The largest waves of Germans came during the 19th century, when the Port of Baltimore was the second largest entry point for immigrants to the United States. Sections of West Baltimore were built up with elegant townhouses into a prime residential district for wealthy German Jews, civic leaders who founded long-gone department stores like Hutzler's and the Hecht Company. Neighborhoods like Highlandtown, Federal Hill and Locust Point were full of German-descended Baltimoreans of all income levels and the Lutheran and Catholic religions.  It's easy to imagine the sound of German being spoken by neighbors sitting out on their marble rowhouse steps (we call them "stoops") in hot summer evenings. And Mutti (or Mutti's granddaughter) arriving with a piece of peach cake on a napkin for a friend stopping by to catch the breeze.
I believe it's the typically hot summers in our Mid-Atlantic area that make our peaches so juicy and sweet—and also the warm temperatures in July and August that make baking this cake possible. After all, it's a yeast dough. Once that's coddled and stretched into a pan, you top it with straight lines of peach slices. It's that simple. However, the time to prep and bake was about three hours for me. Not a quickie, by any means.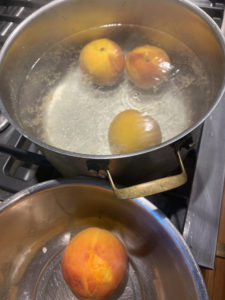 The second recipe on my agenda was a gluten- and refined sugar-free cake recipe from food writer Michelle Tam, whose website Nom Nom Paleo is wildly popular with people eating modified diets. The so-called "paleo diet" is not necessarily low in calories. The eating style gets its name from the word "paleolithic," and involves meats, vegetables and some fats, and avoids beans, milk, sugar and white flour. So this paleo peach cake recipe calls for maple sugar (although I found that maple sugar is actually VERY sweet). The cake's batter contained both almond flour, a favorite of mine, and cassava flour, which I had never tried before. I was feeling slightly daring to try it, because I'd heard the tuber plant from South America, Africa and Asia is mildly poisonous if you eat it raw. However, if the cassava plant is dried and ground, the poison isn't there anymore, and it becomes a highly nutritious flour. The recipe's other ingredients ranged from the ordinary—butter, vanilla, eggs, vanilla extract and baking soda—to the more unusual: ground cardamom and canned coconut milk. I am a fanatic for cardamom and had some single-origin cardamom pods from Kerala that I was eager to pulverize for the sake of this cake.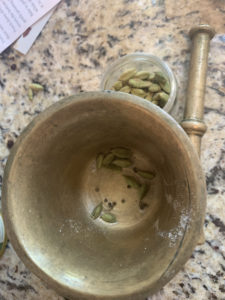 Baking takes time, so I started my day of desserts by baking the Baltimore peach cake, because it was a yeast dough. I rarely do anything with yeast, and although the packet I opened was not yet expired, the granules within refused to foam up when added to warm water. I had to microwave it 15 seconds to get any action. Furthermore, the dough refused to rise, and I had a sneaking suspicion it was because my air conditioning was too powerful. In the end, I took the bowl outside, put a plate on top to keep out the bugs, and let it rise in the good old Baltimore 90-plus degree morning.
The exposure therapy worked! After an hour, I thought the dough had grown slightly. I was able to easily stretch the dough to fit a 9×13-inch pan. Baltimore peach cake recipes aren't usually specific about whether you need to peel the peaches. However, the paleo peach cake recipe called for getting the skins off, so I did take the skins off all the peaches by dipping them for a minute in boiling water. How pretty and promising the Baltimore peach cake looked once the peaches were laid in place!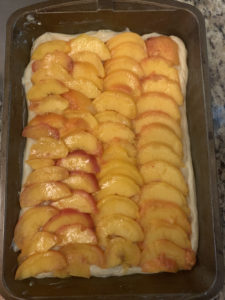 This second recipe, for the Paleo peach cake, called for a round pan. The recipe's author, Michelle Tam, included tips like practicing a layout of peaches on a plate before doing the real thing, and cutting out parchment liner for the pan that makes complete sense for lifting out a completed cake. Also, I only had to deal with cake batter in this recipe—not yeast-based dough. I was pleased that this cake took less than two hours, start to finish.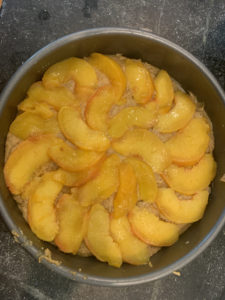 Even six hours after baking, my kitchen was filled with the scent of fruit and sugar. I tried both cakes warm, a few minutes out of the oven. And what a surprise—I lost my earlier bet with myself. I found the Paleo cake more moist, flavorful, and worthy of gorging. The cardamom and almond flour were fantastic. However, the Baltimore peach cake contained less sugar per square inch than the Paleo one, which makes it a great dessert for people who are avoiding super sweet foods. And a pretty decent snack to take in the car, or to have with morning coffee.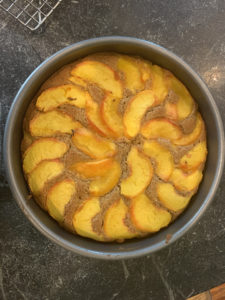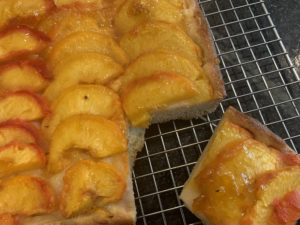 I sampled each cake right after they were baked. In the evening, I had another sliver with ice cream. The fury of heat had been swept off in a massive rainstorm. It was refreshing to go out with my cake and sit on the porch, savoring memories of past Baltimore summers, and knowing  I'd spent one of the summer's worst days like an old-time Baltimore lady.
My revised Baltimore Peach Cake Recipe (inspired by the Baltimore City Paper)
Makes at least 12 servings
¼ cup of warm water (no more than 110 degrees)
1 individual package of active dry yeast
1 cup of milk, scalded
¼ to ½ cup of sugar, depending on your taste
1 teaspoon fine salt
¼ cup of melted unsalted butter
1 egg, lightly beaten
3 cups of flour
1 teaspoon of crushed cardamom seeds taken from pods, or powdered cardamom spice
Vegetable oil for greasing bowl
4 ripe peaches, briefly immersed in boiling water to peel off the skins
4 tablespoons of peach or apricot preserves or orange marmalade for glaze (optional)
Set up the yeast by putting it in the ¼ cup of warm water for 5-10 minutes.
Then, add the yeast water to a large bowl that contains all the sugar, salt and melted butter, and the beaten egg. Stand mixer or by hand are both fine.
Mix the cardamom with the flour in another bowl.
Add half the flour-cardamom mixture to the wet ingredients; then add the remaining amount. If the dough you've made is way too sticky, add 1 or 2 tablespoons of flour.
Knead the dough for two minutes, then put it in an oiled bowl, cover it, and let it rest and rise for at least an hour in a warm place. It should double. Mine didn't, but it was still ok.
After that first hour of rising, punch down the dough, and let it rise for another half hour, or hour, if you are not seeing much progress.
Fit the dough into a buttered 9-by-13 inch baking pan.
Pit the peaches, and then slice them ½ inch thick and lay atop the dough in rows. Press down for emphasis.
Bake at 375 degrees about 30 to 35 minutes, or until dough's edge is golden-brown.
When the cake comes out, brush it with melted preserves or marmalade. Eat as soon as you like, either plain or with whipped cream or ice cream.
I only made one modification (a marmalade glaze) to the gluten and refined sugar-free dessert described by me as a paleo peach cake.  Therefore, I'm sharing the original  recipe from the Nom Nom Paleo site. Technically, it's called Fresh Peach Cake and was created by Michelle Tam.