This post originally appeared on Murder Is Everywhere.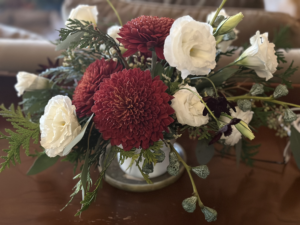 Confession: I have been in love with flowers all my life. As a ten-year-old, I lay reading in the common garden area near my house when it filled with spring violets. Seventeen years later, I was a young Navy bride in Japan. The cultural practice to learn was ikebana, stylized, intentional, minimal flower design created by artists in Japan. I studied under a teacher who was highly ranked in the Sogetsu School, and the arrangements I made under her direction were all about branches and just a sweet hint of flowers.  The ideal was to recreate a realistic miniature landscape indoors; and it was all about line and fullness and quiet beauty.
When I returned to life in the United States in the mid-90s, flowers were big and blowsy and the seeming opposite of ikebana. I kept on with Sogetsu practice for a few years, grieving when my teacher Mary Sugiyama, who had been teaching since the 1950s, passed away. Then I put together flowers casually, without much thought to line. It was about celebrating the flowers themselves, especially if they grew in my own garden.
As the decades passed, I've become close to native plants—mainly through my own garden, but also florists who are operating outside of the box. I've wanted flowers in my house again, on a regular basis, and I've started learning again—and also working on my own. I'm excited to see a fusion of the landscape idea with more individuality, and a bit of lavish fun.
My return to flower arranging started innocently enough when I walked into my neighborhood florist in Roland Park, Crimson & Clover, to buy some branches and blooms to make a Thanksgiving arrangement by myself at home.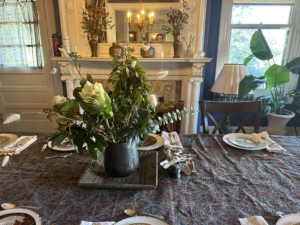 The branches and flowers—the white rose-looking thing is actually baby kale—were fun to play with. Someone at the store mentioned they would conduct a workshop on holiday centerpiece making in late December. I'd never tried to make such a specific flower arrangement, so I signed up, and so did my friend Helen. We wound up at a pretty shop called The Margaret Cleveland, in the old Baltimore city neighborhood of Bolton Hill, where Crimson & Clover set up shop in their handsome garage. Here's what I made, after watching the teacher's demo, with lots of roses, cedar, sweet peas and pepper berry: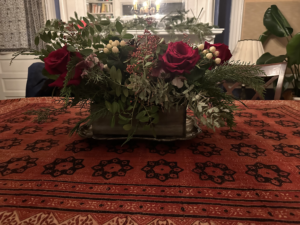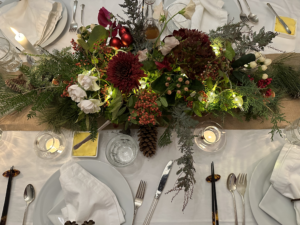 Helen chose from the same wide range of flowers and greenery. Above is what she styled for her Christmas Eve dinner. The tiny lights make it even more magical.
Neither of us could believe what we, complete amateurs, had pulled off in a half-hour's time. I felt blessed to have a bonanza of materials at hand, as well as friendly classmates and a knowledgeable teacher offering encouragement. The teacher suggested our roses would last about three days; however, they are going strong six days later. The arrangements overall are very healthy, and I wonder if it has to do with the growers, and also the store's choice to select greenery and berries that are so naturalistic—and surprisingly sturdy.
In early December, a few friends and I had dinner at ABCV, an excellent vegetarian restaurant in New York City. Servers brought us housemade pasta with shaved truffle, dates stuffed with goat cheese, and many other delicate masterpieces. But nothing was more delicate than the simple glass of meadow flowers placed in front of us. Divine!
On Christmas Eve, a dear friend asked a florist, B*More Blooms, to send me a tabletop arrangement. Full of dahlias and chrysanthemums, it's a small arrangement with so much heart and grace.
I'm grateful for the evergreen nature of houseplants, and they add joy to most of my rooms in winter. Flowers from a shop are are an extreme luxury, which is probably the reason I didn't revisit my longest hobby until the holidays.  I don't like to ponder of the carbon footprint of the sweet peas grown in Japan that wound up in my house.  Yet I feel strongly about the impact of these fields of flowers, shrubs and tress on the environments where they are grown, and also the types of creative small businesses coming up that sell the horticultural splendors. This is a growth industry for good.
Happy new year. May something surprising bloom in your life!