This post originally appeared on Murder Is Everywhere.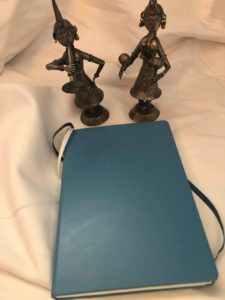 I'd love to start everything fresh in the new year. Clear Desk, Clear House, Clear Fridge seem to promise a Clear Mind.
But I can't blank out what's already going on. For this writer there is my work in progress—Perveen Mistry #3, about 1/4 written—and various contracts for audio and foreign editions that need to be managed, book signings, as well as family responsibilities.
In my house, there are dogs that need to be walked every few hours, a dry Fraser Fir that needs to go to composting heaven, and two fireplace mantels full of holiday cards.
The refrigerator has become a library of sorts, full of small containers of leftovers. TBE shelves—To Be Eaten. Ha ha!
The only new thing I can count on enjoying January 1 is my Bullet Journal™.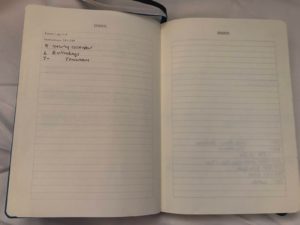 Last year, I shared some information about my fondness for this type of planner. I'm even more in love with it as time goes on. The system of organization was first implemented personally by the Austrian graphic designer Ryder Carroll, who has lived in the United States since the 1990s. His back-to-the-pen method in the era of digital organizing hit a chord with his colleagues who urged him to share his strategy with the world. He started with a blog. Now there are untold thousands using the trademarked bullet journals manufactured for Carroll's company, or using the blank books of their choice.
How is it different from a datebook or daily planner?
It's blank. This means one lays out a calendar using a ruler and pen, allowing spaces for to-do lists, gratitude lists, activity logs and more. In the trademarked bullet journal, there are a few pages with instructions like this to help: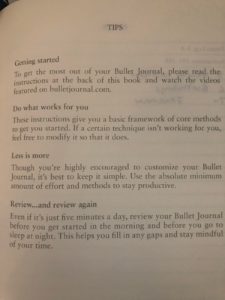 I began my odyssey into bullet journaling in the middle of 2016, when I had barely any space left in the dated calendar book I carried in my purse. Yes, I had a calendar feature on my smart phone, but I could not rely on myself to remember to pull the app up several times a day. The app's calendar setting didn't provide enough room for me to take good notes. I am not a fast keyboarder, I frequently hit the wrong letter, and worst of all, events sometimes disappeared from the phone due to various calendars not showing. For me, having a paper calendar book that has enough space for me to quickly scrawl down things is a joy.
Leuchterm is the German stationery company that has had its sales explode internationally after the Bullet Journal ™ phenom took off. These notebooks have very firm covers and pages that are stitched together, rather than the cheap spiral-bound style The notebook pages bear a very faint dot grid. This is perfect for drawing lines and blocks and writing text so it doesn't meander at an angle. Also it offers so much more flexibility for the size of your handwriting. The ideal journal has pages that are numbered at the bottom and has a multi-page index at the beginning, so you can simply look in the front and flip to the place where you want to be in the 249-page book. 249 has turned out to be exactly the right length for my year. A built-in elastic band holds the day's spread ready for quick reference—and also can keep your book closed and the pages safe when you're carrying it in a bag.
I need to come clean about the lousy condition of my 2018 notebook. It's the result of traveling throughout the year and constantly stuffing the book in the skinny pocket of the airplane seat. I do not recommend jamming your book into small spaces. I also sometimes forgot to use the elastic band to keep it properly closed. I have promised my new cornflower blue book I'll be gentler than I was with the turquoise 2018 book.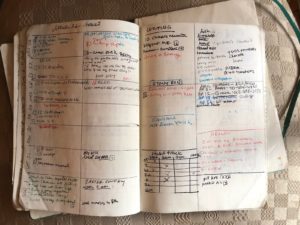 You might think that I'd throw away my 2018 book because I'm not using it anymore. No way. As the Japanese organizing guru Marie Kondo suggests, I will thank the book for its year of hard service, and also for managing not to get lost. But while she would say to take a snapshot of the journal and put it in recycling, It's headed for the special shelf in my study where other old journals and datebooks live. Occasionally, I page through these books, large and small, enjoying seeing addresses of my old haunts in Japan and India, and reading the names of overseas friends I haven't seen in years.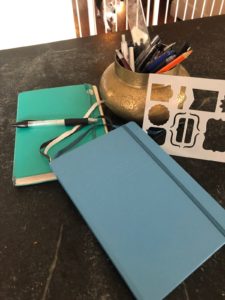 The thing about having a serial pattern of Bullet Journaling is that you can learn from the old books and be more efficient with the future ones. All you need are colorful pens, a ruler, and maybe a stencil. And here are a few more things I'm taking to heart:
I followed the Ryder Carroll video on breaking in a journal and stretched all the page spreads to relax the notebook's spine. This should guard against the spine separating from the cover. As he suggests in the video, I'm following a simpler system of listing upcoming events for a month on one page, so they can easily be transferred to the two-page spread that shows one week at a time.
I am starting "collections" of topics—such as film and literary references—in the back of the journal, gradually moving toward the center of the book. Naturally, the weekly calendars of events, grocery lists and the like will march from front to back. This strategy comes from  a YouTube video posted by a young Englishwoman with the ominous title Top 7 Bullet Journal Mistakes. Unbelievably, there are hundreds of people around the world shooting videos and writing blogposts about their journals in progress!
Still, with January 1 fresh start in mind, some goals and encouraging mottos for me are in a section up front, so I can't avoid facing them. Things like:
Getting Writing Done in the Morning is Easier and Makes Me Feel Accomplished.
Lean Into Invitations! 
Easy Does It With Exercise.
These are my resolutions packed into a blank book for 2019.