This post originally appeared on Murder Is Everywhere.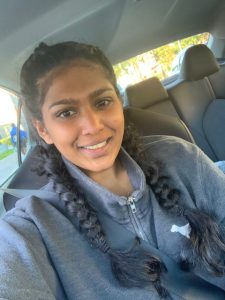 On that morning, who says I'm not there?
I'm in the stars, in the stars
In the blades of the grass
In the wind, in the wind
In the blue of the sky.
—Rabindranath Tagore
My father read this comforting poem to me over Zoom last week, and I wept.
Our family had suffered the unthinkable: the death of a child. On April 18, 2021, my daughter Pia Massey passed away, with cause of death yet to be determined. This shock has turned the beautiful spring into a very sad season for our family.
I'm guessing most readers of this column already have had the experience of losing a beloved relative or best friend, a teacher or therapist. I feel like my 22-year-old daughter was a little of all these things.
I first met Pia in Kerala, India, in December 1998, when she was a little over six months old. Her birth mother, Jasmine, spent her third trimester at a privately run orphanage and shelter providing housing and prenatal care for women with unplanned pregnancies. The organization worked with CARA, the Central Adoption Registry Agency, which is based in Delhi, and adoption agencies in India and overseas to find the right family for each relinquished child. There were cases wherein single mothers staying in this place kept their babies—very rare in India, but it made me glad that this also happened. My sister Rekha was with me during this trip, making it much easier for the novice mother to take care of a baby who was just learning to crawl. We were further aided by our relatives, the Parikh and Banerjee families in Kolkata, where we stayed while waiting for the immigration process to complete.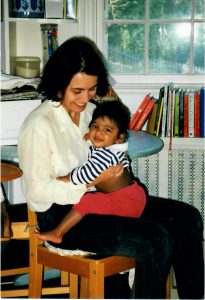 When I carried Pia into the United States, she was almost 9 months old. My husband Tony was relieved and elated to meet her after the months of waiting. He'd stocked our freezer with microwaveable servings he'd made of dal, the Indian lentil dish she already knew.
Pia was a lively, verbal toddler, at which time we adopted our second child, her brother Neel, three years younger, and from the same place in Kerala. Pia did kindergarten through the first half of second grade in Baltimore. Then we all moved to Minneapolis, Minnesota for six years, where she finished elementary school and started middle school. In 2013, Pia returned to Baltimore, and graduated from the Baltimore Polytechnic Institute, a public high school with a focus on math and science.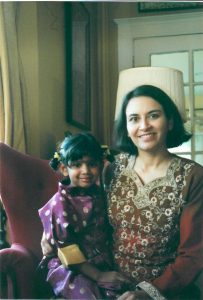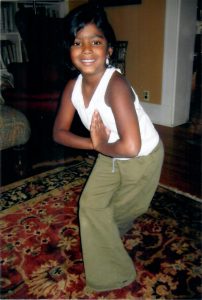 Beginning at the age of ten, Pia did volunteer work with babies at her orphanage when we returned to visit twice—her second visit was at age sixteen. During Pia's high school years, she volunteered with children at Camp St. Vincent in East Baltimore and Stony Run Friends' First Day School. Pia studied at Towson University and Montgomery College, with a special interest in psychology and criminal justice. She worked for a year as a phlebotomist with the Pennsylvania Red Cross, a job she enjoyed very much.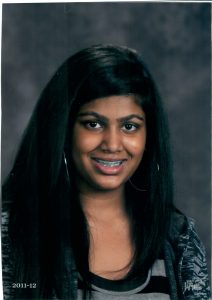 As she grew older, anxiety and depression surfaced, and Pia valiantly went through outpatient and inpatient treatment. For a lot of her life, she felt well and made progress. Other times she would just say, "Mom, I'm struggling," and those simple words were meant to keep from from asking more. She sometimes said that her goal was to work as a counselor assisting youth suffering similar difficulties, and she earned strong grades and support from her college professors.
Pia made friends easily, worked for social justice, and she often gave her last dollar to homeless people she encountered. Pia was loving and expressive of her feelings toward our family and the extended family in Louisiana and Minnesota. She loved dogs, driving cars, sharing funny videos, reading suspense novels, and cooking seafood dishes.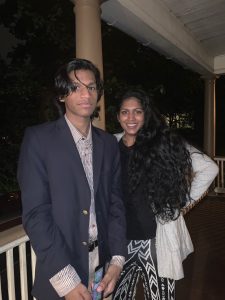 The world lost so much when Pia left it, and I will never forget her passion to help at-risk young women. I am donating in Pia's name to several nonprofits she didn't know about, but would have cheered.  One group in Maryland is named GEM (Girls Empowerment Mission), which mentors bright girls from economically deprived backgrounds through their high school years and into college. The other charity is ApneAap in India, a group that's made huge progress reducing prostitution permanently and helping the children of prostitutes get education and housing away from red light districts. Currently they are providing meals during India's Covid surge to these high-risk families.
It was hard to write this column, and I wept with every paragraph. Twenty-two years ago, I couldn't have imagined my mother-daughter journey would culminate in such great loss. Yet I'd never want to have missed the gift of trying and tremendous years with my beloved Pia.