This post originally appeared on Murder Is Everywhere.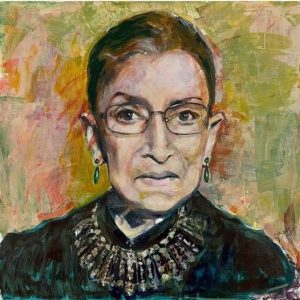 She promised us she would not give up. Cancer hit her four times, yet she stayed on the job, conscious of the Americans who relied on her power within the U.S. Supreme Court. She strengthened herself by lifting weights, made from iron, and from authoritarianism.
Ruth Bader Ginsburg died on September 18, 87 years old, appointed by President Bill Clinton as only the second woman justice on the Supreme Court. She leaves behind Sonia Sotomayor and Elena Kagan as two other women on a court that now numbers eight.
A number of women friends have expressed to me that this death is "devastating." While RBG became an icon for young women, many of us in our fifties and older remember life before laws were established for gender parity. In the 1970s, institutionalized sex discrimination meant there were fewer sports opportunities for girls in public schools and colleges, and women could be fired for pregnancy or even what they looked like. It was almost impossible to challenge pay discrimination. There was injustice in lending to women, and credit cards and credit ratings. Men also suffered at times from the lack of gender parity. Some cases that RBG won actually improved life for men, such as the right for a widower to access the same government benefits as a widow.
I write reality-based mystery fiction about a woman lawyer practicing in India during the early twentieth century. In those days, a scant number of women were studying in law schools in Asia, Europe and the United States. In some cases, they would do the all the coursework as males, yet be considered ineligible to get degrees. It was almost impossible for a law graduate to be hired by a firm that wasn't run by her father or brother.
In my mind, I believed the matter would be greatly improved after World War II. It's shocking to hear Ruth speak in the great documentary "RBG" about how a Harvard Law professor demanded she feel guilty for taking a place in the law school that should have been granted to a male. Ruth was a married mother—another factor that made life as a lawyer challenging—and she chose to leave Harvard for Columbia in order to accompany her husband to New York as he began his law career. Ruth switched to Columbia Law and tied for first place in her graduating class, yet the twelve New York law firms she applied to all rejected her. RBG went to work as a lawyer for the State of New York, then academia, then the American Civil Liberties Union, and finally, earned the penultimate power of confirmation to the Supreme Court.
I live in Maryland, just an hour from Washington, D.C., and it was cheering, during Ruth Bader Ginsburg's life, to think of her being fairly close by. I might attend a concert at the Kennedy Center and wonder if RBG had recently been in the same space. I marveled at the stories about her and the late Justice Antonin Scalia, so diametrically opposed, enjoying time together at restaurants, parties and the opera. I was awed by news photos of her working out with her trainer. I also got a kick out of hearing how her late husband, Martin Ginsburg, enjoyed cooking more than she did.
Here are some of the many brilliant things Ruth said. For more like this, from quotes to cartoons to op-eds, check out the the Washington Post's emporium of RBG.
"Every now and then it helps to be a little deaf… that advice has stood me in good stead. Not simply in dealing with my marriage, but in dealing with my colleagues."
"I ask no favor for my sex. All I ask of my brethren is that they take their feet of our necks."
"Fight for the things that you care about, but do it in a way that will lead others to join you."
"It's not women's liberation. It's women and men's liberation."
"Real change, enduring change, happens one step a a time."