This post originally appeared on Murder Is Everywhere.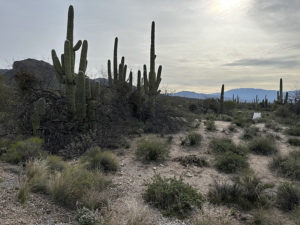 I've just unpacked from a five-day trip to the Oro Valley near Tucson, Arizona. At a resort in the foothills, about 475 intrepid souls gathered for the Left Coast Crime convention to celebrate the art of the mystery … and also the art of the burrito, the quesadilla, the tamal.
The chimichanga's invention is credited to a long-ago chef at El Charro, the oldest family owned-and-operated Mexican restaurant in the United States. I dined at El Charro one of the nights during this conference, as well as two other terrific local restaurants, Guadalajara Grill and Family Hacienda. All of them were unpretentious, priced reasonably, and exceptionally tasty.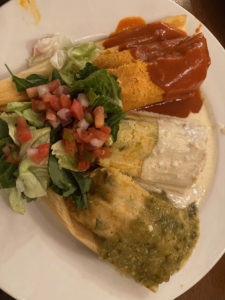 I spoke on several panels and had an interview with my editor at the convention, which was a special plus of being named an author guest of honor along with the writers Glen Eric Hamilton and J.A. Jance. Judith Ann, as she was named at birth, has written at least 70 books—according to her website—and is 78 years old.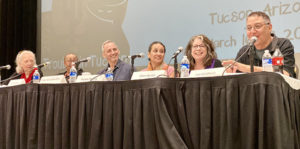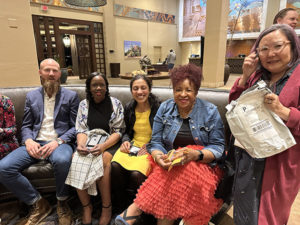 Some of my blogmates who write along with me at Murder is Everywhere came to the convention. it was a treat to spend time with Jeff Sigler, Wendall Thomas, Annamaria Alfieri, and Kwei Quartey—who was unfortunately still in transit when we took the photo below.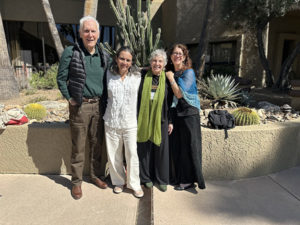 It was humbling to notice the massive number of people in the so-called "golden years" who spoke on panels, bought books, and schmoozed. Many of the conference's core committee of volunteers were in their 70s and 80s. The hotel's halls were filled with writers who began work many decades ago, or very quickly after retirement.
Arizona is known for attracting people who want to retire in warm weather with a dramatic mountainous environment. And while the ground is largely sand and rocks, hardy flowers and shrubs form a desert bloom at this time of year. Every bit of water that falls seems to be captured and turned into something of beauty.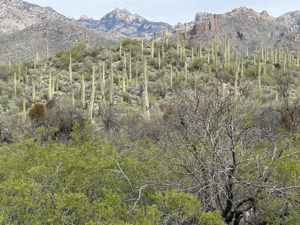 The most ubiquitous cactus is the saguaro, native to the Sonora desert and capable of growing up to forty feet tall. I learned that these mega plants take a long time to get started: up to twenty years to grow the first twelve inches. However, they may live more than 150 years, and sometimes have upwards of 50 arm-like branches. Mature saguaros can weigh three to four thousand pounds, weight that comes from being filled with water that slowly feeds their own growth and the host of animals and insects that come to them for sustenance.
The saguaro cactus, a column of strength with an undetermined, individual journey, reminds me of the slow process, and many offshoots, in becoming a writer.