This post originally appeared on Murder Is Everywhere.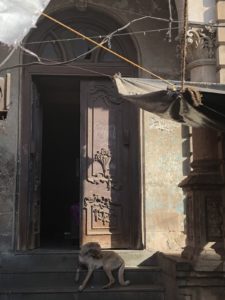 On my recent sojourn in India, I kept a lookout for animals.
This is because I'm striving to write a lot more about animals in my books. They may not solve a crime or talk (thank God!) but they will be characters.
In my book-in-progress, Perveen Mistry 2, I've included an Indian breed dog called Rajapalayams that were especially appreciated in royal households of Tamil Nadu. Rajapalayams are handsome white hounds that look similar to many of the aboriginal pariah dogs seen throughout India. The reason there are different colorations and body types of strays in Indian cities goes back to these dogs mixing with breeds brought in by Europeans. Most of the dogs I see in India are gingers. But I've  learned that it's mostly dust I'm looking at, not the real color of the fur underneath.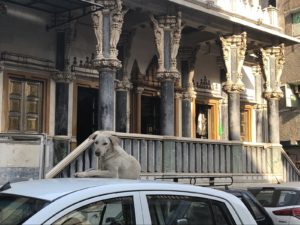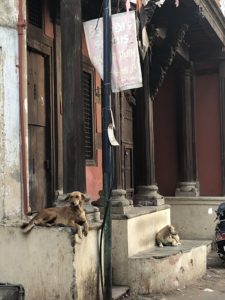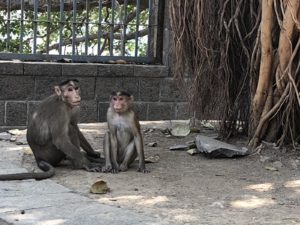 I also have different kinds of monkeys swinging through my story. One is the rare Lion-Tailed Macaque indigenous to the Sahyadri Mountain range of Western India. He is elusive and beautiful. The other monkey I'm featuring is the Bonnet Macaque, a pink-faced monkey with a very long tail that is common in rural and urban areas. That monkey is super social and inadvertently becomes involved in a crime.
I have not heard about anyone bringing stray monkeys home from India. But I do know a few people who fell in love with stray dogs in India and brought them home.
A well-built white hound who came from the streets of India used to visit Once Upon a Crime Bookstore in Minneapolis. When I was there, the dog was extremely interested in the scent of my pocket. He was also interested in the free tiny candy bars by the cash register. His owner told me he is always looking for food.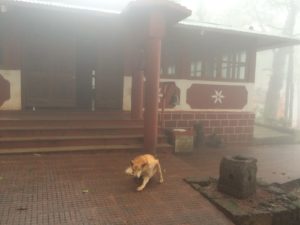 India is estimated to have 30 million stray dogs. In some cities, dogs are rounded up and exterminated as a public health control. There is an estimated 20,000 rabies deaths to humans from animal bites in India per year. However, some animal rights activists in India point out that 75% of dog bites in India are from pets, not strays. So where's the greatest risk?
I knew that I should not pet a dog while in India, but it was hard to resist. My trip took me from Delhi and Udaipur to Mumbai and Ahmedabad, going from north to west.  I noticed two styles of behavior with the stray dogs. Many of them roamed in family groups, and of course these dog families sometimes got in fights with others at night. I am a dog lover, but the sounds of these ferocious dog wars were pretty frightening. These dogs didn't come near people, and people never touched them.
The other style of dog behavior was "individual beggar." In Udaipur, I visited a college where a student club was formed to help with stray dogs. The students in the club feed the animals. When I visited outdoor areas in the college, very friendly dogs wanted to play. I could see they'd come to rely on the students for much more than a bit of supper. They were relishing love.
 In natural areas where tourists go, like the Matheran Hill Station—where I visited in 2016—and Elephanta Island near Mumbai, dogs wag their tails, cock their heads, and beg for a petting. They are also the frequent recipients of leftover snacks and lunches—just like the monkeys who hang nearby.
I traveled by boat in the Mumbai Harbor to Elephanta Island, a site where tourists come to look at a labyrinth of cave temples carved between 450 and 700 AD. While there, I noticed a lot of scavenger dogs and monkeys. I was warned that the monkeys could be more than I bargained for. I was used to the idea of monkeys grabbing food of tables and from people, but here the bonnet macaque population is known to grab cell phones and cameras. I asked why and was told some people who train the monkeys, who are rewarded for bringing them these goods. However, Elephanta Island had no panhandlers, just a lot of successful vendors, so I am skeptical about this idea, at least on Elephanta. My theory is that monkeys are smart and become annoyed at being gawked at without getting a payment of food.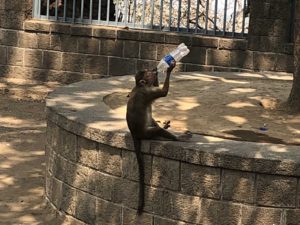 It was funny to see monkeys drinking from half-filled soda bottles (especially sweet drinks like Pepsi). Monkey see, monkey do. Yet I wondered about the impact on their teeth and health.  Just across the path from the soda-drinking monkeys, dogs were tucking into the remains of food still in foil wrappers. I hoped they knew when to stop.
Most Indians don't keep dogs in their homes, but it's common for one stray to be fed regularly outdoors by a person. A popular news story during my trip was the behavior of a stray dog that always showed up by the ladies' only car of a Mumbai commuter train in the evenings. When the passenger the dog waited for didn't arrive, she would run sadly after the train, and then return to her puppies. Who was the one who fed the dog? Did she just change to a different train… or did something else happen, the mystery writer in me wonders?
Films of this black and white dog have thousands of YouTube views. The story of a loyal dog coming to the train reminds me of the tale of Hachiko, a dog who regularly looked for someone to arrive on a certain train in the evening at Shibuya Station. This dog tale, which took place in the 1930s, is so beloved that it resulted in a statue of the dog at Shibuya Station and a Richard Gere movie, Hachi, retelling the legend in an American setting.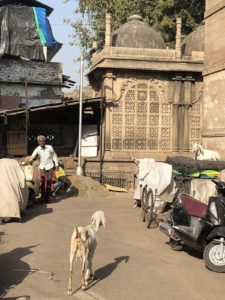 My dogs Daisy and Charlie, who nap by a cozy, odorless gas fireplace live better than many people in my city. I will never feel comfortable about that. However, I am glad that our two dogs that had tough lives to begin—especially our beagle, Charlie, who lived caged up for years in a puppy mill—can enjoy serenity in their later years.
For animals living the free range lifestyle in India, I wish good weather, plenty of water, and a safe bite to eat.