This post originally appeared on Murder Is Everywhere.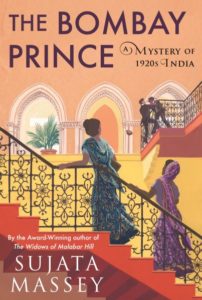 Tonight I am feeling BOLD!
Just a few hours ago, I ripped off my mask and greeted an audience on a packed patio at The Ivy Bookshop in Baltimore for a book-signing. Soho Press's edition of The Bombay Prince, my first book in two years, has launched into the world.
It's a very exciting, and slightly daring, experience to launch a book in a community that is probably 2/3 vaccinated, even though we were outdoors. I imagined many people hadn't been that close to so many others in over a year. And you could say thousands were there—because of the cicadas in the four-plus acres of gardens connected to the bookstore.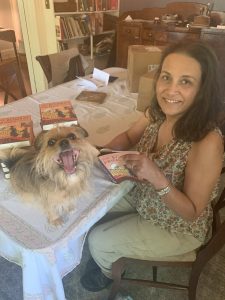 I thanked the friends who'd come for their patience. This was a book I labored over for a longer period of time than I usually allow myself. I went to India twice to research this book twice. The final research trip, which involved getting inside a historic college and touring a police station, happened just a month before COVID closed the world down. How lucky I was to have been in India before it was too late.
The third novel in my Perveen Mistry series delves deep into the political conflicts in 1921 India between India's British ruling class and Indian subjects desperate for autonomy.
The book's heroine, solicitor Perveen Mistry, is caught between two worlds. She yearns for her country to be free, while many of her family and friends prefer the status quo. They don't want to imagine what the city would be like without familiar faces controlling the courts and government. This conflict comes to a head when Edward VIII, Prince of Wales, travels through the city in a gala procession, during which time one student protestor is arrested, and the other, a female, is discovered dead on the college grounds. The immediate assumption is that the girl's death was an act of political suicide or vengeance. Perveen assists her grieving family and finds the truth is more frightening—and may even portend violence against the visiting English prince.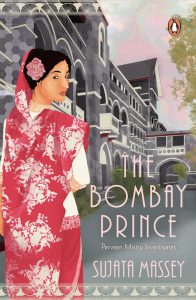 I like combining true stories like the prince's 1921 visit to India and subsequent riots with personal stories that come from my own imagination. I became curious about the lives of early college coeds after reading an article in a student magazine written by an "Anonymous Lady Student." Another great source were articles by newspaper correspondents about the Prince's visit and the ensuing riots, and the British government's account of the Prince's daily schedule, which formed the backbone of my novel's schedule. Perhaps few care about whether the Prince of Wales actually visited the Orient Club on Sunday versus Monday, but since he is a real person, I want to get that right.
There is a special poignancy in promoting a novel about India during this time, when India was unexpectedly slammed with the most lethal COVID-19 experience we've seen so far. I'm desperately concerned for Bombay and the wonderful people I know there. I comfort myself by knowing, through history, how India has always come back strongly from difficulties.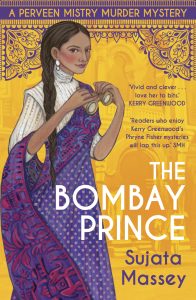 The Bombay Prince launch continues throughout the summer, mostly virtually, with online events sponsored by some of the nicest book people in America. Different literary friends will be in conversation with me at the various events, so the conversations will be unique with audience participation welcomed. All are free but require registering ahead of time to get a joining link.
You can bless these wonderful booksellers by getting a book from one of them—it's even possible to do so while watching the event online. The book is also just released in Australia and New Zealand from by Allen and Unwin, and will soon will be out in India from Penguin India/Random House. I hope to have online gatherings for readers in these countries. I'll let you know when the schedule comes together. Also, the audiobook read by the sublime Sneha Mathan is available from Recorded Books. How I love to listen to her voice!
Lastly, I want to say that many people are involved in the making and launching of a book—from agents and editors and marketing people, to other authors, booksellers, bloggers and readers. I am grateful to every single person who's discovered and shared Perveen—including you.