I had unbelievable food in Indian homes, hotels and restaurants. I gorged on okra fried and simmered in so many different ways. This under-appreciated vegetable that is a knock-out in India, where it's called by the very pretty English name of "ladyfingers." Too many variations of the milky rasmalai dessert were sampled. And there are no words to describe the superlative texture and flavor of South India's jumbo prawns and shrimp, whether grilled or swimming in coconut curry. The best shellfish I've ever eaten.
Some dishes will never taste as good outside of their home regions. But I comfort myself back here in the United States with recipes I wrote down, and my little packages of spices and staples like basmati rice that can be transformed into so many varied dishes.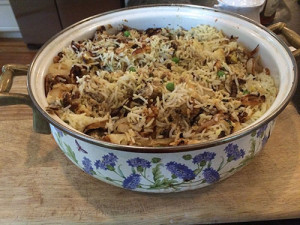 Biryani is a rich, North Indian dish of rice, vegetables, spices and often pieces of marinated meat or fish. I believe it came to India via the Moghuls, although the Parsis from Iran could also lay claim to the honor (much more about Parsi food in the next newsletter). My inauthentic, vegetarian recipe honors this very old heritage and some fusion ideas. You'll have the option of hunting down a few special ingredients that can be found in Middle Eastern stores and upscale grocers—but these additions are not essential.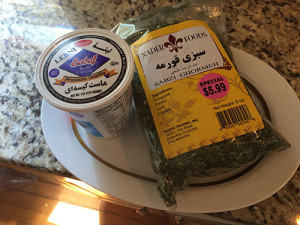 When I go to a potluck, I often bring a rice dish like this biryani. There are many spices in this dish, but the cooking is easy and the resulting rich flavors are worth the effort.
Sujata's Vegetable Biryani
Canola, sunflower or vegetable oil
4 cloves
½ stick cinnamon
4 cardamom pods
1 or 2 dried red chiles
2 cups uncooked basmati rice
3 large onions, sliced into half rings
3 cloves garlic, minced
8 ounces any kind of fresh mushroom, cut in large pieces
2 cups raw cauliflower florets (or substitute same amount chopped raw green beans)
1 cup frozen green peas
1 tsp turmeric, divided
2 tsp ground coriander
1 tsp cumin seed
4 teaspoons green zaatar (optional: a dried herb mix of cilantro, leeks, fenugreek sold in bags at Middle Eastern Stores)
2 cups labneh (sour cream-tasting product made from kefir; OR substitute plain Greek yogurt)
Soak the 2 cups of rice in water for 10 minutes. Rinse and drain.
Drop the rice into a large saucepan or stockpot containing at least 5 cups of already-boiling water. Boil 5 minutes or until almost tender- a little resistance on inside of the rice grain is good. Drain and set aside.
In the meantime, sauté all the sliced onion in 2 tablespoons of canola over medium heat in a wide sauté pan. The goal is to caramelize the onions. Do this by not moving them around too much, and working in batches. Each batch should take about 10 minutes, depending on the heat. Set the caramelized onions aside in a bowl.
In the pan you used for the onions, add a little more oil and the cumin seeds. After they are brown, toss in the raw cauliflower florets, the ½ tsp of the turmeric, 1 tsp of the ground coriander. Stir fry until softened. Then add in 1 cup of labneh, turning the heat to low. Cook about 1 minute and then turn off and turn the creamy labneh-cauliflower mixture into a bowl.
In a second frying pan, warm 2 tsp oil with the chopped garlic. When it becomes fragrant, add the chopped mushrooms and ½ teaspoon of turmeric. Sautee until crisp and then add remaining labneh, cook one minute on low, turn off and set aside.
Assembly time! Layer one-fourth of the rice in a Dutch oven (or ceramic or metal cooking pot with lid). Sprinkle with 2 cloves, 2 cardamom pods, 1 stick of cinnamon, and about 1 teaspoon of the optional green zaatar.
Evenly spread the sautéed cauliflower/labneh over the rice layer.
Add one-fourth more rice and spread evenly, tossing in 2 cloves, 2 cardamoms, and 1 teaspoon more zaatar.
Spread ½ the caramelized onions over this rice layer.
Add a third layer of rice, along with the other part of the cinnamon stick and 1 teaspoon more zaatar.
Top with the mushroom/labneh mix.
Finish with the final layer of rice and teaspoon of green zaatar and scatter the remaining caramelized onions over the top. Lay a clean dish towel on top and then cover with the pot's lid and bake for 40 minutes at 375.
Remove towel and lightly toss the defrosted green peas into the top rice layer. The residual steam will cook them nicely. Cover pot again with lid and keep it closed so the biryani stays warm until serving time.
The biryani can sit on the counter or table for up to an hour before serving. Or the dish can be prepped (without baking) a day or two before you are ready to bake. Leftovers freeze well.