by Sujata Massey
Twenty-one springs ago I was a young outsider with a dog-eared first manuscript and all the accompanying anxieties. I went to my first mystery convention. At a panel discussion with publishing professionals, someone raised the question about which overseas locations were good. My body tensed as I waited for the answer.
"Mysteries set abroad don't sell," declared a veteran editor. "We've tried it many times, and it doesn't work. Unless, of course, the location is England."
My stomach dropped. Although I'd been born in England and grown up in the United States, I hadn't written about either place. I was half-Indian and half-German. Because of my family's multiple emigrations, I felt called to write about journeys away from the familiar. My manuscript was set in Japan, where I'd spent a few joyful years working as a teacher and studying the language and culture. I'd tried to translate my Japanese experience into a mystery that explored conflicts between tradition and innovation and bicultural and local people.
I was disheartened to hear the editor's words, especially since volunteer readers at that same Malice Domestic convention had awarded me an Unpublished Writers' Grant. They'd believed the book had a shot. But could my book be summarily dismissed by every agent in the country because its setting wasn't like 95% of mysteries on the shelves?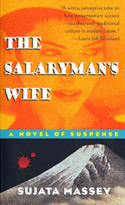 I decided not to change my setting, nor to eliminate the many Japanese words in the manuscript. I felt the sun shine again when an agent showed interest and took my manuscript without asking for changes. She brought it to HarperCollins, which offered to publish The Salaryman's Wife as a paperback original. The publisher was interested because of the surprising success of Laura Joh Rowland's medieval Japanese mysteries.
Hmm. Did this mean some readers were looking for mysteries set outside Anglophone countries—books that had non-white heroes and heroines, and unfamiliar words and a deep take on politics and history? Might such books appeal to experienced travelers and armchair tourists alike?
As my contracts continued for more Rei Shimura mysteries, the email I received revealed my readers were more than Americans: they lived in the fifteen other countries where the books were published.
Recently my writing has taken me to India, the country that my father had left as a young man. I wrote a historical suspense novel that has inspired a full-fledged mystery series featuring an Indian woman lawyer in 1920s Bombay. Perveen Mistry's legal investigation touches on women's rights and racial, religious and social discriminations—issues that dominate our lives here, a century later.
This time, I wasn't so nervous taking a risk with an international mystery. My readers have taught me that the very act of picking up a book is a declaration of wanting to step out of one's world.
Sujata Massey is a past winner of the Agatha and Macavity awards and a nominee for the Edgar, Anthony and Mary Higgins Clark prizes. The Baltimore-based author has written fourteen books set in Asia, including The Widows of Malabar Hill, to be published both by Soho Press and Penguin India in 2018.