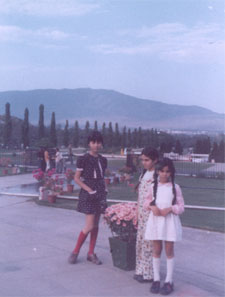 12/23/74
Today we move into the Ramakrishna Mission! We went to a nice bakery and breakfast. Then we moved! Daddy and I share a room and I have a desk with two drawers to keep my things, several cubbyholes and half a closet. We have a Western toilet; Claire, Rekha and Mummy an Eastern one, which I have not tried yet. I also have mosquito netting which is grand. There are very nice servants, and we took a photo with one. I gave him a chocolate and he gave me an orange. We took a walk by a lake and some people made fun of us and that wasn't very nice of them. We went to our grandparents' house and Pompa, who is two, blessed my feet. We went home when it was very dark and a gentleman showed us a children's library in the Mission! I can't wait till tomorrow!
12/24/1974
Today is Christmas eve! I can't believe time goes so fast. This morning I peeled a tangerine in one piece! I had a hard boiled egg in a bowl, some toast and tea. The man we gave the chocolates to split them with all his friends! We went to the railway ticket place and waited for a couple of hours to get tickets. We went to a hotel and eight waiters and the host stood around and watched us drink juice and draw!!! We went to the nice restaurant (Kwality Cafe), and I accidentally chomped a string bean that was a chilli! My mouth was on fire. After that we went to our grandparents and had rice pudding. When we left, they gave us Christmas cakes, and that really touched me because they never buy cake.
12/25/1974 (Christmas Day)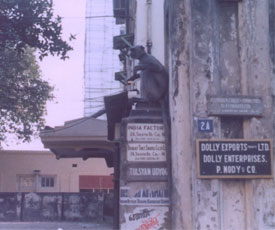 Woke up at about 2 am and was dreaming about twenty times about the stocking full of lumps at the foot of my bed. One dream was it contained 25 books! I kept on looking to see if it was light. About 6 am I opened my stocking. (I forgot to tell you we were told to put them out last night). Most of the stuff in it was food, but I got 2 pairs of earrings. At breakfast Claire gave a chocolate Santa, and Rekha and I gave candy to the waiter. He was really happy. Now it is customary for them to give us each an orange after we eat. Then we went to about 4 shoe-stores and we got some corduroy slippers for me for about 2 dollars. In the afternoon we visited relatives and I got very bored. Good night and merry Christmas.
1/27/1974
Our days have settled into a pattern now. Sleep as long as we like, leisurely breakfast of eggs and toast and tea and fruit followed by peaceful things such as reading, playing, sewing and dreaming of things. Lunch is at 1 pm and after a half hour siesta we go for a walk or visit relatives. I do my math when I feel like it in the day, and I play around in the garden. Supper is at 8 pm and I skip it a lot. My mother and I eat vegetarian, and their food is awful. Everyday vegetarians get cauliflower curry, and if I eat anymore I shall throw up. Non-vegetarians get fish patties (which I can't stand) or chicken stew (yukk) or roast (vomit). All I like is the dessert. Today we had fruit jello with custard on it. When we return our beds are already made with mosquito nets on except for sheets. In the morning the beds are made up with these neat bedspreads and sheets; but at night is only when we use them, and they are folded up neatly at the end of the bed! I am puzzled.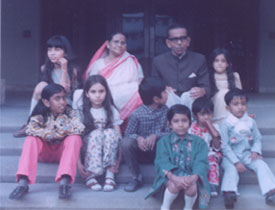 12/29/1974
Today I saw the president of India in person! He came to the Ramakrishna Mission for breakfast and everyone in Calcutta (practically) was standing outside watching.
12/30/1974
We went downtown to shop for the day and it was fun except the grownups kept talking about leaving "the children" at home. That can wreck a whole expedition!